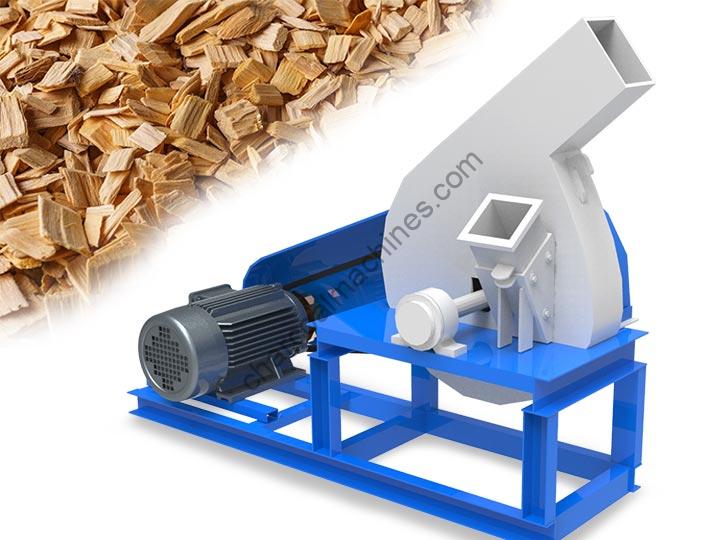 What is the disc wood chipper?
Wood chipper can also be called wood slicer, which belongs to a kind of wood processing equipment with high efficiency. The wood chipper can be many types and structures, mainly includes disc type wood chipper and drum type wood chipper. And according to different working capacity, the wood chipper can be different models and it can also be customized based on the actual requirements of the users.
Depending on the specific workplace, the wood chipper can also be divided into a fixed wood chipper and mobile wood chipper two categories. The fixed type of wood chipper mainly used for continuous and high-volume production of wood chips, and the mobile type wood chipper is widely used in various production sites because the wood chipper can be fixed in a bracket with wheels and drove by the tractor, which can be moved flexibly and is very suitable for work and production in forest or mountain areas.
Where can the disc wood chipper be used?
The wood chipper can process logs, wood, and branches under 55cm in diameter into chips with the diameter ranging from 1.5cm to 3cm. These processed wood chips are of uniform length, with smooth incisions and even thickness, which is suitable for pulp mills, forest farms, paper mills, wood processing plants, wood chip factories, and other industries.
The disc wood chipper can also be used for processing pine, miscellaneous wood, poplar, fir, bamboo, and other wood. Wood chipper can be widely used in medium and small particleboard and fiberboard production enterprises material preparation section, but also can be used for individual production of commercial wood chips.
The main structure of the disc wood chipper
The common type of disc wood chipper is for small scale production of wood chips. For this type, the inlet is inclined, which is convenient for processing wood with small diameter and the exit is upward type, which is convenient for the machine to spurt the cut wood chips quickly.
If you want to do a large scale of wood chips production, you can choose another type of wood chipper which has a flat inlet and a downward outlet and can equip with the conveyor. Both the inlet and outlet can equip with conveyor because the materials to be chipped with a larger diameter and are heavier in this type of wood chipper.
No matter what type of wood chipper, its internal structure is mainly composed of the cutting disk and upper and lower housing. Different types of chipper are different from each other in the number and diameter of the blades. We usually name different types of chipper according to the diameter of the cutting disk.
Main advantages of the disc wood chipper
Compact and reasonable structure, simple operation, large production capacity.
With a high qualified rate of the chips and low energy consumption per unit, the disc wood chipper is ideal equipment to produce high-quality wood chips.
Easy installation and maintenance, safe and reliable work, can be widely used in many fields.
Technical parameters of the wood chipper
| | | |
| --- | --- | --- |
| Model | Output | Feed size |
| SL-420 | 500kg/h | 13cm |
| SL-600 | 1.5t/h | 16cm |
| SL-800 | 3t/h | 19cm |
| SL-950 | 4t/h | 22cm |
| SL-1000 | 5t/h | 24cm |
| SL-1200 | 8t/h | 27cm |
| SL-1500 | 10t/h | 35cm |
| SL-1600 | 15t/h | 40cm |
| SL-1800 | 20t/h | 55cm |
Wood chipper machine working video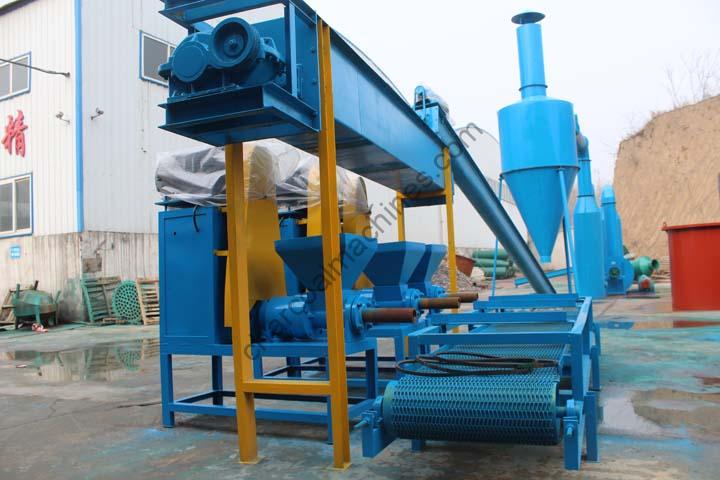 Shuliy Machinery not only provides high-quality machines but also provides comprehensive after-sales service. We have been focusing on the charcoal machinery industry for nearly 20 years and have rich experience in designing and manufacturing large and medium-sized charcoal machines to meet the needs of various customers. At the same time, according to the requirements of customers, we can provide services such as plant construction plan, market analysis, and best product formula. learn more >>>
info@charcoalmachines.com
East Hanghai Road, Economic-technological
Development Area, Zhengzhou, China
*if you enjoyed this, please click the buttons to share it