Wood Crusher for Making Sawdust from All Wood Wastes
Wood shredder machine | Sawdust making machine
Hot sale model: SL-C-420, SL-C-500, SL-C-700, SL-C-900
Motor power: 7.5-11kw, 11kw,18.5-22kw, 45kw
Capacity: 500-800kg/h, 1000-1500kg/h, 3000-3500kg/h, 4000-5000kg/h
Features at a Glance
The driving mode is optional by electric motor and diesel engine
Wheels, brackets, screen hole diameters, etc. can be customized according to customer needs
Wood crusher machines are used to process sawdust of different finenesses from wood wastes. The wood crusher can quickly smash logs, branches, bamboo, straws, and other biomass materials into sawdust, and the production efficiency is very high. This wood shredder is a new type of superfine wood processing equipment.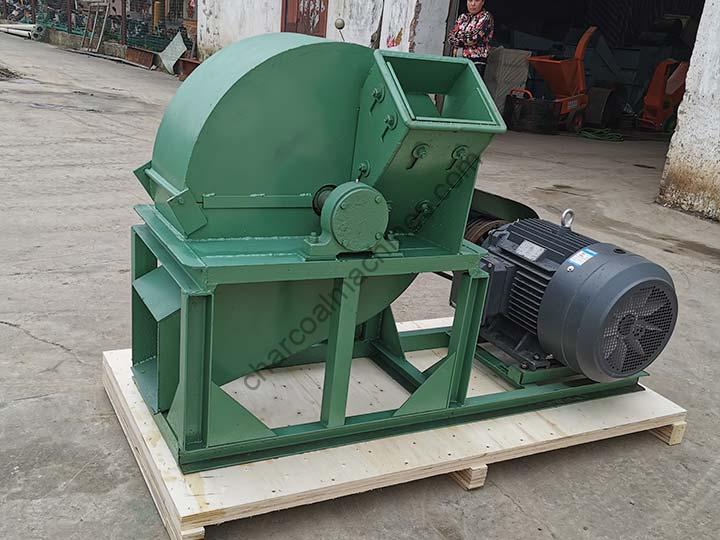 Wood crushers are also called wood shredders, wood grinders, bamboo mills (milling machines), or tree branch pulverizers. The processing size of the raw materials for the high-efficient wood crusher ranges from 5cm to 50cm, and the final sawdust size can be decided according to the customer's requirements. The common sawdust finenesses are 3mm, 5mm, 6mm, 8mm, 10mm, 12mm, 14mm, etc. And we can customize the screening meshes as the customer required.

Raw materials for processing with the wood crusher
Raw materials that can be processed by wood crushers are various. Such as logs, tree branches, roots, wood scraps, wood chips, crop straws, bamboo chips, carton boxes, etc. But there is a standard for the size of the materials to be crushed. Generally speaking, it can crush tree branches and stems with a diameter of 5cm-50cm.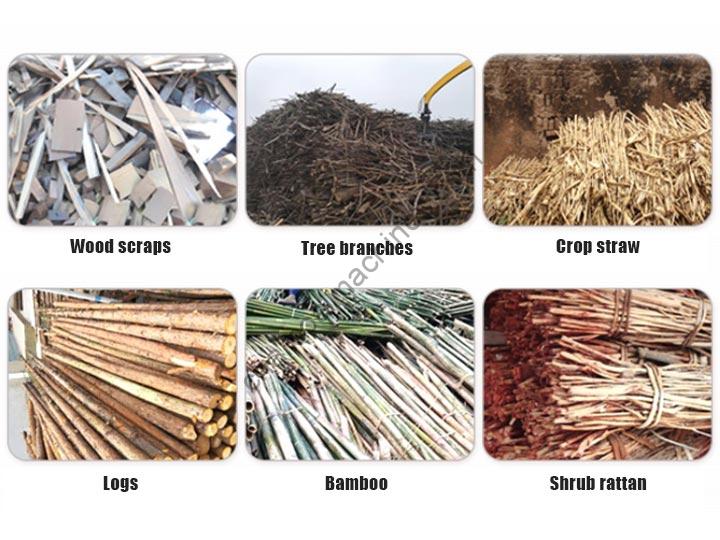 Many fiber stalks like coconut shells, corn stems, bamboo, couch grass, sorghum stalk, rice husk, straw, and cotton stems are also common materials for the wood crushing machine. After crushing, the materials are always particles, sawdust, or powder.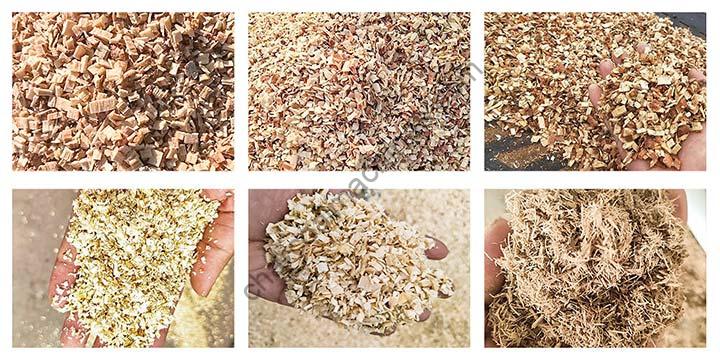 Applications of wood shredder machine
The wood shredder integrates slicing and grinding functions into a whole, and can cut branches into small pellets. It is mainly used for processing pine, miscellaneous wood, poplar wood, raw bamboo, and other materials.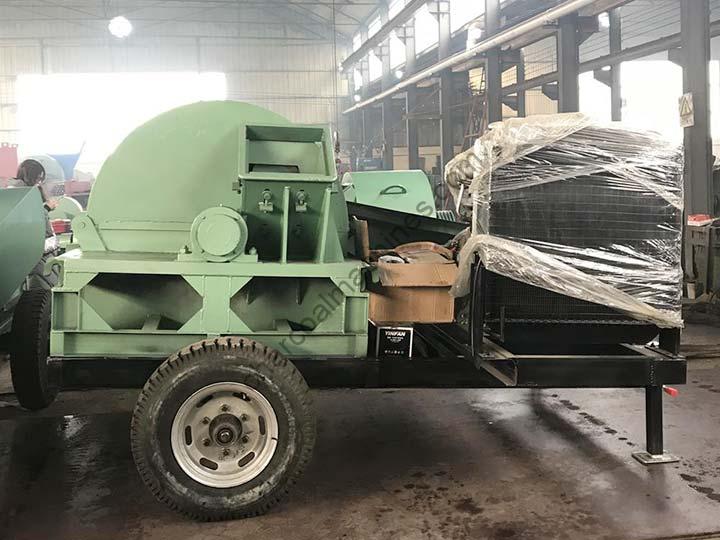 And this wood crusher shredder is more suitable for processing sawdust inedible fungus production. At the same time, this wood shredder can also be used for bamboo, thatch, corn stalks, sorghum stalks, and other fibrous culm-like material.
The industrial wood crusher is widely used in the material preparation section of medium and small-sized particleboard and fiberboard manufacturers and various wood processing industries.
The wood pellets plants, biomass briquette plants, and charcoal briquette production plants also need a wood chipper shredder.
How does the wood crusher machine work?
With a fineness analyzer, this wood shredder machine is specialized in crushing lightweight materials, fiber materials, brittle materials, ductile materials, and other special materials. This sawdust-making machine can crush branches with a diameter of less than 30cm. The main parts of the wood crusher include the feed port, main body, outlet, motor, and holder.
As for the main body, there are knife plates, hammers and screen meshes inside. And the quantity of the knife plates and hammers varies according to the model of the wood crusher shredder machine.
Generally, the diameter of the holes in the screen mesh is 8mm, but we can also customize the screen mesh for customers' special requirements. And the larger the diameter of the mesh holes, the greater the discharging speed and the output of the crushed materials.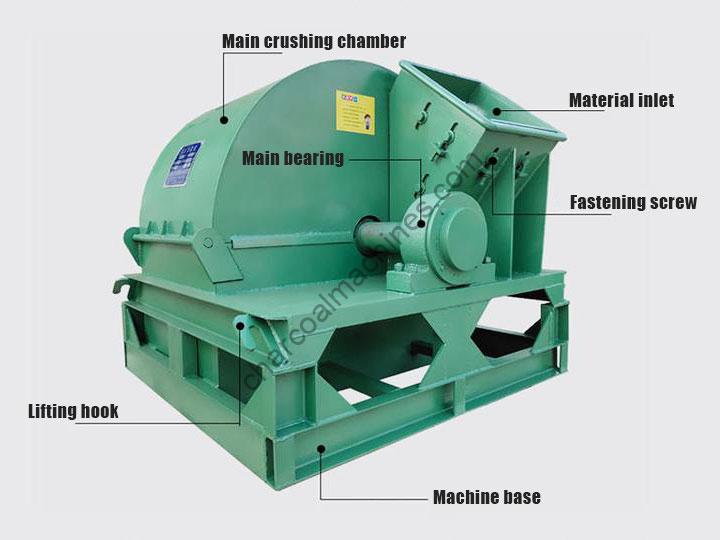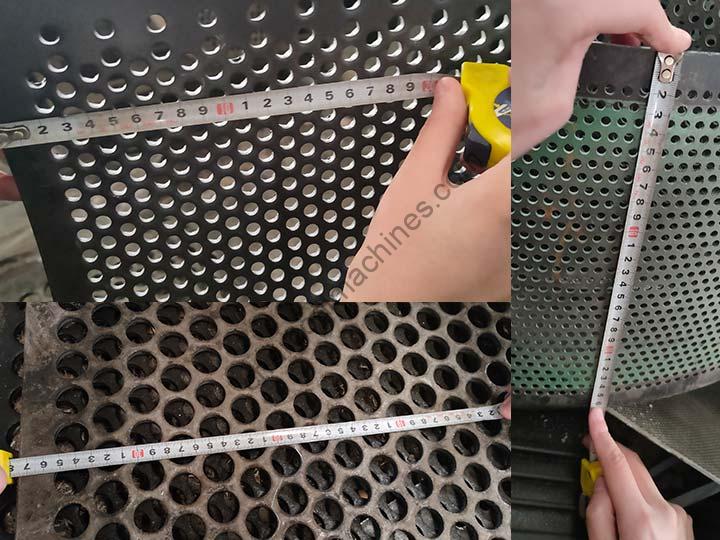 When the branches enter the inlet of the crusher, they are crushed by the knife plates into granular wood chips with a diameter of about 1cm firstly.
And then the granular wood chips will be shattered into powdery materials with a diameter of less than 5mm by the hammers. The hourly output of the wood crusher machine is different according to different models, which range from 500kg/h to 5t/h.
3t/h sawdust processing plant with wood crusher machines
5t/h wood shredding plant
Main features of wood sawdust grinder machine
Only one motor can drive the wood crusher, energy-saving, and low consumption.
Simple structure, attractive appearance, easy to install and maintain. Besides, the wood shredder machine can be designed with both an electric drive and a diesel drive.
The crushed materials are suitable for processing sawdust briquettes or further processing for all kinds of boards.
The wood crusher can be fixed on the bracket with wheels for easy moving in the workshop. And it can also be designed with fixed feet for working.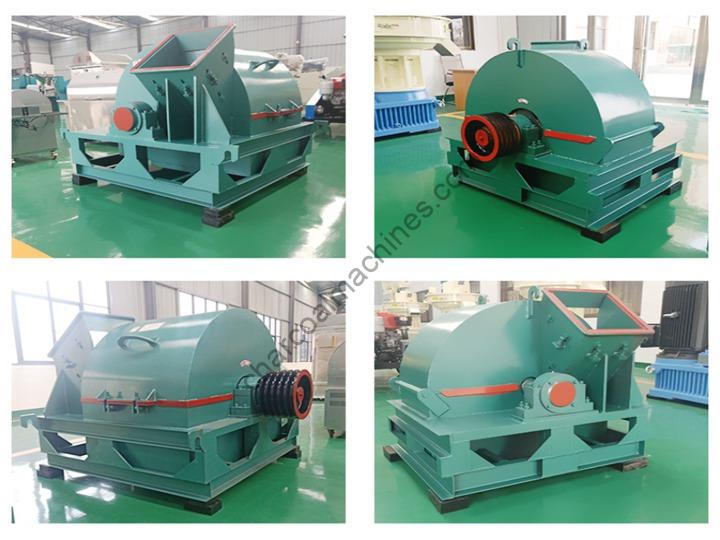 Where to use the industrial wood crusher?
Branches and straws are extremely common biomass materials in urban or rural areas. Therefore, wood processing machines such as tree branch shredders, straw shredders, and wood crushers are common in life.
Why is the application of wood crushers so common? Because there is a great demand for wood products in our lives, there are also many tree processing plants. When the thick trunk is used, the remaining scraps, such as branches and roots, are also recyclable.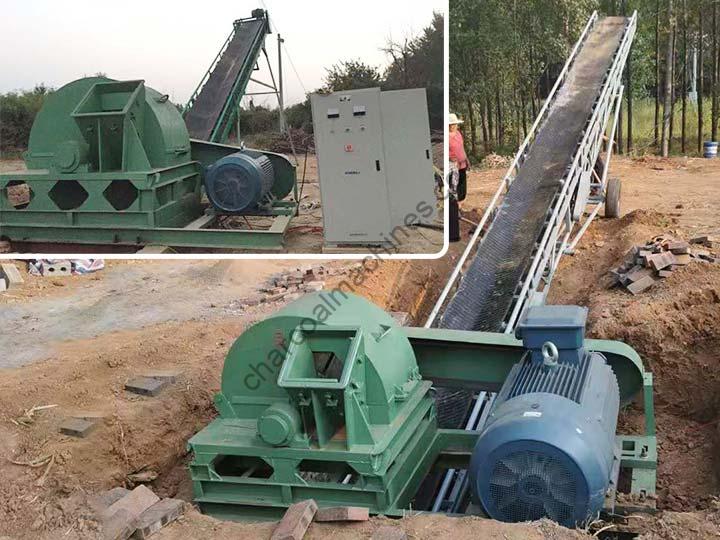 Reasonable use of branches is much more valuable than direct burning. They can be processed into various items by pulverizing them with a wood pulverizer, and can also serve as nutrients.
In addition, the multi-purpose wood crusher can also smash the template, worn furniture, leaves, straw, corn cob, and other materials into sawdust, which not only saves resources but also reduces pollution and beautifies the environment.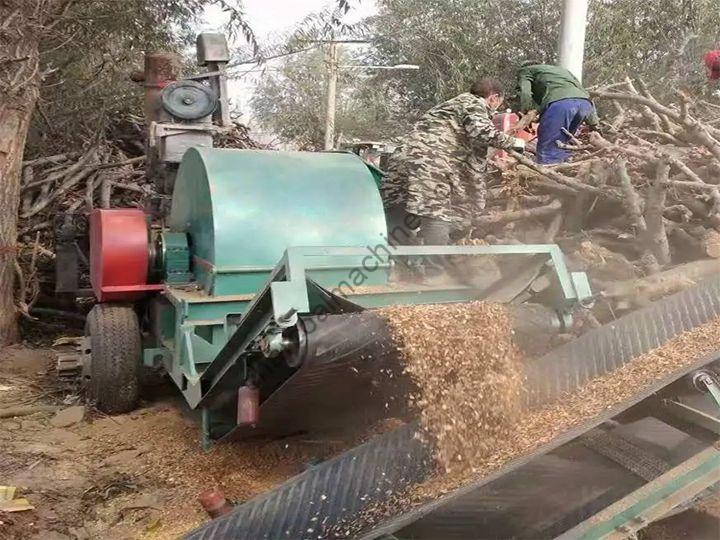 Wood crusher VS wood powder machine
The wood crusher and the wood powder machine are both practical wood processing equipment, but their raw materials and processing effects are different. The wood pulverizer equipment can directly crush some coarse-grained wood, branches, and other materials, and the fineness of the specific pulverization can be adjusted by changing the screen.
The wood shredder machine has low power consumption and high output. The wood powder machine also named the sawdust crusher can grind the materials to a fineness of 300 mesh or 500 mesh, which can be said to reach the fineness of the flour level.
Wood powder machine is mainly used to process sawdust into wood powder, which has high requirements on the size of raw materials.
Technical parameters of wood crushing machine
| | | | | | | | |
| --- | --- | --- | --- | --- | --- | --- | --- |
| Model | Cutting plate diameter(mm) | Number of blades | Spindle speed(min/h) | Inlet diameter(mm) | Matching motor(kw) | Matching diesel engine(hp) | Output(kg/h) |
| SL-C-420 | 420 | 4 | 2600 | 120*120 | 7.5-11 | 15 | 500-800 |
| SL-C-500 | 500 | 4 | 2600 | 160*160 | 11 | 20 | 1000-1500 |
| SL-C-600 | 600 | 4 | 2500 | 200*200 | 15 | 30 | 2000-2500 |
| SL-C-700 | 700 | 4-6 | 2600 | 260*260 | 18.5-22 | 45 | 3000-3500 |
| SL-C-800 | 800 | 4-6 | 2300 | 300*300 | 30 | 50 | 3500-4000 |
| SL-C-900 | 900 | 4-6 | 2000 | 350*350 | 45 | 55 | 4000-5000 |
| SL-C-1000 | 1000 | 4-8 | 1800 | 400*400 | 55 | 55 | 5000-6000 |
wood crusher parameters
Can A Wood Crushing Machine Be Customized?
Sure. The machine can be designed and customized.
The feed inlet can be enlarged and lengthened to meet the raw material requirements of different customers.
The machine can be customized with wheels for easy movement.
The voltage of wood chips to sawdust machine can also be customized. We can change the voltage of the machine according to the voltage of the customer's country, which is convenient for customers to use.
Wood crusher machine video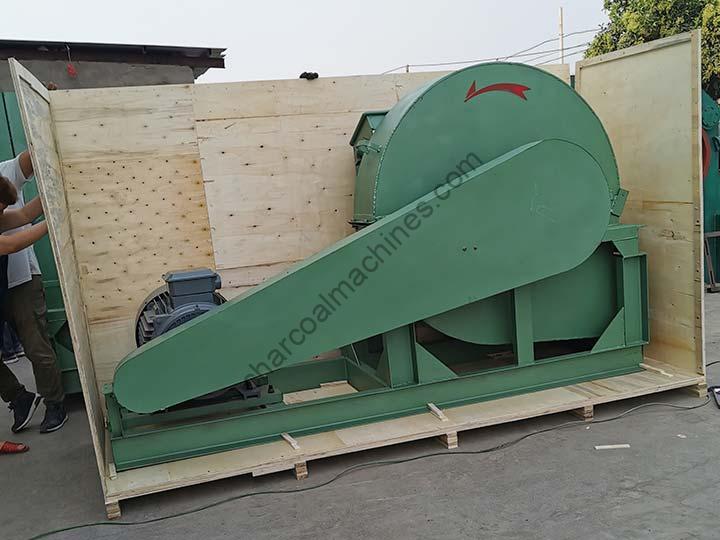 Something about the wood crusher price
There are many shredder equipments on the market, and wood crusher machine prices are always different. So the question is why the price of wood crushers on the market is different. There are mainly three reasons that can explain it, which are equipment number, manufacturer's production cost, and crusher type.
The humidity can affect the wood crusher's efficiency
As we all know, wood shredder equipment is a device for recycling and crushing wood, but the humidity of the material means a lot. If it is too wet material, it will reduce production efficiency and affect output. So in order not to affect the output of wood chips, how should we deal with wet wood raw materials? The basic method is to dry them.