Many people who are engaged in agriculture and forestry production always don't know how to deal with all kinds of waste straw and wood resources in their farms and forests. Some farmers even think these biomass materials are just useless and so that they may burn these materials simply. That's a big pity for them to do this because they didn't find a better way of recycling these useful resources. As a matter of fact, these branches, straw, corn stem, cotton stalk, and other biomass wastes are the irreplaceable resources that can be further processed and reused in many fields.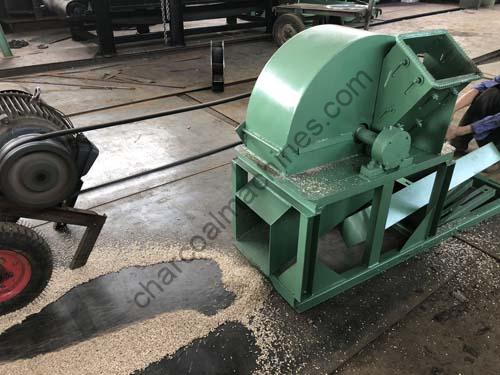 How to make sawdust by wood crusher machine?
Many customers have consulted: I have a lot of wood, can I really sell with a good price after processing? The answer is absolute yes. With the development of the international environmental protection industry, the reuse of wood resources has become more and more important. In particular, the use of wood shredders is becoming more and more extensive, and sawdust is no longer treated as waste or incinerated. With wood shredders(wood crushers), used wood is very versatile. The demand for sawdust is also increasing because sawdust is widely used in daily production. Especially, the wood crusher is the important machine for making sawdust which can be made into pini kay in the charcoal production line.
What can sawdust/wood powder be used for?
Sawdust can be used as fuel. The sawdust can be extruded into a denser pini kay using the high temperature and high-pressure conditions of the bar maker. The processed material can be used as fuel. It is smoke-free and non-polluting when used. Its fuel value can be widely used in various fuel demand industries compared with coal.
Sawdust can be used in agriculture. Sawdust can be used as a nutrient for flower and plant It is rich in nutrients, loose in texture, water-proof and suffocating, clean and hygienic, and is an important nutrient for plant growth. Besides, sawdust can be used as a dressing matrix for rhododendron, kumquat, camellia, osmanthus, etc.
Sawdust can be widely used in the furniture manufacturing industry. There are many boards are made of sawdust manually, with good texture and color. Common plywood, particle board, sawdust board, compression board and so on are made of sawdust.
Sawdust can be used for the cultivation of edible fungi. A variety of edible fungi such as mushrooms, mushrooms, enoki mushrooms, fungus, and other commonly used cultivation materials are sawdust.
Sawdust can be used in charcoal making plant. The sawdust should be dried with the moisture content less than 12% first, they can be extruded into pini kay(biomass briquettes) by the sawdust briquette machine. After briquetting, these biomass briquettes can be carbonized by the carbonization furnace.