Hookah Charcoal Machine to Make Round & Cube Shisha Charcoal
Shisha charcoal press machine | hookah charcoal maker
Four types of shisha charcoal machines are available
Briquettes shapes: round and cube
Features at a Glance
The finished charcoal size and shape can be customized
All types of shisha charcoal machines are in stock
Hookah charcoal recipes are available free of charge
Long-term supply of spare parts at discounted prices
Shisha charcoal machine is designed to press all kinds of charcoal powder into hookah charcoal briquettes and hubbly charcoal with high pressure. The industrial hookah charcoal maker uses the newest pressing system, completely abandoning the old molding method of slow material discharging, serious wear and tear, technical difficulties, expensive accessories, low efficiency, and other shortcomings.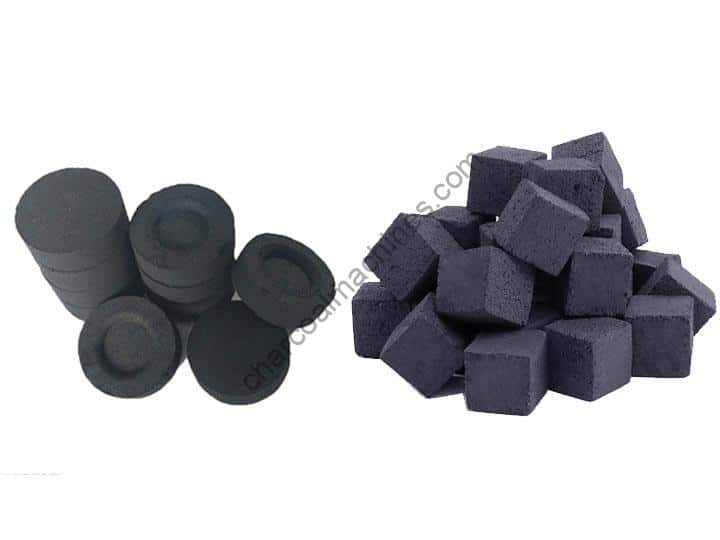 Shuliy shisha charcoal machine mainly has four types: the mechanical type shisha charcoal tablet press machine, the hydraulic type charcoal press machine, the rotary hookah charcoal equipment, and the stainless-steel type cubic shisha charcoal briquette machine. Each type of hookah charcoal machine has its own great advantages.
What charcoal is best for hookah?
While there are many types of finished charcoal products commonly found in the market, there are not many types of charcoal used to process hookah. That said, not all chars are suitable for hookah.
The charcoal used to process hookah charcoal needs to meet the following conditions:
High calorific value and long burning time.
Smokeless and tasteless when burning, and less ash.
Through practice, it is known that currently suitable for processing shisha charcoal are coconut shell charcoal, bamboo charcoal, orangewood charcoal, applewood charcoal, lemonwood charcoal, and other fruitwood charcoal.
The common feature of this type of charcoal is that it burns for a long time, and it does not produce any pungent odor when burning, so it does not affect the taste of the hookah.
Why shisha charcoal press machine is popular now?
Shisha or hookah charcoal produced by shisha charcoal making equipment is a high-tech and environment-friendly product, with a beautiful appearance and quick and convenient use. Shisha charcoal is made of selected charcoal powder and binder, and it is full of fragrance during burning with fewer ashes.
It is a high-quality product specially made for shisha users in Arab countries. Hookah charcoal is a very popular green product with fast ignition speed, long combustion time, smokeless, non-toxic, and no pungent smell.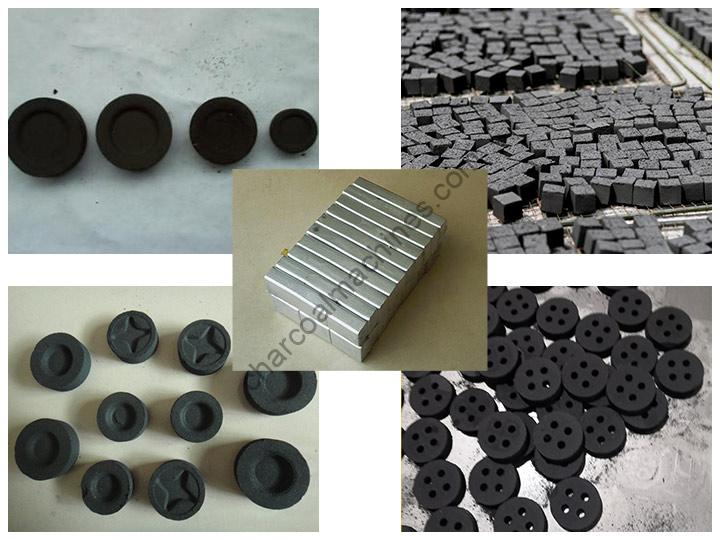 Shisha charcoal press machine is widely used in charcoal powder forming and coal briquetting, it is the necessary facility for charcoal powder and coal powder deep processing. In addition, the quality of shisha carbon products produced by this charcoal production process is stable.
Now, in addition to the ordinary charcoal briquettes, charcoal board, and heating charcoal, there are also instant ignition charcoal, shisha charcoal, triangle charcoal, charcoal bar, and finger charcoal in the international market.
How is the charcoal powder mixing formula?
The charcoal powder used in the processed shisha charcoal usually needs to be pretreated, that is, the charcoal powder, binder, and water are mixed and stirred according to a certain proportion.
The formula of carbon powder before briquetting usually contains 3%-5% binder, and 20%-25% water. At present, the commonly used binder in China is carboxymethyl cellulose. Instead of using various types of starch to replace the adhesive, we recommend that customers purchase a dedicated adhesive.
This is because adding starch as a binder to charcoal powder will reduce the quality of hookah charcoal. The processed hookah charcoal has poor waterproof performance, and there will be smoke and odor when burning, and there will be more ash after burning.、
In addition, if the customer needs it, a combustion accelerant can also be added to the carbon powder. The content of the combustion accelerant is generally maintained at about 6%. Common combustion accelerants are methyl formate, n-pentane, ferric nitrate, sodium perchlorate, etc. Customers can choose anyone.
Classification of Shuliy shisha charcoal machines
| | |
| --- | --- |
| Type1 | Mechanical Shisha Charcoal Press Machine |
| Type2 | Hydraulic Hookah Charcoal Press Machine |
| Type3 | Rotary Round Shisha Charcoal Machine |
| Type4 | Stainless-steel Cubic Charcoal Punching Machine |
shisha charcoal machine types
---
Mechanical shisha charcoal press machine
This kind of hookah coals machine uses the pressure generated by mechanical power to extrude charcoal briquettes into specific shapes. The operation of this kind of hookah charcoal press machine is very simple and the production efficiency is very high. The extrusion die of this hookah charcoal machine can be replaced, so hookah charcoal briquettes of various shapes can be processed.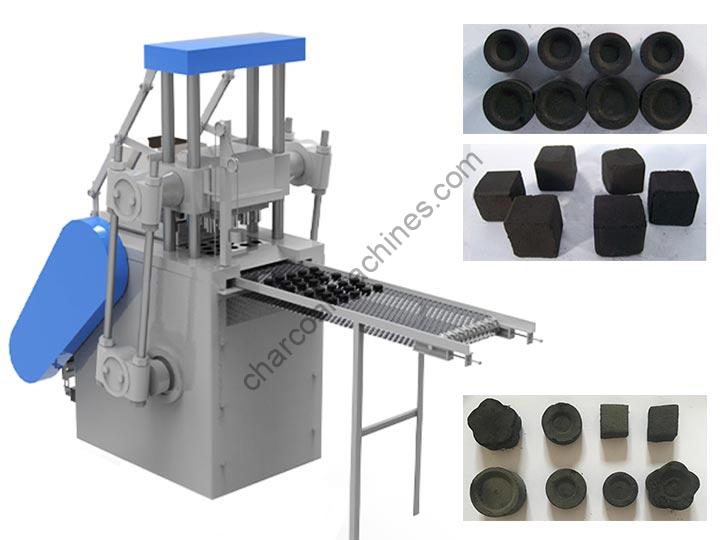 Shisha charcoal press machine working principle
This mechanical type shisha charcoal tablet press machine can press hookah coals by mechanical movement up and down. It includes a main body, motor, inlet chamber, and outlet conveyor belt.
When we can put the charcoal powder into the inlet of this machine, the charcoal powder will be pressed by the extrusion mold which is driven by the motor and the transmission device.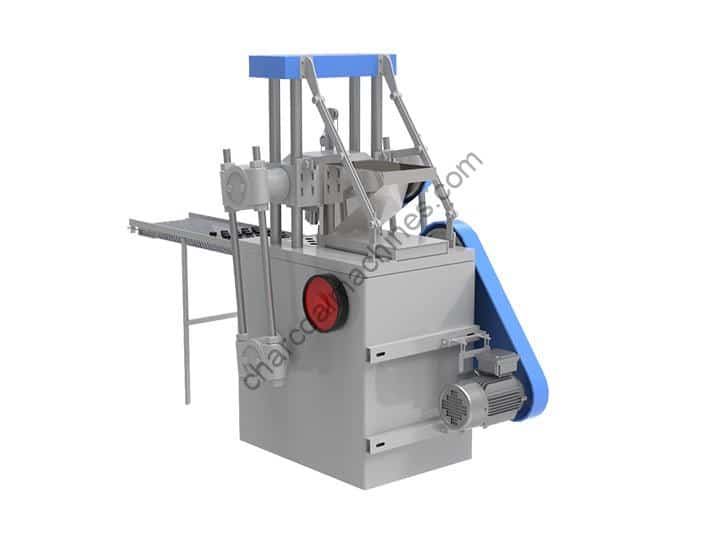 The shisha charcoal briquettes' shapes can be cubic, diamond, ringlike, rhomboid, triangular form, cylinder, pyramid, convexity, concavity, round tablets, etc. The fineness of charcoal powder is generally about 3mm.
We even can design the lettering on the charcoal briquettes with the users' company name, brand name, telephone number, etc. The final shisha charcoal briquettes have a high density and good appearance.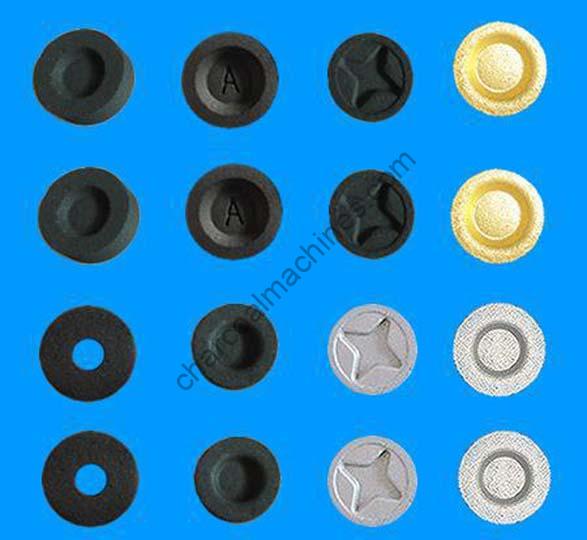 Shisha charcoal making equipment is often used in coal production lines. After the charcoal powder is evenly mixed with the corresponding adhesive in the charcoal grinder & mixer machine or double-shaft mixer, it is pressed into a finished product of a certain shape in the machine, and then it is dried in the dryer for packing and storage.
Shisha charcoal briquette machines can produce high-quality shisha charcoal and charcoal for barbecue, very popular in the domestic and foreign markets.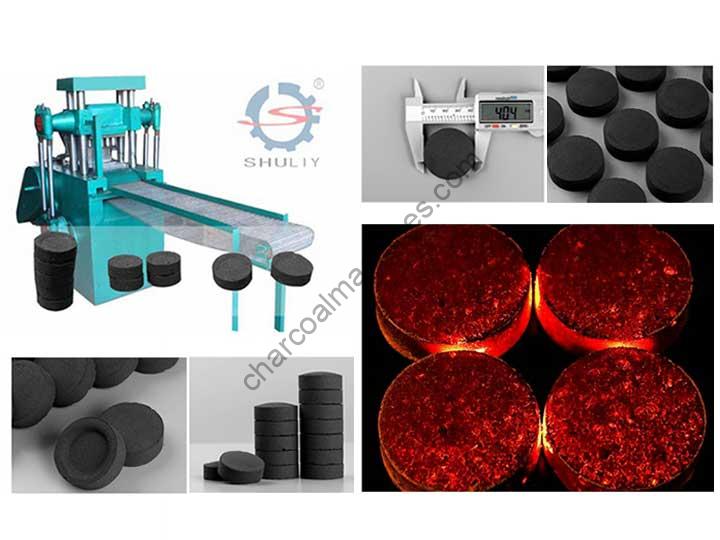 Shuliy charcoal press machine main features
The equipment adopts an automatic electronic control system, and the operation and production of the machine are very simple, saving time and labor.
With high-quality products and large output, the shisha charcoal press machines can realize mechanized production with fast production speed to achieve high economic benefits.
Shisha charcoal press machine features safe operation, convenient maintenance, low noise, and long service life.
This machine is suitable for charcoal powder or powder tablet molding, and is the international best-selling charcoal products tablet equipment. Which can press all shapes of charcoal like round, square, convex and concave, rectangle and triangle, etc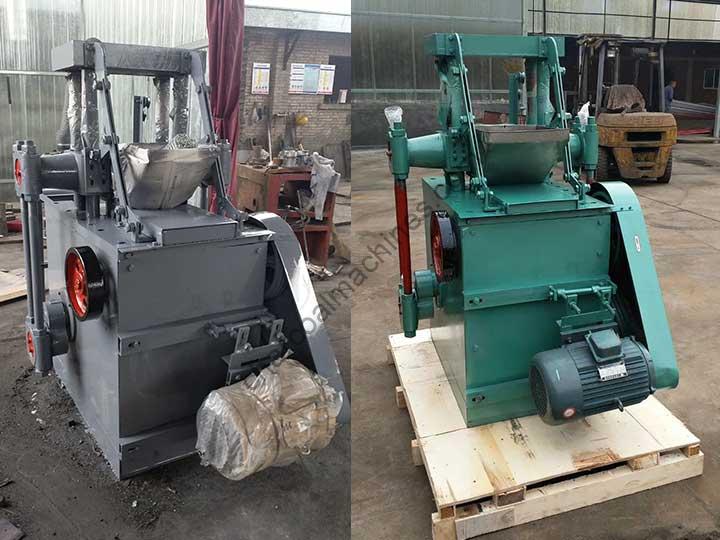 Mechanical type charcoal press machine working video
Technical parameters of mechanical charcoal press machine
Model: SL-MS
Power: 7.5 kw
Pressure: 20 tons per time
Weight: 1700kg
Dimension: 1.7*1.5*1.2m
Capacity:
14 pieces per time, 22 times per minute (round shape with a diameter of 30mm, 33mm, 40mm)
15 pieces per time, 20 times per minute (cubic shape: 20*20mm, 22*22mm, 25*25mm)
Features of the final hookah charcoal briquettes
Briquettes thickness: 8mm-3cm
Charcoal briquettes density: 1.2-1.3t/m³
Burning time of the shisha charcoal: 40-60min
---
Hydraulic hookah charcoal press machine
Hydraulic shisha charcoal press machine is another kind of charcoal equipment for making hookah charcoal. The main structure of the hookah charcoal tablet press machine includes a frame, hydraulic system, distribution cabinet, mold and conveyor belt, etc.
Independent temperature and power control devices and hydraulic pressure can be effectively adjusted. In addition, the molds at the discharge port can be removed and replaced, and we can provide customers with molds of various shapes according to their needs.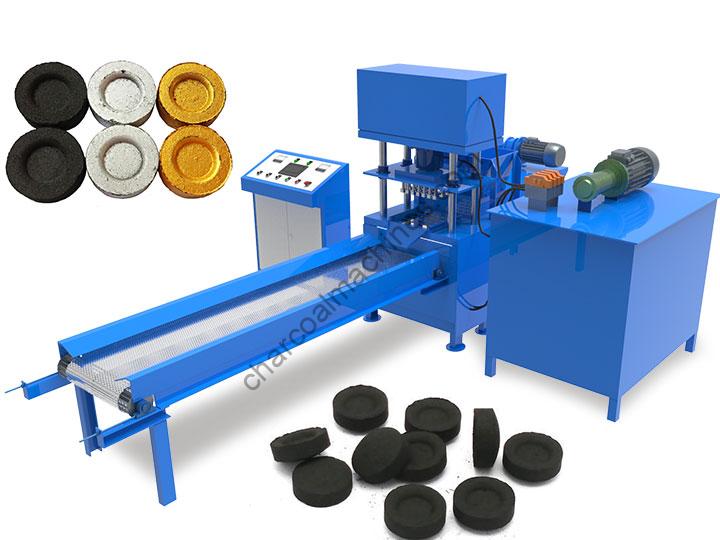 It is suitable for pressing bamboo charcoal powder, wood charcoal powder, straw charcoal powder, and other high-quality charcoal powder into a round sheet, cylindrical, spherical, convex, concave, and other various geometric shapes of products, but also can be pressed with words, trademarks, patterns of these products.
Applications of the hydraulic hookah charcoal machine
Hookah charcoal tablet press material can be compressed into sheets, square, rectangle, circular, diamond, triangular, cylinder, cone, the geometry of the convex, concave, and other various shapes, also can be compressed with a word, trademark, logo, and shape of the various customized version.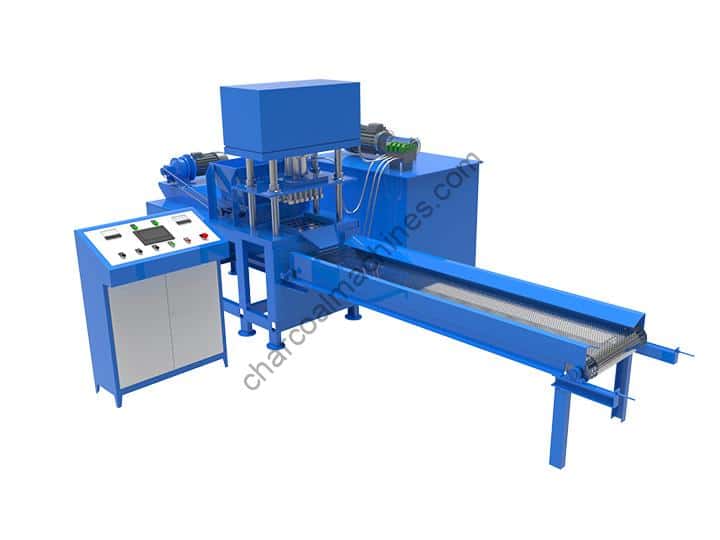 Hydraulic shisha charcoal tablet briquette machine can press about 19,000-27000 finished shisha charcoal tablets per hour, the output is large and the working efficiency is very high.
Major advantages of the hydraulic shisha charcoal machine
The equipment is especially suitable for pressing various shapes of shisha charcoal products, which can meet the various needs of different users.
The machine has a specially designed forced feeder, that can suppress charcoal powder of lightweight, the small density of pure powder materials.
We can provide a large number of specially designed auxiliary equipment and can achieve the automatic feeding of materials, and automatic film, saving time and effort.
Shisha charcoal making machine with a user-friendly design, simple structure, small area occupation, easy to install, simple operation, easy to clean and maintain the facility.
The transmission system is sealed in the worm gearbox under the frame, is a completely separate independent part, will not be contaminated, can reduce noise and wear.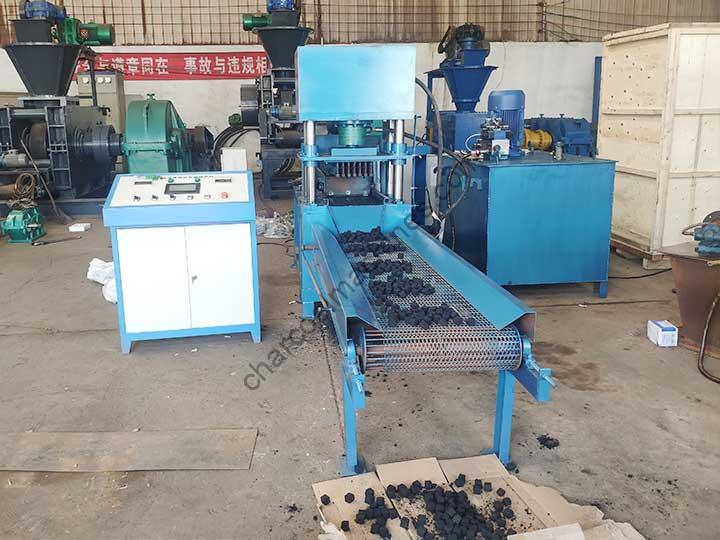 Technical parameters of hydraulic hookah charcoal press machine
Model: SL-HS-1
Pressure: 60tons
Weight: 2800kg
Hydraulic pump power: 15kw
Main host dimension: 1000*2100*2000mm
Feeding power: 0.75kw
Discharge power: 0.75kw
Discharge conveyor: 800*850*1850mm
Control cabinet size: 530*900*1100mm
Capacity:
42 pieces per time, 4 times per minute(round shape)
44 pieces per time, 4 times per minute(cubic shape)
Model: SL-HS-2
Pressure: 80tons
Weight: 2800kg
Hydraulic pump power: 18.5kw
Main host dimension: 1000*2100*2000mm
Feeding power: 0.75kw
Discharge power: 0.75kw
Discharge conveyor: 800*850*1850mm
Control cabinet size: 530*900*1100mm
Capacity:
42 pieces per time, 3 times per minute(round shape)
44 pieces per time, 3 times per minute(cubic shape)
Hydraulic hookah charcoal press machine with the newest design
Components display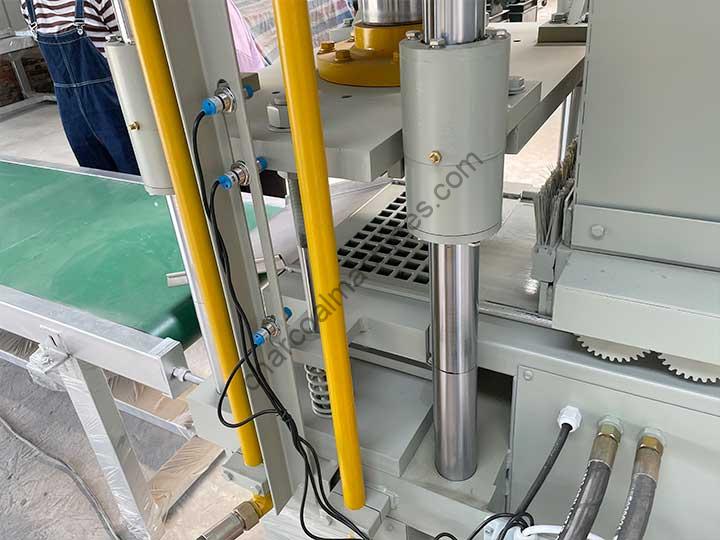 The whole set of hydraulic charcoal press machine display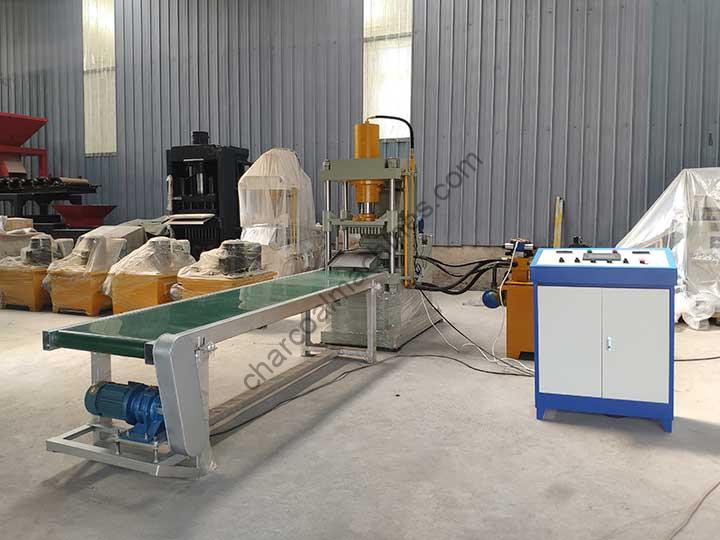 Hydraulic hookah charcoal machine video
---
Rotary round shisha charcoal machine
The industrial rotary shisha charcoal press is a brand new type of hookah & shisha charcoal briquettes making machine of Shuliy factory. This commercial hookah coals maker machine is very popular in Arab countries now.
The rotary shisha coal press machine can press the well-mixed charcoal powder and coal dust into round charcoal briquettes with letters or patterns. And the diameter of the hookah charcoal tablets can be changed to 25mm, 28mm, 30mm, 33mm, 35mm, etc. We can also customize the diameter of the hookah charcoal according to customer requirements.
Raw materials for making round shisha charcoal tablets
The raw materials used to make hookah charcoal tablets are usually various kinds of charcoal, such as log charcoal, coconut shell charcoal, rice husk charcoal, fruit tree charcoal, etc. The charcoal can be carbonized using a carbonization furnace. After carbonization, it needs to be cooled to room temperature before it can be further processed into carbon powder.
To crush the charcoal block into powder, we can use a charcoal grinder or a wheel grinder and mixer machine. These two types of charcoal crushing equipment can quickly crush charcoal into fine charcoal powder. Charcoal powder cannot be processed directly by rotary shisha charcoal press, but it needs to be mixed with the binder and water first.
Rotary hookah charcoal machine's structure
The structure of this new shisha charcoal briquette press equipment is very different from other shisha charcoal briquettes press machines. This kind of Arab hookah charcoal maker is mainly made of stainless steel, so it is very resistant to wear and corrosion.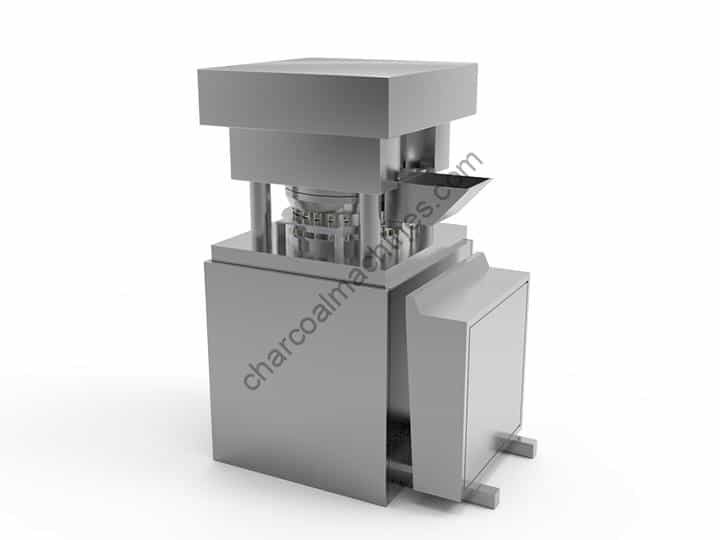 In addition, the molding die of this machine is not a type that is pressed up and down, but a rotary die, which eliminates the waiting time for mold opening and closing during work, so the output is large.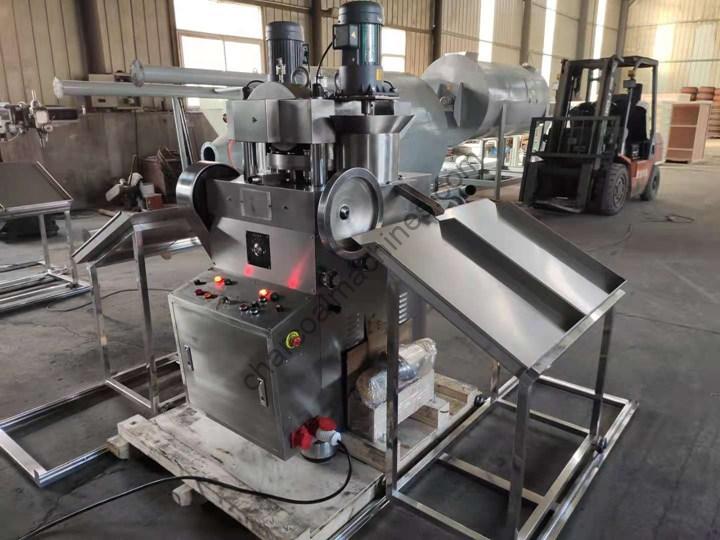 Technical parameters of round hookah charcoal press machine
Model: SL-RS
Pressure: 120KN
Power: 7.5kw
Weight: 1500kg
Filling depth: 16-28mm
Charcoal thickness: 8-15mm
Turntable speed: max 30r/min, usually is 15r/min
Dimension: 800*900*1650mm
Capacity:
40mm, 19 pieces per circle
33mm and 20mm, 21 pieces per circle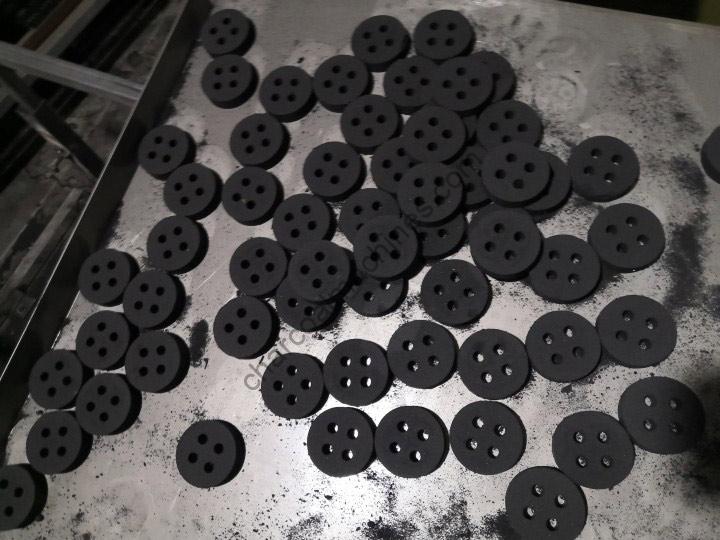 Rotary hookah coal press machine video
---
Cubic shisha charcoal punching machine
This kind of industrial cubic shisha charcoal punching machine is specially designed to process hookah charcoal of different specifications. The machine is made of stainless steel, which is very resistant to wear and corrosion, and has high processing efficiency.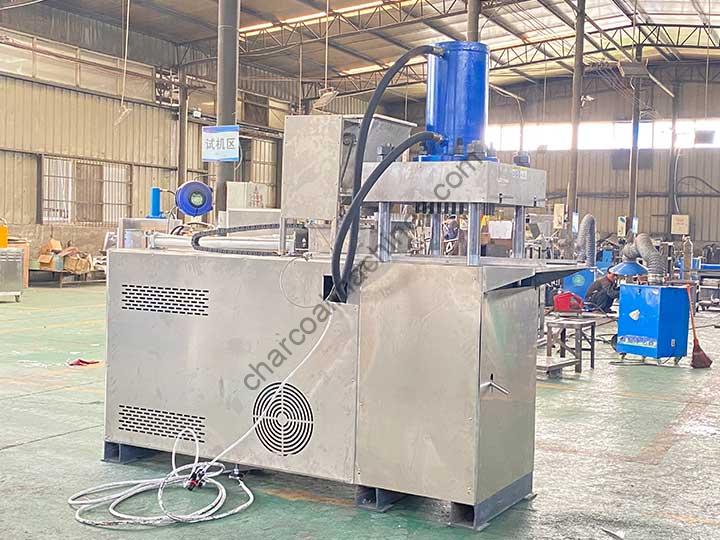 In fact, this stainless steel block charcoal processing machine can process round hookah charcoal in addition to block charcoal. In terms of production effect, this machine is currently the best equipment for processing square carbon. Commonly processed hookah charcoal sizes are 20*20*20mm(cubic), 25*25*25mm(cubic), 30mm(round), 33mm(round), 40mm(round), etc.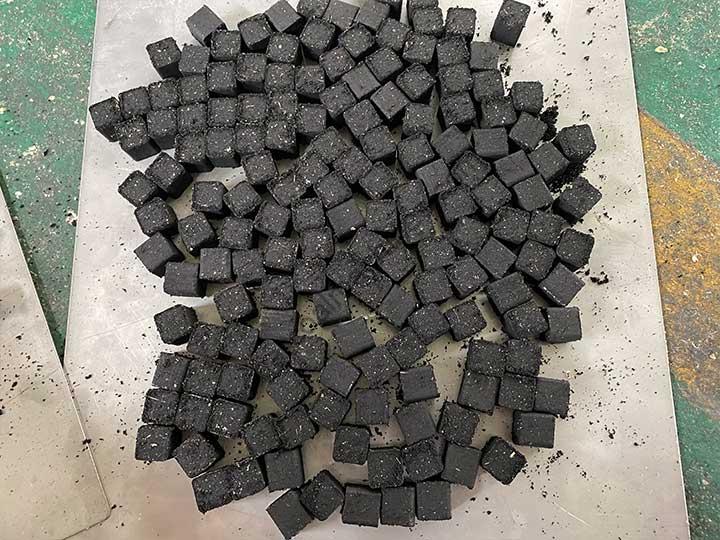 Structure of the hookah charcoal punching machine
This new type of hookah briquette machine is also a hydraulic type of equipment. Its main structure includes a feed hopper, hydraulic cylinder, control panel, and extrusion system.
The extrusion system of this briquetting equipment is mainly a structure of upper and lower molds. If the customer wants to process hookah charcoal of different shapes, it can be achieved by changing the molds of different shapes.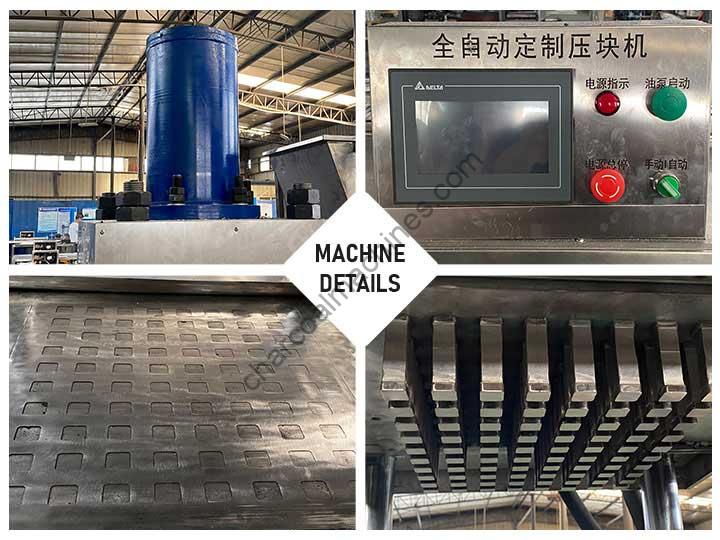 Technical parameters of the cubic shisha charcoal press machine
Model: SL-SS
Pressure: 80tons, 100tons
Voltage: 380V
Power:13kw
Weight:1000kg
Dimension:2500mm*750mm*2300mm
Capacity:
| | | |
| --- | --- | --- |
| Size of the molds | Number of punching once | Number of punches per minute |
| 2cm*2cm*2cm cube | 90 | 3 |
| 2.5cm*2.5cm*2.5cm cube | 80 | 3 |
| Diameter 3cm round | 72 | 3 |
| Diameter 3.3cm round | 56 | 3 |
| Diameter 4cm round | 42 | 3 |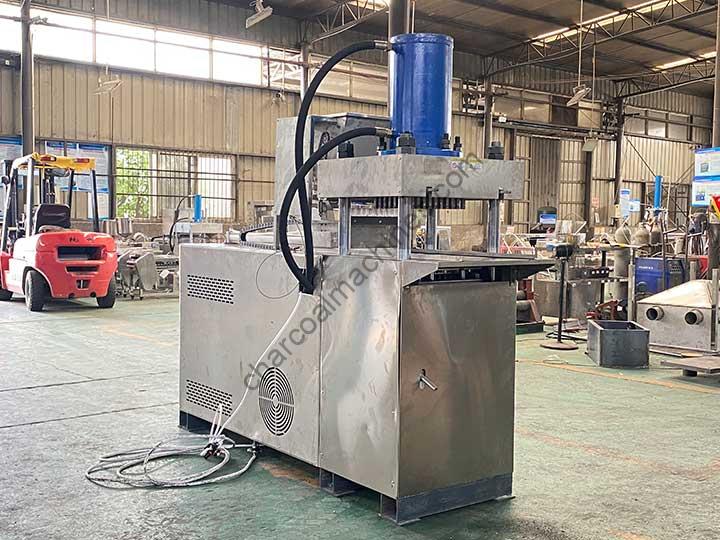 Hookah charcoal punching machine video
---
Related processing equipment for shisha charcoal production
The Arab hookah coal maker has a large output, so it is very suitable for medium-scale hookah charcoal factories. To achieve continuous production, many hookah coals processing plants will choose to purchase a full set of hookah charcoal processing equipment, such as rotary shisha charcoal machine, hookah coals drying machine, charcoal sorting machine, packaging, and sealing equipment, etc.
Hookah charcoal drying machine
The hookah charcoal dryer has a box-type structure, and multiple shelves can be placed inside. Many trays can be placed on each rack. When drying the hookah charcoal, we can fill each tray on the rack with the hookah charcoal tablets, and then push the rack into the box dryer. The temperature of the hookah charcoal dryer can be set and adjusted. The heat source can choose electric heating, gas heating, and solid fuel heating.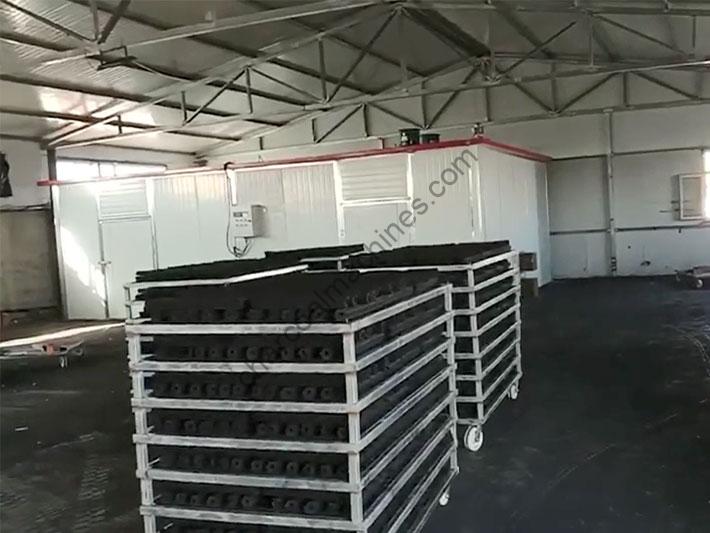 Shisha coal briquettes sorting machine
The hookah charcoal sorting machine is a folding conveyor. Before packing the hookah charcoal, we need to sort the dried hookah charcoal to pick out the damaged hookah charcoal. When the hookah charcoal tablets are poured into the sorting machine, the carbon chips will automatically be spread on the conveyor plate and move with the conveyor plate.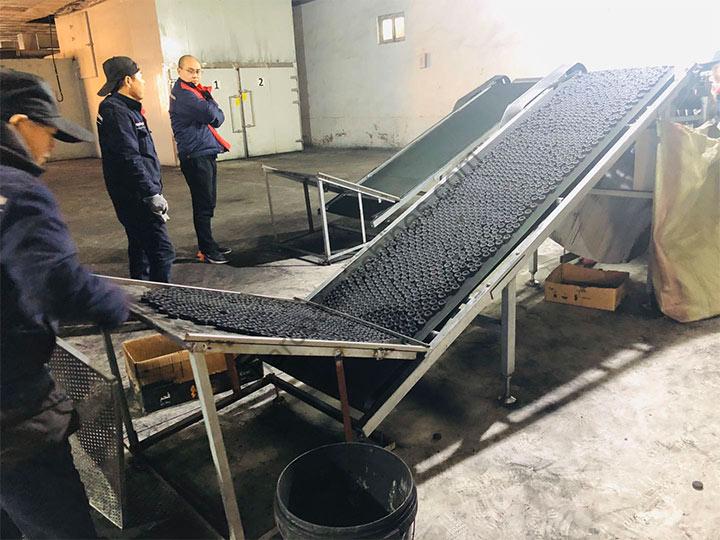 Before the shisha charcoal tablets enter the packaging machine, the sorting machine will automatically arrange the shisha charcoal briquettes together and move them down. And it can feed the packaging machine quantitatively, 5 pieces each time or 10 pieces each time.
Shisha charcoal tablets packaging machine
Our hookah charcoal packaging machine is a pillow-type packaging machine, which can pack finished hookah charcoal products. Customers can choose the size, quantity, weight, pattern, and style of the packaging box for hookah charcoal. We also provide a heat sealing machine, which can plastic seal the hookah charcoal packaging box.