Shuliy, as a manufacturer and supplier of charcoal processing machines, has exported a large amount of wood charcoal, shisha charcoal, and barbecue charcoal processing equipment to many countries.
Due to the expansion of production scale and sophisticated production technology, we have gradually expanded our new business, namely processing and selling high-quality shisha(hookah) charcoal(both round and cubic shape), silver charcoal, and various types of quick-burning charcoal.
We accept the large-scale production of OEM shisha charcoal, we can customize the specifications of the hookah charcoal required by customers, and we can design novel packaging for the shisha charcoal for customers.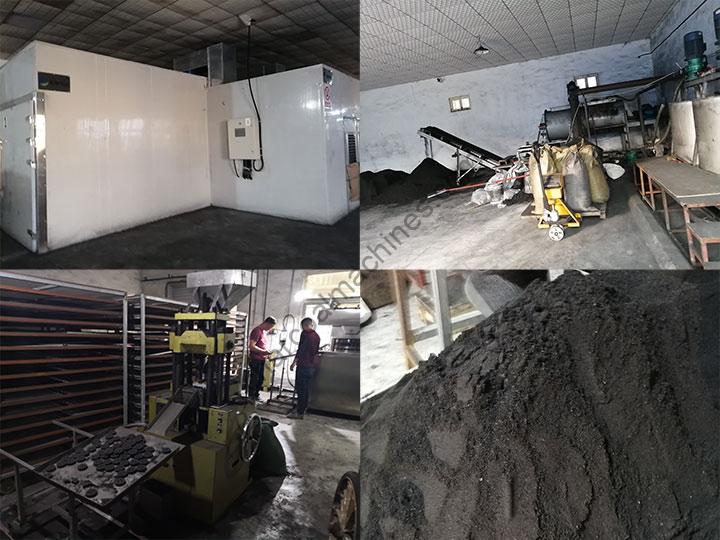 What are the common raw materials we use for processing hookah charcoal?
There are many biomass raw materials used to make shisha charcoal in the world, but the quality of shisha charcoal produced by different raw materials is different. For example, the quality of the hookah char made from leaves and straw is different from that of fruit trees, because their calorific value and burning time are different.
The raw materials for making shisha charcoal in our plant are various because we have cooperated with many stable raw material suppliers. And they can supply various raw materials in large quantities, mainly including various types of nutshells, fruit trees, wood, such as rice husks, palm shells, apricot shells, coconut shells, applewood, pearwood, litchi wood, camphor pine, olive wood, bamboo, miscellaneous wood, etc.
How is our shisha charcoal quality?
The quality of the shisha charcoal processed by our factory is very good and has received orders from many countries. Main features of our shisha charcoal: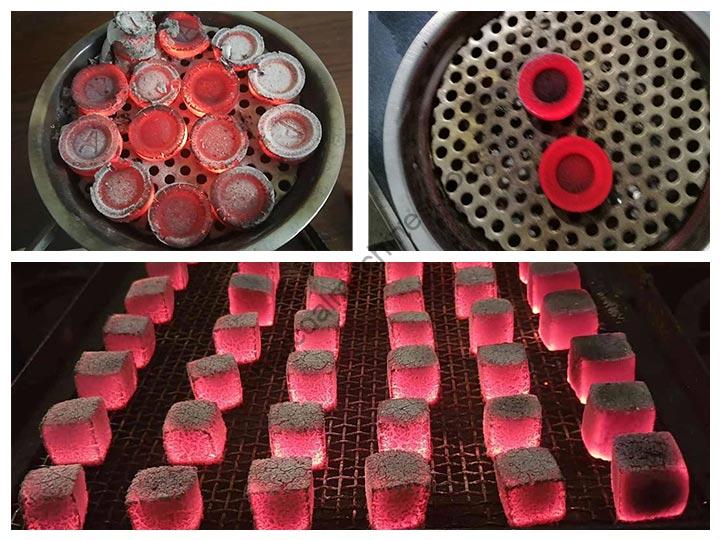 1. Customers have more options. We have produced different grades of hookah charcoal products (mainly with different raw materials) according to different customer needs.
2. The hardness of the hookah charcoal is large, which can ensure that it will not be crushed when it is burned at high temperatures. In addition, its density is high, and the average specific gravity exceeds 1.3.
3. The ignition time of shisha coal is shorter, about 30 seconds on average, and it produces less smoke. And the shisha charcoal does not produce a pungent odor when burning.
4. The burning time of hookah coal is longer, usually, the burning time of each piece of hookah charcoal is more than 60 minutes. And because the additive content is very small, the shisha charcoal burns more fully, so the ash content is smaller, which is lower than 15%.
What are our shisha charcoal specifications?
Our factory originally produced the shisha charcoal processing machines, so we know very well the specifications of hookah charcoal that can be processed on the market. When producing hookah charcoal, we can produce hookah charcoal sheets of different sizes and shapes by replacing the molding dies of the hookah charcoal machine.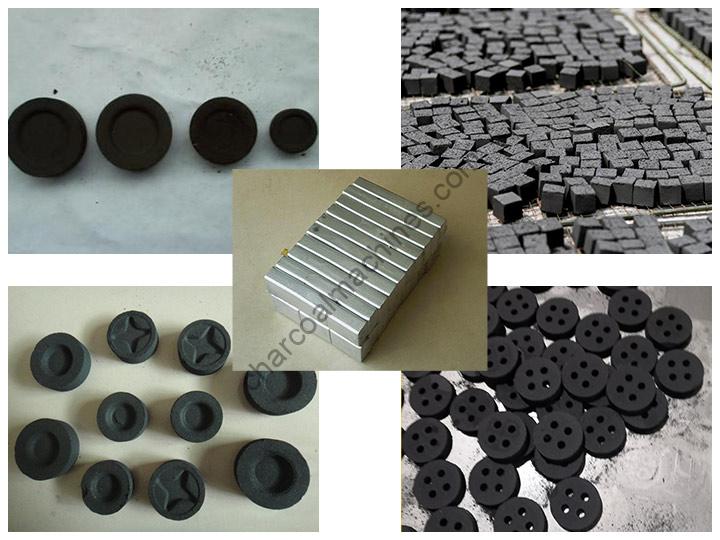 The hookah charcoal processed by our factory is mainly round fast-burning charcoal, square hookah charcoal, silver bar charcoal, charcoal tablets with holes, etc. The diameter of the round hookah charcoal is 25mm, 33mm, 35mm, 38mm, 40mm, and 50mm. The size of the square hookah charcoal is 20 * 20 * 20mm and 25 * 25 * 25mm.
How is our hookah charcoal packaging?
Our hookah charcoal tablets are packaged using an automatic hookah charcoal packaging machine with high packaging precision and fast speed. When packaging hookah charcoal, every 10 tablets are generally a packaging unit, there are also 5 tablets per pack and 8 tablets per pack.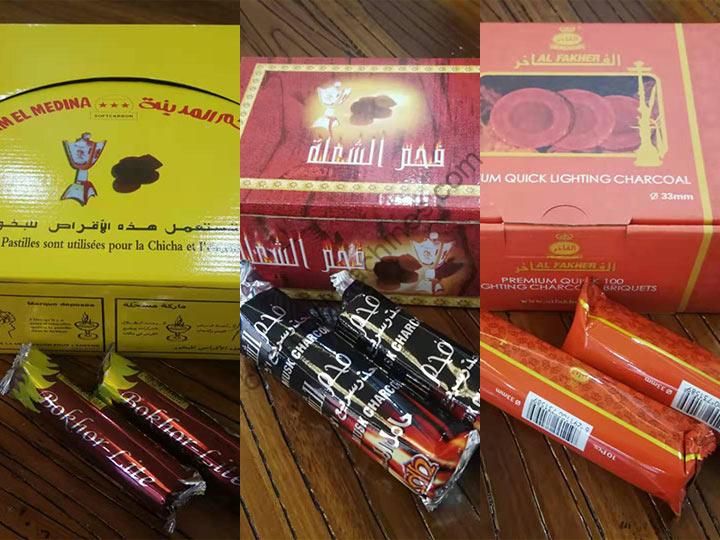 The style of shisha charcoal wrapping paper and the outer box can be designed according to customer needs, including text, pattern, shape, color, material, etc. Customers can also provide us with specific packaging styles, or authorize us to use their registered hookah charcoal packaging styles and brands.
Unique advantages for making and selling hookah charcoal of Shuliy factory
1. Rich experience in manufacturing hookah charcoal machines and enough customer communication experience and customer feedback allows us to avoid many problems in the processing process and can guarantee product quality.
2. The supply of raw materials is sufficient to ensure mass production and a long-term supply of high-quality hookah charcoal.
3. We can not only provide high-quality hookah charcoal products but also provide hookah coal processing equipment and investment programs. If the customer wants to invest in a hookah charcoal processing plant, we can help the customer to design a production plan, including equipment selection, plant design, hookah charcoal processing formula, investment budget analysis, and profit analysis. And we can even send a professional team of engineers to customer factories for production training and guidance.
Video of Shuliy factory for making shisha charcoal