The biomass wood pellet production line is an environmentally friendly project that processes solid fuel pellets from all kinds of biomass wastes such as straw, branches, and rice husks. The production process of the wood pellet processing plant mainly includes wood chipping, sawdust crushing, sawdust drying and storage, pellet extrusion, wood pellet packaging, etc.
The output of the biomass pellet processing line can be customized according to customer needs between 500kg/h and 10t/h. At present, the wood pellet processing plant of Shuliy factory has been exported to the United Kingdom, France, Belgium, Serbia, South Africa, Nigeria, Somalia, Qatar, India, Thailand, Malaysia, Vietnam, New Zealand, Australia, Chile, the United States, Canada and other countries.
Why start the biomass pellets production business?
The reason why we say that the wood pellet production line is an environmental protection project is because the processing line can recycle a large amount of biomass waste, which can save resources and protect the environment. The finished product of the biomass pellet plant can be directly used as fuel because of its high density and high calorific value. In addition, sawdust can be further carbonized into charcoal by a carbonization furnace.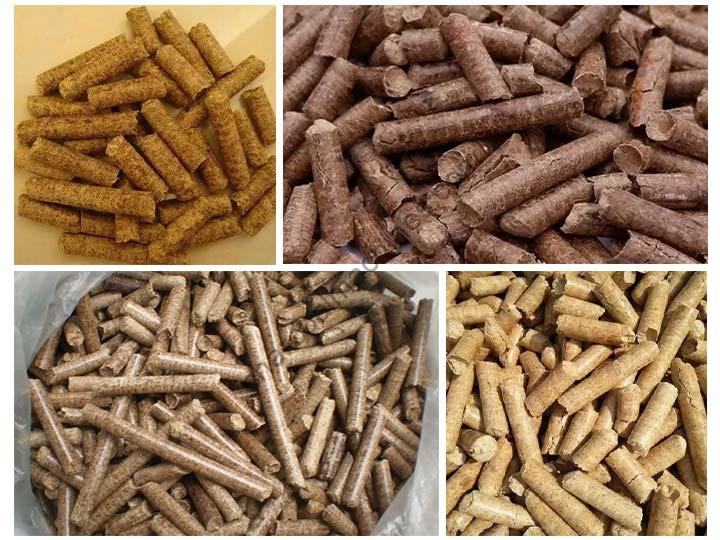 With rising world oil prices and growing energy shortages, we continue to search for renewable alternatives. And wood chips can be a very good solid energy source, so the demand for this kind of biomass pellets in the market is increasing. Therefore, customers in many countries choose to purchase wood pellet production equipment to start wood pellet business. These biomass pellet processors often make huge profits by processing and selling wood pellets. This is because the processing cost of the wood pellet business is low and the profit return is large.
Raw materials for making wood pellets
There is a large amount of biomass waste in our production and life that can be used to process wood pellets. The common raw materials for processing wood pellets are as follows:
The residues of crops. Including cotton stalks, wheat straw, rice straw, corn stalks, corncobs and some other grain stalks.
Sawdust. The granulation of wood chips is excellent. The biomass pellets made of sawdust have stable yield, smooth pellets and high hardness.
Small shavings. Because the particle size of wood shavings is relatively large, it is not easy to enter the wood pellet machine, so it needs to be crushed by a wood shavings crusher before use.
Sanding powder for wood board factories and furniture factories. Sanding powder has a light specific gravity and is easy to clog. It is recommended to mix wood chips and granulate together, and the proportion can be about 50% each.
Cuttings of wood boards and chips. These raw materials need to be crushed before they can be used. 6. Fibrous materials. This raw material should control the length of the fiber, generally the length should not exceed 5mm.
How to make biomass wood pellets?
The production process of using wood pellet production line to produce biomass pellets mainly includes crushing, drying, pelletizing, packaging and so on. The equipment of a complete wood pellet production line includes sawdust grinder, sawdust dryer, wood pellet machine, storage bin, wood pellet packaging machine, etc.
Here we mainly introduce the common configuration of the wood pellet production line with branches and wood as the main raw materials, hoping to provide reference for you who want to start a biomass pellet business. In fact, no matter your raw material is rice husk, sawdust or branches, you can use this pellet processing line for production.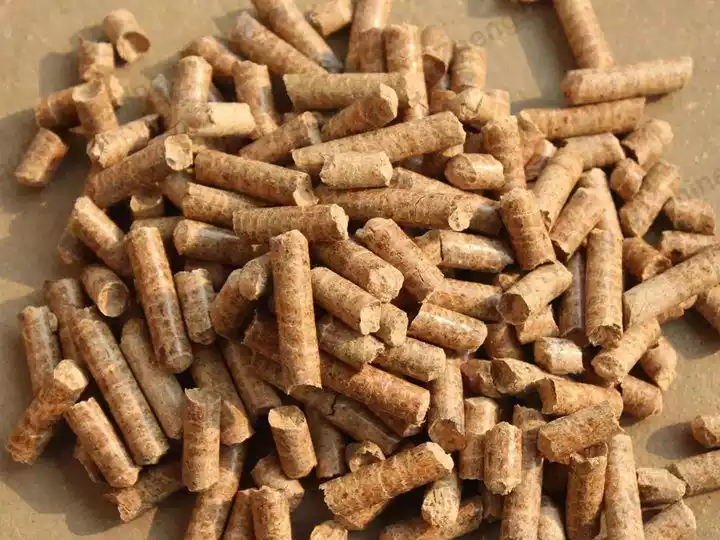 Steps to make biomass pellets with complete wood pellet production line
Wood shredding machine for making sawdust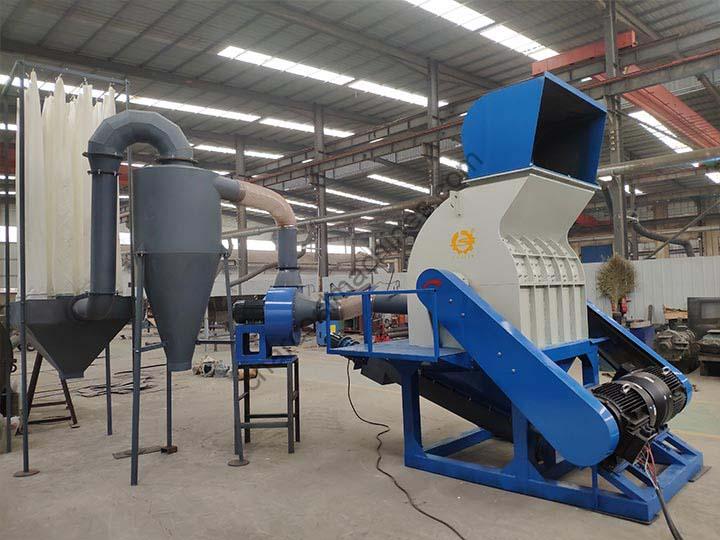 The industrial wood shredder can quickly crush branches, logs, roots, planks, wood scraps, etc. into sawdust (the fineness is preferably between 3-5mm). The crushing fineness of the sawdust machine can be adjusted according to processing requirements. The machine is equipped with a dust collector, which can effectively avoid dust pollution.
The processing capacity of this hammer wood crusher is between 500kg-5 tons per hour. In order to improve the processing efficiency of sawdust, we can also use a wood chipper to first cut logs and branches into wood chips. The wood chips are then further crushed into sawdust using a wood shredder, which can greatly increase the output of sawdust.
Drum dryer for drying sawdust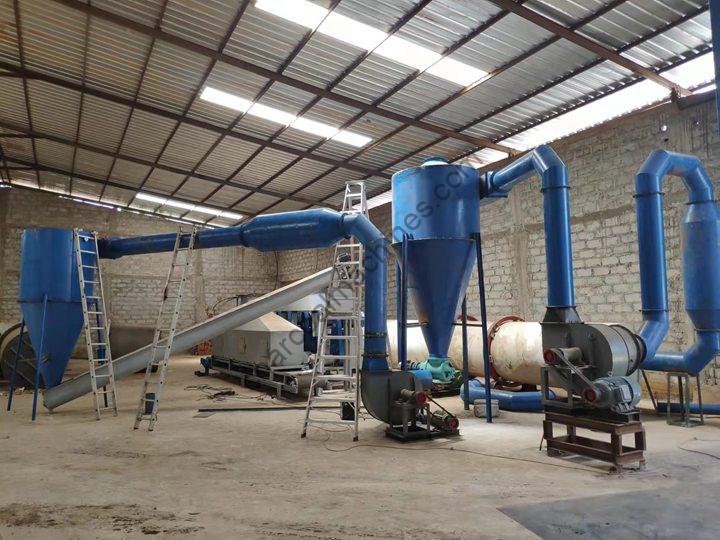 This tumble dryer can be used for continuous drying of sawdust, rice husk, etc. The heat source of this continuous sawdust dryer is usually biomass pellets, wood, coal, charcoal, etc. The dryer is connected with a dust removal device, which will not pollute the working environment.
Pellet extruder for making wood pellets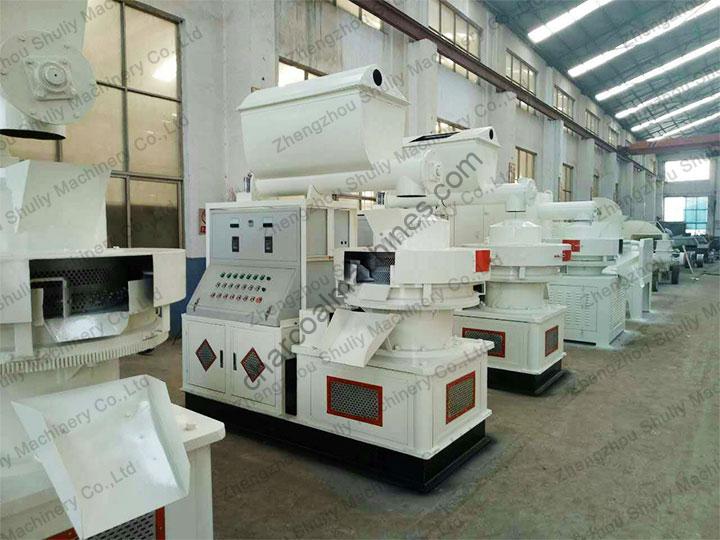 This commercial wood pellet extruder can quickly extrude dried wood chips from its internal die into solid cylindrical pellets. The power mode of this sawdust granulator can choose electric motor or diesel engine.
Moreover, the diameter and length of wood pellets can be adjusted according to production needs. The output of this wood pellet machine is between 500kg/h and 5t/h. Generally, the larger the model of the wood pellet machine, the greater its output. Our factory can recommend suitable models for customers according to their needs.
Storage bin for keeping pellets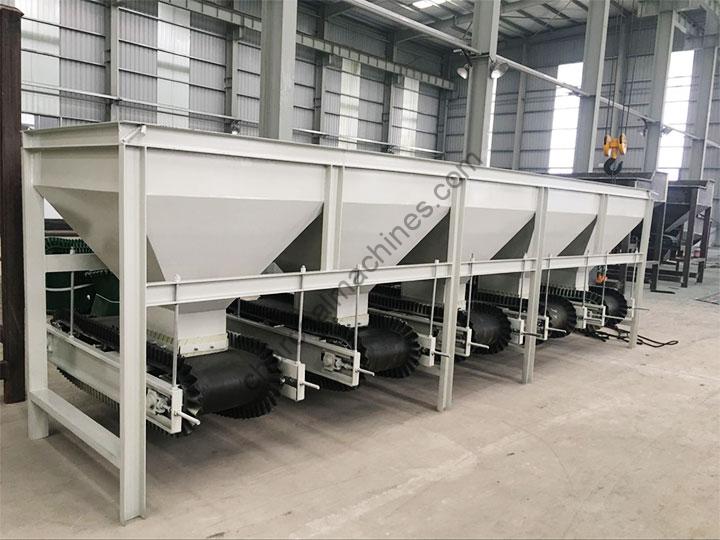 The storage bin is an optional equipment in the wood pellet production line. This machine is mainly used for temporary storage of wood pellets made by the pellet machine. In the wood pellet processing line, the output of wood pellets is usually large, and it is necessary to use the storage bin to pack the wood pellets so that the subsequent wood pellet packaging can proceed smoothly. However, if the customer has a large factory area or does not need to pack wood pellets, it is not necessary to purchase this storage bin.
Vertical packaging machine for packing pellets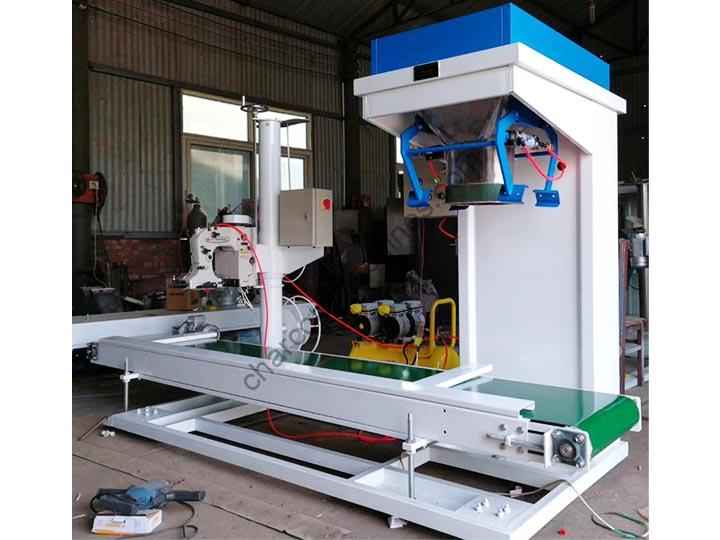 We can use this vertical packaging machine for quantitative packaging of wood pellets. This automatic packaging machine can pack all kinds of powdery and granular raw materials. When packaging wood pellets, we can set the packaging weight and packaging speed on the control panel of the packaging machine. The packaging specification of the wood pellet packaging machine can be adjusted between 5-50kg. The packing capacity per hour is 100-400 bags.
FAQ about wood pellet production line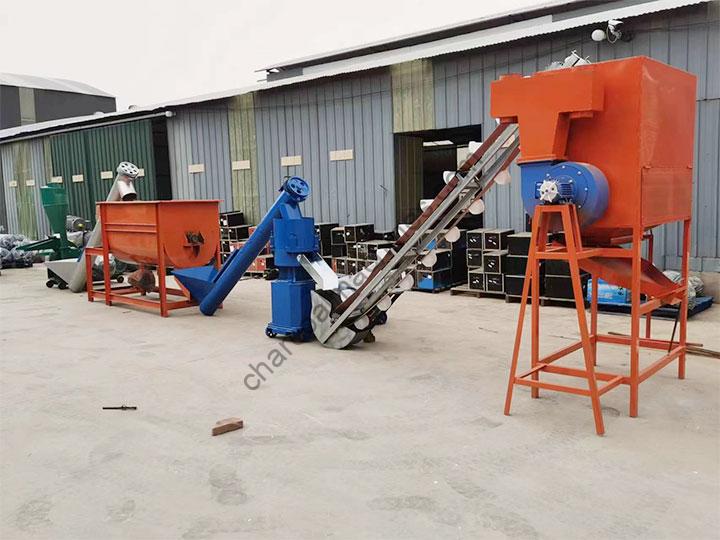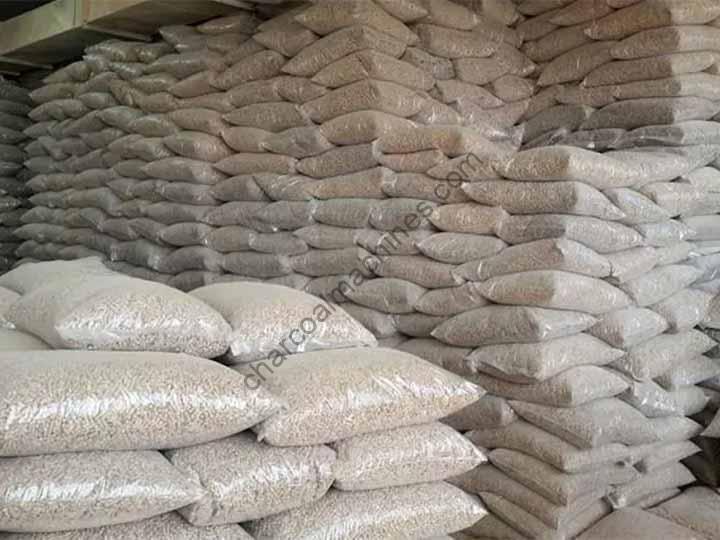 Can I use rice husk to make pellets?
Yes, of course. Rice husk can be used to process pellet fuel. But make sure that the rice husk maintains a certain amount of moisture at about 10%.
What are wood pellets used for?
Wood pellets are usually used directly as fuel. Such fuel pellets are commonly used to heat boilers in factories and for domestic heating. In addition, we can also use a carbonization furnace to carbonize wood pellets to make granular charcoal.
Can your pellets plant reach 10t/d?
Yes, we can customize the wood pellets plant based on your production requirements and your budget. Our factory has exported all kinds of small and large wood pellet projects to different countries, the daily output is between 1 ton and 20 tons.