Saw Mill Machine for Processing Lumbers
Wood sawmill machine | Lumber mill machine
Popular model: SL-MJ329, SL-MJ3210B
Motor power: 18.5kw, 22kw
Max sawing diameter: 650mm, 900mm
Industrial wood sawmill machines can saw logs into planks, strips, etc. of uniform thickness or length. Sawmill machines are generally composed of saw blades, frame bodies, PLC control systems, motors, etc., which can replace manual and quickly cut logs into required thicknesses, and are very suitable for wood processing factories, furniture factories, paper mills, etc. The Shuliy factory can supply all kinds of commercial lumber mill machines with simple operations and favorable prices to global customers.
Why has the wood sawmill machine developed so much today?
Imagine how our human society processed wood into planks and furniture 20 years ago. It takes us 2-3 hours or even half a day to cut a log with a diameter of 50cm into planks using a simple hand saw. Also, the thickness of the boards processed with the hand saw is usually not uniform. In addition, during the sawing process, we often get injured because of the hardwood or improper operation.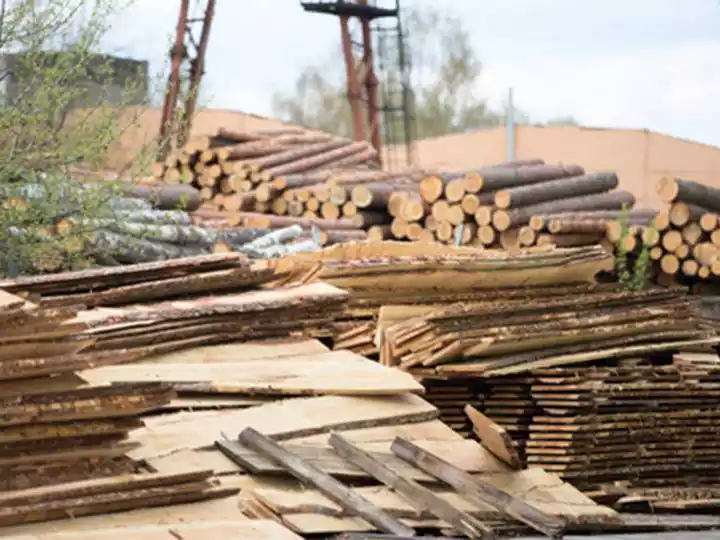 Therefore, in order to improve the processing efficiency of sawmills and reduce the labor load of workers, automated sawmills have gradually replaced labor. The commercial saw milling machine can be used to quickly cut various diameters and different types of trees, saving time and effort, and is an important manifestation of the progress of productivity in modern society.
Sawmilling machine of Shuliy
Shuliy factory has been engaged in R&D, manufacturing, and exporting woodworking equipment for more than 10 years. At present, the Shuliy factory can supply all kinds of wood shredders, wood chippers, wood powder machines, wood shaving machines, wood pellet machines, etc. with advanced manufacturing technology.
Industrial sawmills are also hot products in our factory and have been exported to the Philippines, Vietnam, Thailand, Canada, the United States, Mexico, Brazil, Chile, Argentina, France, Romania, Spain, Norway, Egypt, Afghanistan, Nigeria, South Africa, Congo, Morocco, and other countries.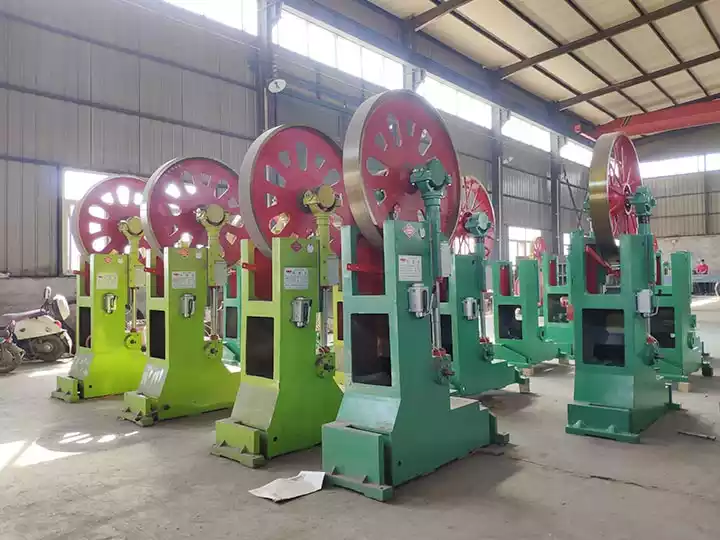 Classifications of the Shuliy lumber mill machines
Shuliy factory currently mainly supplies three kinds of sawmills for commercial use, namely, log table saw(portable sawmill), vertical band saw, and horizontal band saw(industrial chainsaw mill).
These three kinds of sawmills have passed through our factory and gradually optimized and improved, and now they are all sawmills that are popular in the market. Different sawmills have different requirements for processing raw materials. Generally, we will recommend suitable sawmills for customers according to their processing needs.
Vertical band sawmill
This vertical sawmill is usually used for sawing logs and square logs with a diameter of 50 cm-150 cm. The processing speed of this lumber mill machine is very fast, the production efficiency is high, and the range of wood diameters that can be processed is also large, so it is very popular with small and medium-sized wood processing plants. Boards treated with this vertical band saw are often used in construction, shipbuilding, and furniture factories.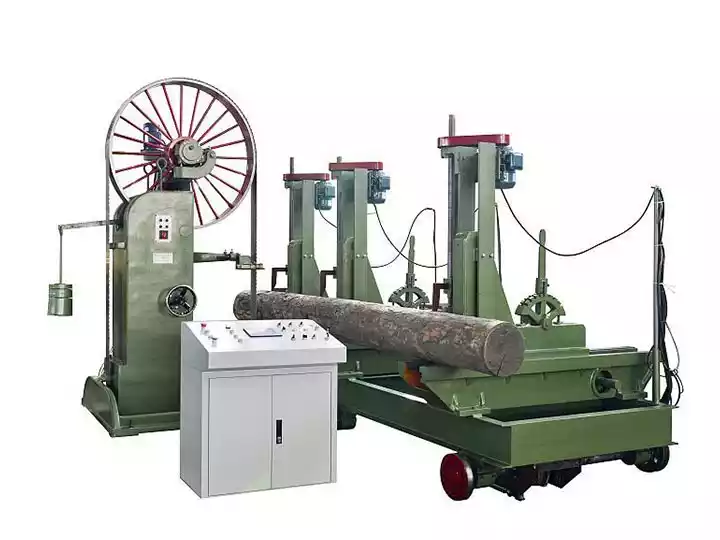 Working process of vertical saw mill machine
The structure of this vertical band saw is mainly composed of the saw blade, saw wheel, base, frame, wood conveying guide rail, and so on. When using this vertical sawmill, we must first fix the wood on the conveyor rail, and then start the sawmill to start working.
By turning the adjusting hand wheel on the guide rail, the log will gradually approach the saw blade of the vertical sawmill for cutting. When the plank is cut off, we turn the adjusting hand wheel again, and the remaining wood will quickly return to its position and start the next sawing work.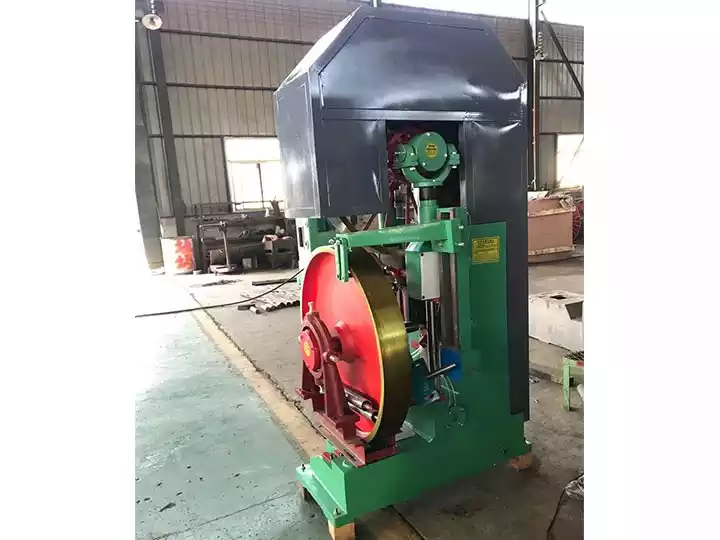 Parameters of vertical band saw machine
| | | | | |
| --- | --- | --- | --- | --- |
| Model | SL-MJ329 | SL-MJ3210 | SL-MJ3210B | SL-MJ3212 |
| Motor power(kw) | 18.5 | 22 | 22 | 37 |
| Sawing diameter(Max)(mm) | 650 | 850 | 900 | 1500 |
| Saw wheel diameter(mm) | 900 | 1000 | 1050 | 1250 |
| Saw wheel speed(r/min) | 750 | 750 | 750 | 650 |
| Saw blade width(mm) | 125 | 125 | 125 | 150 |
| Applicable saw blade thickness(mm) | 1.05 | 1.05 | 1.05 | 1.25 |
| Maximum length of saw blade(mm) | 6400 | 6900 | 7100 | 8300 |
| Machine weight(kg) | 1100 | 1200 | 1300 | 2700 |
| Machine size(mm) | 1160x900x2100 | 1260x1000x2300 | 1360x1070x2400 | 1400x1440x2600 |
parameters of vertical sawmill
Working video of vertical lumber mill machine
Customer cases of vertical sawmill machine use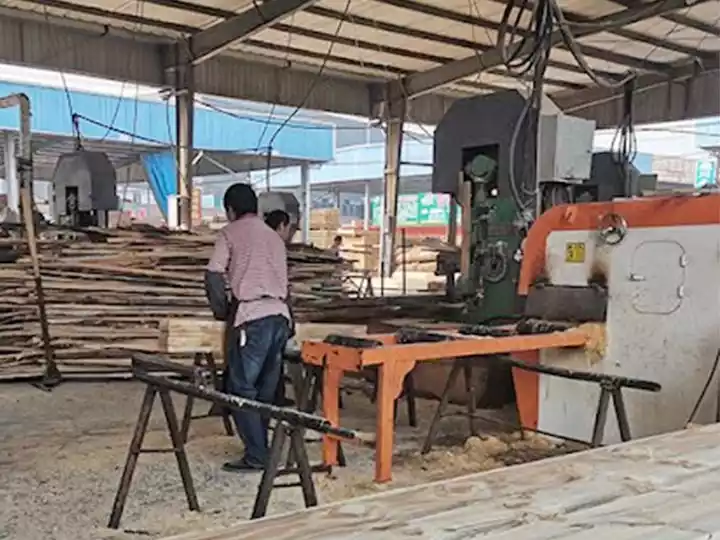 Big log sawing plant in Thailand with our lumber mill machines. This Thailand customer bought 3 sets of sawmills from us in 2020 for his wood board processing plant. This is a picture of his own factory taken by the customer. He also said that during nearly 2 years of use, our wood saw mill machines have almost no failures, and the production efficiency is very high.
Wood saw milling plant in Italy factory. The Italian customer purchased the largest sawmill in our factory in 2018, which is used to process wood with a diameter of about 100cm. Today, the sawmill is still in normal use with high efficiency.
Horizontal band saw
Horizontal woodworking band saw machine is composed of a saw frame, screw adjustment device, saw blade, conveying track, and lifting bracket. This horizontal sawmill works quite differently from the vertical sawmill. When the machine is working, the wood is stably fixed on the track, and the saw machine installed on the frame above the track moves in parallel along the track to cut the log into planks. We can adjust the processed lumber thickness through the parallelogram adjustment device of the machine.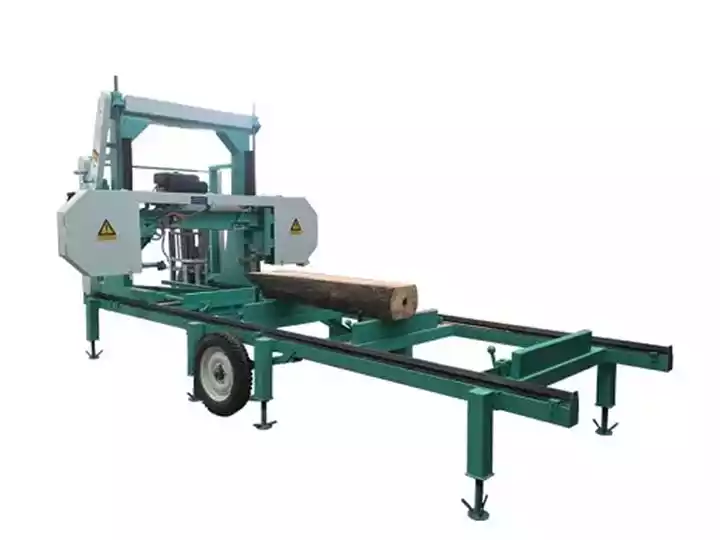 Features of horizontal wood saw mill machine
The horizontal band saw machine is a device that uses a circular steel band saw blade as the saw quality and makes one-way continuous movement around two saw wheels to saw wood. The bed is made of cast iron or steel plate welded.
The track is made of thickened rectangular tube material welded with high-quality steel, which can withstand the pressure of large-diameter wood without deformation. The saw blade tensioning device of the horizontal sawmill adopts a hydraulic system, which saves time and effort. The lifting system of the machine adopts the mode of worm gearbox and chain transmission.
Horizontal sawmills can use motors, diesel engines, gasoline engines, etc. as power methods. Customers can choose according to their needs when purchasing. Horizontal sawmills are different from vertical sawmills that need to lay a foundation.
This kind of sawmill can be placed directly on flat ground for work. Wheels can also be installed under the workbench of the machine, making it easy to move and work in the forest. In addition, the length and width of the conveying guide rail of the horizontal lumber mill machine can be customized according to the size of the raw material to be processed by the customer.
Parameters of horizontal sawmill
| | | | | | | | |
| --- | --- | --- | --- | --- | --- | --- | --- |
| Model | SL-MJ700 | SL-MJ1000 | SL-MJ1200 | SL-MJ1500 | SL-MJ1700 | SL-MJ2000 | SL-MJ2500 |
| Main motor power(kw) | 15 | 18.5 | 22 | 30 | 37 | 45 | 55 |
| Transmission motor power(kw) | 1.1 | 1.5 | 1.5 | 2.2 | 3 | 3 | 3 |
| Lifting motor power(kw) | 0.75 | 1.5 | 2.2 | 3 | 3 | 3 | 4 |
| Maximum sawing diameter(mm) | 700 | 1000 | 1200 | 1500 | 1700 | 2000 | 2500 |
| Maximum sawing length(m) | 6 | 7 | 9 | 9 | 12 | 12 | 15 |
| Maximum sawing height(mm) | 650 | 950 | 1200 | 1600 | 1600 | 1900 | 1900 |
| Saw wheel diameter(mm) | 600 | 820 | 820 | 900 | 1000 | 1070 | 1070 |
| Saw wheel speed(r/min) | 800 | 750 | 750 | 720 | 700 | 650 | 650 |
| Saw wheel width(mm) | 70 | 100 | 100 | 125 | 125 | 140 | 140 |
| Rail length(m) | 6 | 9 | 12 | 12 | 15 | 15 | 18 |
| Machine weight(kg) | 1500 | 2100 | 2300 | 2900 | 3500 | 4500 | 4800 |
parameters of horizontal sawmill
Model: SL-C-1300, SL-C-1400, SL-C-1600
Feeding inlet size: 1300*500mm, 1400*800mm, 1600*800mm
Output size: less than 100mm
Blades(pcs): 20, 32, 66
Total power: 156.5 kw, 213.5 kw, 233.5kw
Hot sale model: SL-C-420, SL-C-500, SL-C-700, SL-C-900
Motor power: 7.5-11kw, 11kw,18.5-22kw, 45kw
Capacity: 500-800kg/h, 1000-1500kg/h, 3000-3500kg/h, 4000-5000kg/h
Model: SL250, SL320
Motor power: 4+1.5kw, 7.5+2.2kw
Max diameter: 5-25cm, 10-30cm