Hookah Shisha Charcoal Production Line | Round & Cube Briquettes Making
The industrial hookah shisha charcoal production line is a processing line for making different types of shisha hookah charcoal briquettes. The production line can process hookah charcoal of different shapes and sizes, such as round shisha charcoal(common diameter: 30mm, 33mm, 40mm), cube hookah charcoal (common size: 25*25m, 22*22mm, 20*20mm), hookah charcoal with customized patterns, etc.
The production capacity of the hookah briquettes processing line is between 100kg/h and 1t/h, which can be customized according to customer needs. Shuliy factory mainly designs two types of hookah charcoal production lines for customers: round hookah charcoal production line, and cubic shisha charcoal production line.
Cube hookah charcoal production line design

Brief introduction of cubic shisha charcoal production line
As we know that shisha or hookah has been widely used in many countries in recent years, especially for some developed countries of Europe and the United States, and the Middle East where shisha smoking has been a new fashion.
Along with the popularity of hookah smoking, there is great potential in the worldwide market of shisha charcoal production. Our Shuliy machinery is a professional charcoal machine manufacturer for over 10 years and we are constantly studying how to produce high-quality shisha charcoal briquette machines with high efficiency and large output and provide the customers special shisha charcoal production line.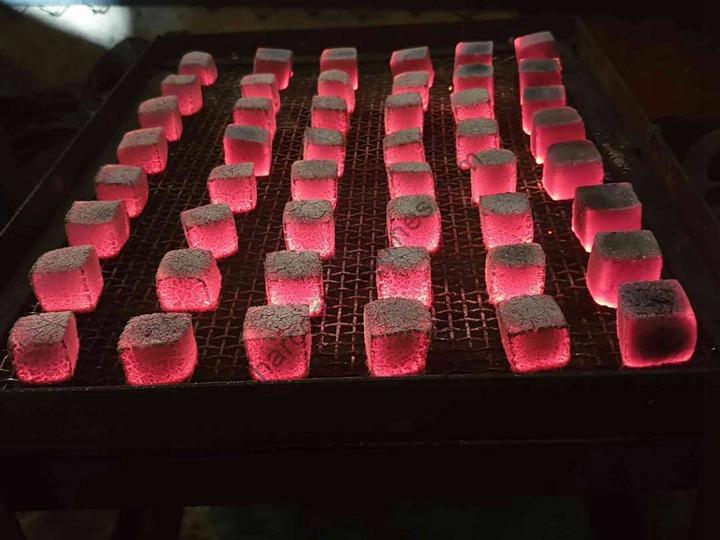 Here we are ready to introduce a new design cubic shisha charcoal production line to give the customers who want to invest in large-scale shisha charcoal production more good options.
This shisha charcoal production line mainly includes a charcoal grinder, binder mixer, charcoal briquette machine, an automatic cutter with conveyor, charcoal drying box, and charcoal sealing machine.
Components of the cubic hookah charcoal production line
What to make the rectangular shisha charcoal is the charcoal powder from coconut shell, straw, fruit trees, bamboo, wood chips, or coal powder. The production process of the shisha charcoal production line mainly concludes grinding, mixing, briquetting, cutting, drying, and sealing. The detailed production process is as follows:
Charcoal grinder
The grinding machine is mainly used to further crush the charcoal powder or coal powder and in order to obtain a fine charcoal powder or coal powder to produce high-quality shisha(hookah) charcoal.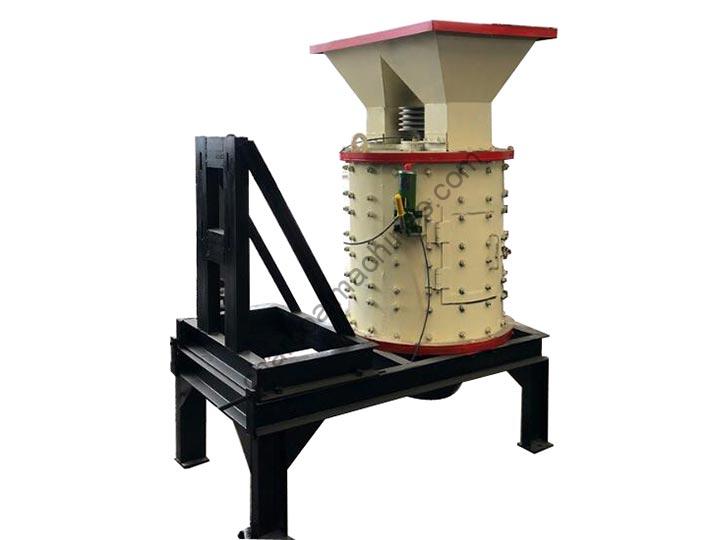 Binder mixer
Add a certain amount of charcoal powder or coal powder, binder, and water into the mixing barrel of the charcoal mixer. The electric motor on the top of the mixer will drive the two stirring axes in the mixing barrel to mix the wet powder evenly so that can make sure that the final shisha charcoal will have high density.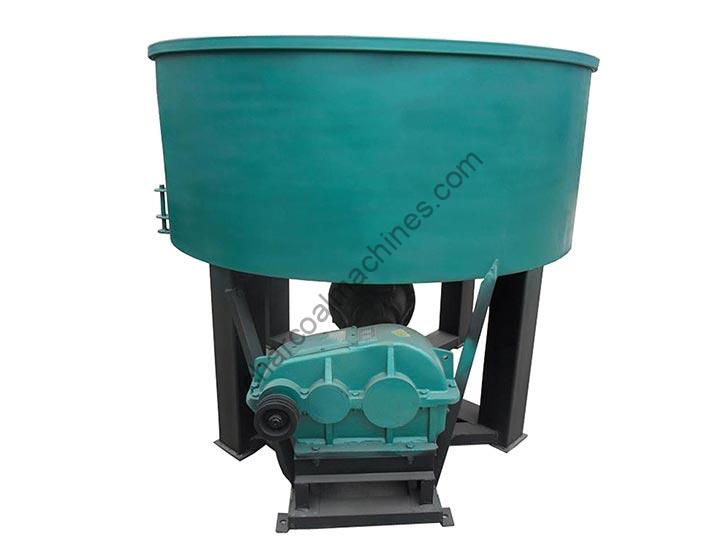 The briquette machine is the important equipment of the production line which can squeeze the powdered charcoal into a certain shape. Feed the charcoal powder into the inlet of the machine, then the screw shaft inside the molding machine will push the wet powder forward, and the final molded charcoal will be extruded through the outlet. The mold of the outlet can be selected according to the customer's requirements for different shisha charcoal shapes.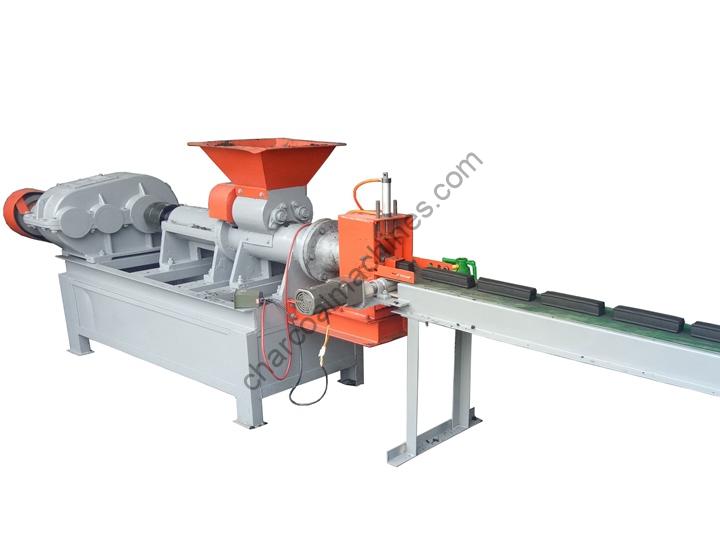 Automatic cutter with conveyor
In actual use, the cutter and the flat conveyor are always used together. Usually, the cutter is fixed on the middle of the conveyor so that can cut the formed charcoal bar automatically when the charcoal bar is transported into the bottom of the conveyor. The rotating blade of the cutter can cut the charcoal bar into cubic-shaped shisha charcoal and the output is very large.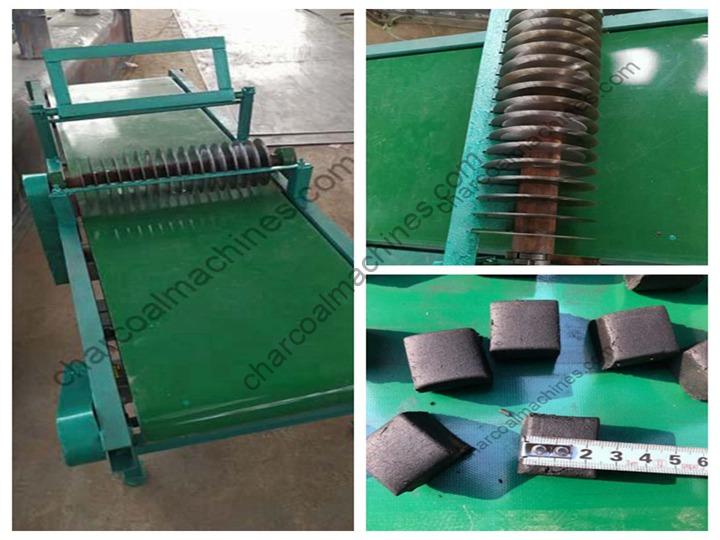 Charcoal briquettes drying machine
After cutting, the cube shisha charcoal needs to be dried for 4-8 hours in the drying box. If the moisture content of the charcoal is large, the drying time will be prolonged. And the drying time mainly depends on charcoal's moisture and hardness.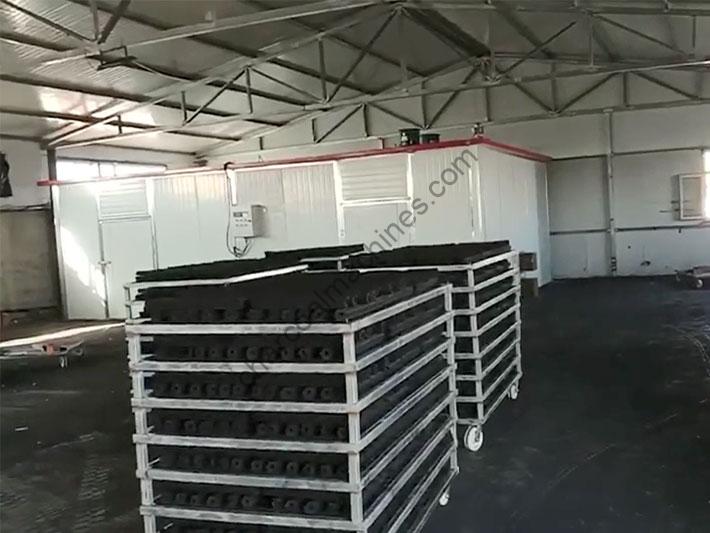 Charcoal briquettes packaging machine
The packaging machine is mainly used to pack the dried shisha charcoal products into a separate small package, easy to transport and sell.
Main advantages of cube shisha charcoal production line
Charcoal briquette machine using an automatic electronic control system so that one person can operate the machine. The machine is equipped with an automatic cutting system so that can saving time, labor, and cost.
This full set of shisha charcoal production lines has strong adaptability, can be used for coconut charcoal, bamboo charcoal, straw charcoal, wood charcoal, and other charcoal powder and coal powder.
The equipment in the shisha charcoal production line has high efficiency, large output, and low energy consumption.
The machine structure of the whole production line is simple and easy to operate and maintain. And the mold is easy to change, we can according to different customer needs to make different shapes of shisha charcoal.
We can also produce all kinds of charcoal making machines and can customize all kinds of a charcoal production line for customers.
Shisha charcoal processing project video
Parameters of shisha charcoal production line
1
Charcoal grinder
Diameter:1.5m
Power:7.5kw
2
Binder mixer
—
3
Charcoal briquette machine
Model: SL-180
Power: 22kw
Capacity: 800-1000kg/h
Dimension: 2200x1400x600mm
4
Cutter with conveyor
Length: 6m
Width: 0.5m
Power: 0.75kw
5
Charcoal drying box
Model: SL-480
Motor: 6.5kw
Capacity: 1.25t/circle
Machine size: 4.5*2.5*2.2m
Heat source: Heat pump(electric)
6
Charcoal sealing machine
Power: 780w
Sealing speed: 0-12m/min
---
Round shisha charcoal production line design
The production line for making round shisha charcoal briquettes designed by the Shuliy factory is an automatic processing project for making hookah charcoal briquettes on a large scale.
The main equipment of this round shisha charcoal processing plant includes the continuous carbonization furnace, conveyors, charcoal crusher, charcoal powder grinder, charcoal powder storage bin, weighing silo, round shisha charcoal briquette machine, briquettes drying machine, and round shisha charcoal packaging machine.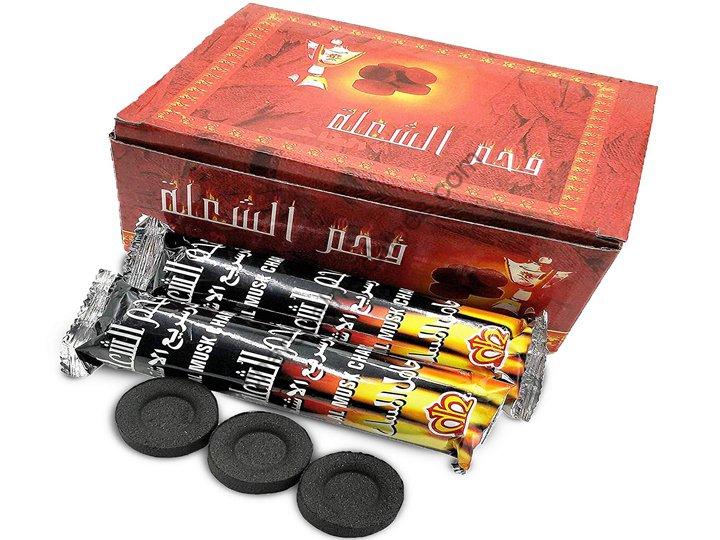 Machine list and parameter of the 1t/h round shisha charcoal plant
Item
Specifications
Qty
Continuous carbonization furnace

Model: SL-1200
Dimension: 12*2.6*2.9m
Power: 25kw
Capacity: 700-800 kg per hour
Weight: 11-12 t
Steel thickness: 11mm
1
Screw conveyor

Dimension:6.6m*0.3m*0.5m
Power:4kw
1
Charcoal crusher machine

Model: SL-600
Power: 22kw
Including 5 bags of dust removal
Dimension: 3600*1700*1400mm
Capacity: 600-700kg per hour
Final size: less than 5mm
1
Screw conveyor

Dimension: 6.6m*0.3m*0.5m
Power: 4kw
1
Charcoal powder grinder machine

Model: SL-3R140
Maximum feed size: 10-15mm
Finished product size: 60-325 mesh
Capacity: 10 ton per 8 hours
Main motor: 7.5kw
Fan motor: 5.5kw
Machine size: 3.34*2.3*3.5m
Weight: 1500kg
1
Screw conveyor

Dimension: 6.6m*0.3m*0.5m
Power: 4kw
1
Storage bin

Power: 4kw
Dimension: 2*3m
1
Screw conveyor

Dimension: 6.6m*0.3m*0.5m
Power: 4kw
1
Weighing silo

Power: 1.1kw
Weight: 200kg
1
Wheel grinder

Model: SL-1800
Power: 15kw
Capacity: 1000kg per hour
1
Belt conveyor

Model: SL-500
Power: 2.2kw
Weight: 500kg
Dimension: 5000*700*700mm
1
Hydraulic shisha charcoal machine

Pressure: 60tons
Capacity: 300-400kg per hour
Weight: 2800kg
Hydraulic pump power: 15kw
Main host dimension: 1000*2100*2000mm
Feeding power: 0.75kw
Discharge power: 0.75kw
Discharge conveyor: 800*850*1850mm
Control cabinet size: 530*900*1100mm
1
Charcoal briquettes dryer

Box size: 6700*3500*2400mm
Box door size: 1300*1850mm
Hot air circulation heating system: 60 pcs
Circulating hair dryer: 600*600mm
6 sets Exhaust fan: 300*300mm
2sets Trolley tray
Ten trolleys and one hundred trays
Electric control box
Deflector duct:10 ㎡
Heating resource: heating pump
1
Shisha charcoal packaging machine

Model:SL-S300
Film width: Max 280mm
Bag width: 50-110mm
Products hight: Max40mm
Film roll diameter: Max320mm
Texture: Stainless steel
Packing length: 65-190mm or 120-280mm
Dimension:(L)3920×(W)670×(H)1210mm
1
PLC cabinet
1
Notes for 1t/h round shisha charcoal production line
| | |
| --- | --- |
| Total workers: | 4 workers |
| Total area: | Around 500m2 |
| Warranty | 12 months |
After-sales service of Shuliy shisha charcoal machines
1.Installation: installation video
2.Telephone video guidance
3.Engineers online guidance or engineers go to the factory to help installation and debugging
4.If the machine is damaged:
In addition to improper operation by the customer or the transportation company, the machine is damaged. We can help to solve the problem and make appropriate compensation.
5.Warranty :one year
Can this production line make cubic hookah charcoal? –Yes
The production of different shapes of hookah charcoal depends on different molding dies. The pressing mold of the hookah charcoal forming machine can be replaced to produce hookah charcoal briquettes with different sizes, different shapes, and different styles. Or, we can replace the hookah charcoal machine in the shisha charcoal production line with different equipment to process different types of hookah charcoal products.