Briquette Cutters for making briquette charcoal as required
Charcoal briquettes cutting machine | Briquettes cutter
Common processing sizes are: 20*20*20mm, 25*25*25mm
Briquettes cut length is adjustable
The cut is smooth and the appearance is good
3 kinds of briquettes cutter optional
The automatic charcoal briquettes cutting machines are designed for cutting various charcoal & coal briquettes of the same sizes. The charcoal cutter is often used to automatically cut all kinds of barbecue charcoal and hookah charcoal briquettes and helps to improve carbon production efficiency.
The charcoal cutters are often used in combination with charcoal briquettes extruder machines and automatic conveyors in charcoal plants. When making high-quality charcoal, we can use all kinds of charcoal briquette machines, like the charcoal ball press machine, cubic shisha charcoal press machine, and so on.
All these charcoal machines can press the charcoal powder or coal powder into a certain shape directly in an automatic way. Besides, our Shuliy machinery can also provide an independent cutter machine for cutting charcoal briquettes with different lengths or shapes. The working effects are also amazing like other charcoal machines.
Why should we use charcoal briquettes cutting machine?
When we want to process charcoal briquettes and coal briquettes with the same specifications, we usually need to cut the briquettes. Our Shuliy factory currently has three main types of automatic charcoal briquettes cutting equipment for different customers to choose from.
The coal briquettes and charcoal briquette cutters can cut briquettes into the length and shape required by customers. The operation of these automatic cutting machines is very simple and the production efficiency is very high.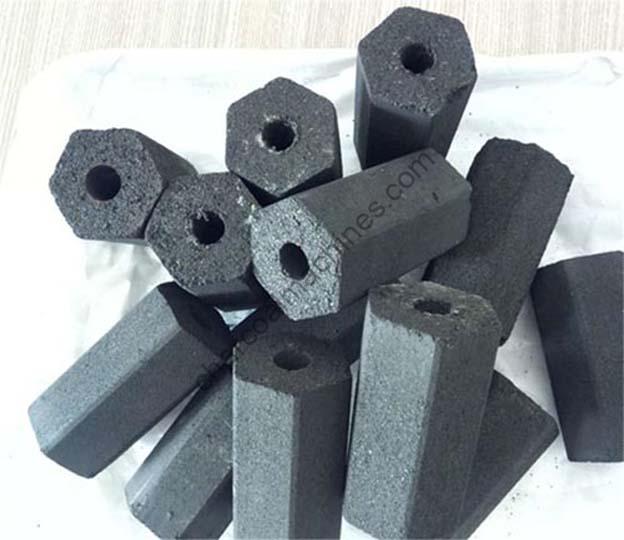 Here we mainly introduce two common cutting devices that can work together with a charcoal briquette machine. Both the two cutting machines have high working efficiency and simple structure, which are very suitable for the commercial production of charcoal or coal products.
Type 1 Pneumatic cutting device for making briquettes
This kind of charcoal cutter machine has a beautiful appearance and good performance. It is always set at the outlet of the charcoal briquette machine with a flat conveyor to cut the charcoal briquettes or coal briquettes.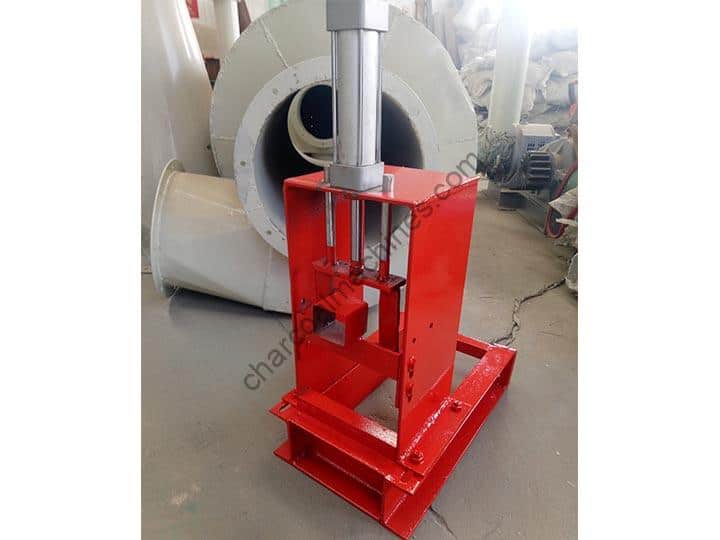 It has a special system which mainly includes the electric closet and air compressor. When it is working, the briquettes will be cut at a uniform speed, and the cut briquettes will be transported forward.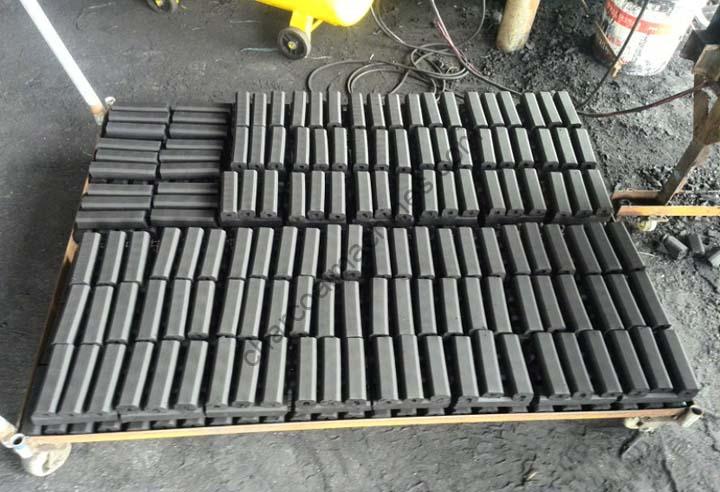 Efficient charcoal cutter in small charcoal briquettes plant
Type 2 Cubic charcoal briquettes cutting machine
This cutting device with many blades can make cubic hookah charcoal on large scale. It also has a very simple structure and a beautiful appearance. The cutter is always set in the middle of the flat conveyor to cut the shisha charcoal rods which are produced by the charcoal briquette machine.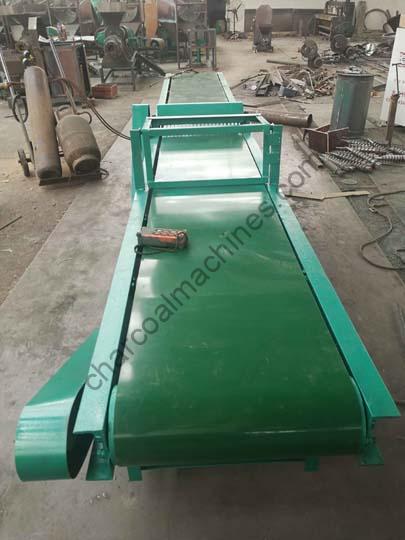 This cutting device includes two motors that can drive the conveyor and the cutter. When the hookah charcoal rods are made, we can collect them and put them on the conveyor manually. Then the charcoal rods are cut by the blades quickly.
Type 3 Multifunctional charcoal cutter machine
This new type of charcoal cutting machine is the latest design of our factory and is currently very popular in the market. The cutting length of this multifunctional cutting machine can be set independently. It can be used not only to cut quadrilateral and hexagonal charcoal briquettes but also to cut briquettes into cubes.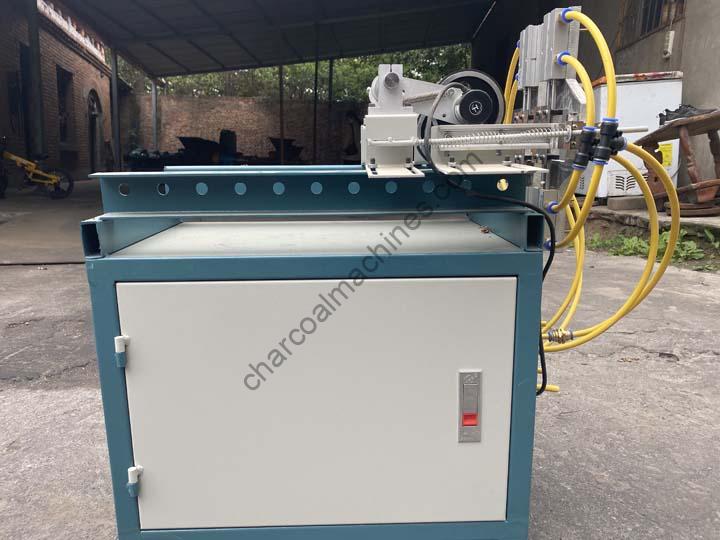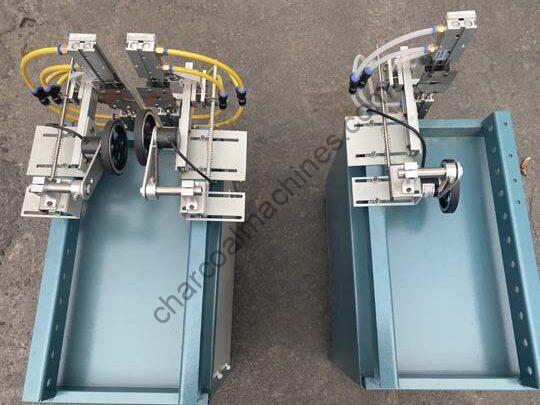 The conveyor of the charcoal cutting machine adopts a roller design, which is different from the previous conveyor mesh belt, and there will be no jamming. The cutting knife of the cutting machine is controlled by an air compressor, which can cut the briquettes evenly.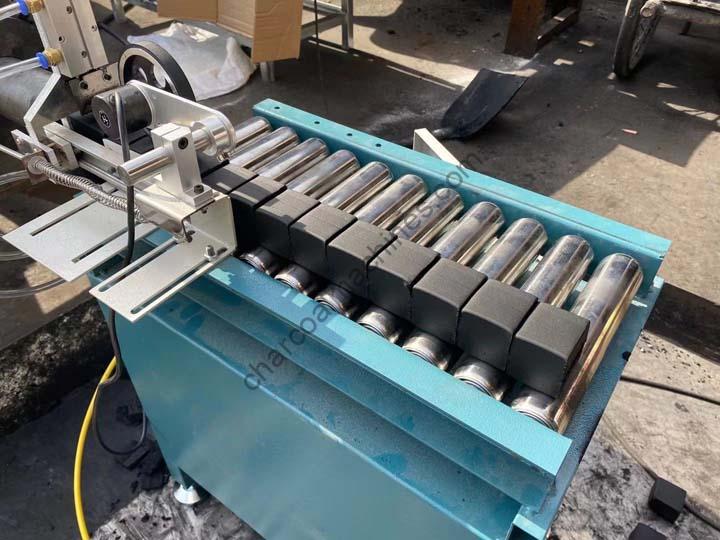 In addition, the automatic cutting machine can also be customized for single-sided cutting and double-sided cutting according to customer needs. The production efficiency of double-sided cutting will be higher.
Charcoal briquettes cutting machine video
How is the charcoal cutting machine price?
The prices of different charcoal briquettes cutting machines manufactured in our factory are different. There are also many models of three briquettes cutters. We can usually recommend suitable cutting machines for customers according to their processing volume requirements.
In line with the idea of ​​maximizing the benefits for customers, our factories usually try to reduce the customer's investment costs. Therefore, we will not provide customers with higher-than-market quotations.
The charcoal cutting device in Turkey charcoal plant
Model: SL-140
Capacity: 1-2t/h
Dimension: 1900*1100*1170mm
Model: SL-180
Capacity: 2-3t/h
Model: SL-2, SL-4, SL-6, SL-8
Induced draft fan power: 0.37KW
Amount of drying for each time: 600-2400kg
Belt width: 600mm-3000mm, customizable
Heat source: wood, electricity, steam
Transmission power: 1.1-2.2 kW
Running speed: 0.06-1m/min
Carrying capacity: 90-200 kg/㎡