Shisha charcoal press machine is designed according to the advantages of the latest molding machine at the world, the equipment uses the hydraulic system, completely abandoned the old screw molding machine out of the slow material discharging, serious wear and tear, technical difficulties, expensive accessories, low efficiency, and other shortcomings. Shisha charcoal produced by shisha charcoal press machine is a high-tech and environment-friendly product, with beautiful appearance and quick and convenient use. Shisha charcoal is made of selected charcoal powder and binder, and it is full of fragrant during burning. It is a high-quality product specially made for shisha users in Arab countries. Hookah shisha charcoal is a very popular green product with fast ignition speed, long combustion time, smokeless, non-toxic and no pungent smell.
Shisha charcoal press machine is widely used in charcoal powder forming, coal briquette, chemical, and other industries are the necessary facilities for charcoal powder deep processing. In addition, the quality of carbon products produced by this process is stable, and there are many kinds of products. Now, in addition to the ordinary charcoal strip, charcoal board, and heating charcoal, there are also instant ignition charcoal, shisha charcoal, triangle charcoal, charcoal bar, finger charcoal and so on.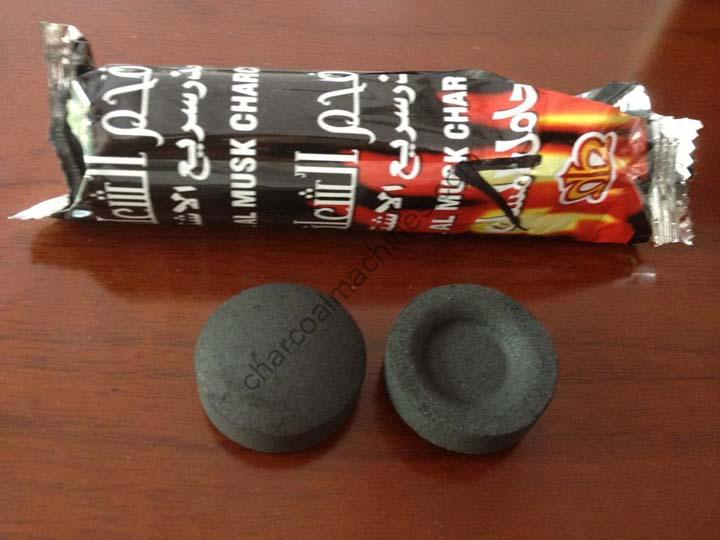 The shisha charcoal press machine working principle
Shisha charcoal press machine is mainly composed of hydraulic cylinder, frame, distribution cabinet, conveyor belt. Shisha charcoal press machine equipment is mainly composed of a pair of die, punch up and down movement will make granular materials into sheets of the machine. It is suitable for pressing bamboo charcoal powder, wood charcoal powder, straw charcoal powder and other high-quality charcoal powder into a round sheet, cylindrical, spherical, convex, concave and other various geometric shapes of products, but also can be pressed with words, trademarks, patterns of these products.
Shisha charcoal press machine is often used in coal production lines. After the charcoal powder is evenly mixed with the corresponding adhesive in the wheel grinding machine or double-shaft mixer, it is pressed into a finished product of a certain shape in the shisha charcoal press machine, and then it is dried in the dryer for packing and storage. Shisha charcoal press machine can produce high-quality shisha charcoal and charcoal for barbecue, very popular in the domestic and foreign markets.
Main features
The equipment adopts automatic electronic control system, the operation, and production of the machine is very simple, saving time and labor.
With high-quality products and large output, shisha charcoal press machine can realize mechanized production with fast production speed to achieve high economic benefits.
Shisha charcoal press machine features safe operation, convenient maintenance, low noise, and long service life.
This machine is suitable for charcoal powder or powder tablet molding, is the international best-selling charcoal products tablet equipment. Which can press all shapes of charcoal like round, square, convex and concave, rectangle and triangle, etc
Technical parameters:
Model
Power
Capacity
Diameter
Modulus
SL-10
7.5kw
9pieces/min

22times/min

20-40mm
10
SL-14
7.5kw
11pieces/min 21times/min
20-40mm
14
SL-15
7.5kw
12pieces/min 23times/min
20-40mm
15