Charcoal Briquettes Packaging Machine for Packing Barbecue Charcoal Quantitatively
BBQ charcoal packing machine | Quantitative packaging machine
Packing specifications: 3-50kg per bag
packaging speed: 4-6 bags/min
Voltage can be customized
Applicable for solid & powdery materials
Support equipment: feeding conveyors
Features at a Glance
With automatic feeding, weighing, sealing, conveying functions
The machine structure is simple and easy to operate
The package weight can be adjusted
This quantitative charcoal briquettes packaging machine can be used to package different sizes and shapes of barbecue charcoal into the desired packaging specifications. Common charcoal packaging weights are 3kg, 5kg, 10kg, 15kg, 30kg, 50kg, 65kg, etc. The functions of this commercial charcoal packaging machine include automatic loading, automatic weighing, automatic sewing, etc. This BBQ charcoal packing machine is suitable for all charcoal briquettes processing plants.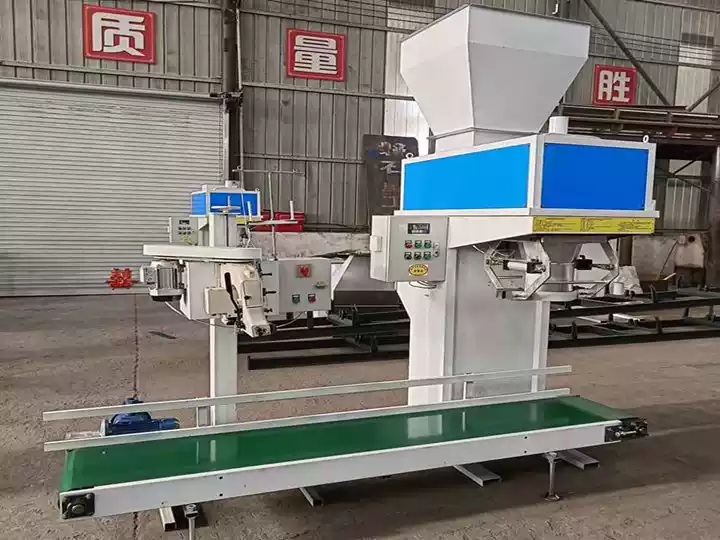 Why do charcoal briquettes packaging?
Currently, many briquette charcoal factories have charcoal packing sessions. They package processed barbecue charcoal or other types of charcoal briquettes into different sizes for sale using quantitative packaging machines.
The use of charcoal briquettes packaging machines to pack the finished charcoal can increase the added value of the product and the selling price of the charcoal on the one hand, and facilitate the transportation of the finished charcoal on the other.
In addition, since this charcoal packing machine can set a certain packing weight of charcoal, charcoal processors can pack the finished charcoal of their factories to different specifications to meet the needs of different customers.
Main functions barbecue charcoal packaging machine
This BBQ charcoal packing machine is controlled by an intelligent electronic control system, which can automatically complete the process of feeding, weighing, bag clamping, filling, and sewing.
This barbecue charcoal packaging machine adopts a wide measuring sensor, which has superior zero point stability and gains stability performance. The quantitative packing machine has a set value of raw material feeding, a set value of single bag weight, barbecue charcoal packing bag counting, weight accumulation display, automatic zero adjustments, automatic error correction, over-error alarm, and fault self-diagnosis, etc.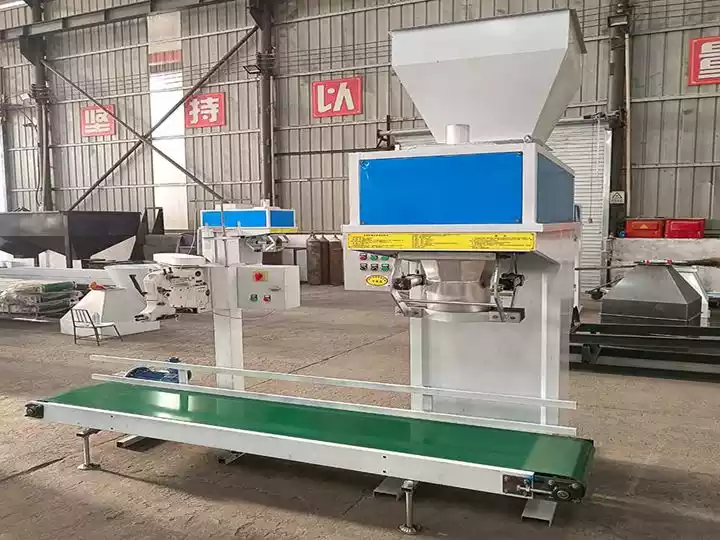 Applications of quantitative packaging machine
The commercial quantitative packaging machine is very versatile and is commonly used for packaging all kinds of powder and granular raw materials, such as flour, cement, organic fertilizer, cat litter, grain, salt, wood pellets, animal feed, dog food, etc.
In the charcoal processing industry, the packing machine is mainly used for packing dense and unbreakable barbecue charcoal balls. Other kinds of charcoal sticks or water-smoked charcoal are not suitable to be packed by this machine.
Parameters of BBQ charcoal briquettes packing machine
| | |
| --- | --- |
| Model | SL-BC-50F |
| Weighing range | 3-50kg |
| Applicable materials | Powdery or pellet materials |
| Packaging speed | 4-6 bags/min |
| Packaging accuracy | ±0.2% |
| Voltage/power | 380v/3kw |
| Air source pressure | 0.4-0.6MPA |
| Dimension | 650*1230*2050mm |
charcoal briquettes packaging machine parameters
Model: SL-360-2
Capacity: 3-5t/h
Dimension: 2.1*1.3*1.76m
Model: SL-850-2
Capacity: 15-20t/h
Model: SL-2, SL-4, SL-6, SL-8
Induced draft fan power: 0.37KW
Amount of drying for each time: 600-2400kg