Wood Pallet Block Machine for Making Pallet Blocks
Wood Pallet Block Making Machine | Sawdust Block Machine
Hot-sale model: SL-90/2, SL-120
Commercial wood pallet block making machines can extrude biomass raw materials such as sawdust and wood shavings into solid blocks under high temperature and high pressure conditions. The finished wood blocks can be cut and used to make the feet of wooden pallets. The production process of wood pallet blocks using sawdust block machine mainly includes sawdust drying, sawdust blocks extruding, compressed blocks cutting, and so on. The size and length of the wood blocks can be customized according to customer needs.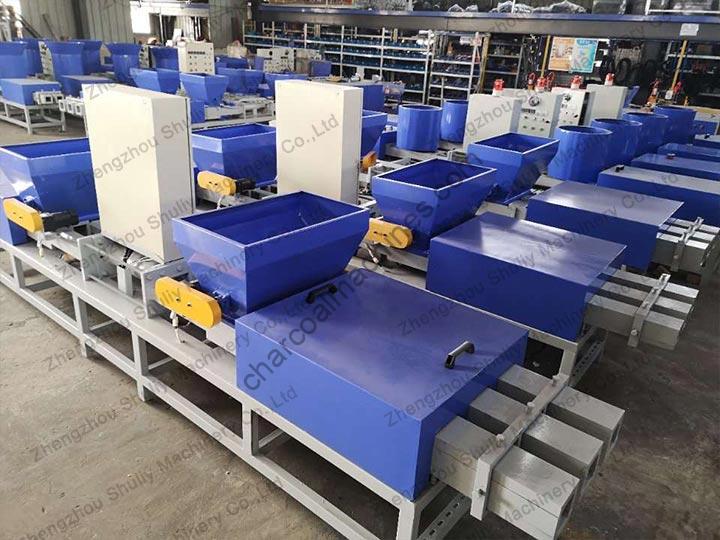 Raw materials for making compressed wood pallet blocks
There are many raw materials for processing wood blocks, and almost all biomass chips can be used for production. The most common processing raw materials are sawdust and wood shavings, coconut fiber, straw scraps, etc.
Main features required for raw materials
Material size: less than 5 mm. We can use the wood shredder to shred all kinds of biomass waste, such as branches, wood scraps, tree roots, logs, waste wood boards, etc., into sawdust and wood shavings with a size of 3-5mm.
Matrial humidity: less than 10%. The humidity of raw materials such as sawdust and wood shavings should not exceed 10%. If the humidity of the raw material is too high, the quality of the finished product will be poor, and the processing efficiency will be very low. We can use the sawdust dryer to continuously dry the raw materials and quickly reduce the moisture content of the raw materials.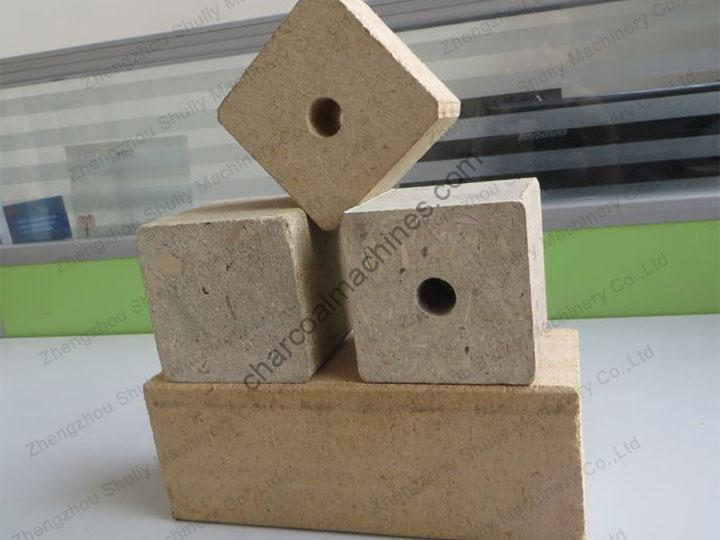 Wood pallet block making machine for sale
Wood pallet block making machine has a set of left and right symmetrical extrusion devices. The main structure of the machine includes feeding port, frame, heating plate, hydraulic cylinder, extrusion die, etc.
When the sawdust pallet block machine is working, its internal hydraulic device will push the sawdust entering from the feeding port to move forward. When the sawdust is pushed into the heating zone of the machine, the lignin in the sawdust and other biomass feedstocks is thermally decomposed and fully bonded to the molecules in the feedstock.
Therefore, sawdust blocks processed by wood pallet block making machine usually have smooth surface, high density and hardness, very wear-resistant and strong load-bearing capacity.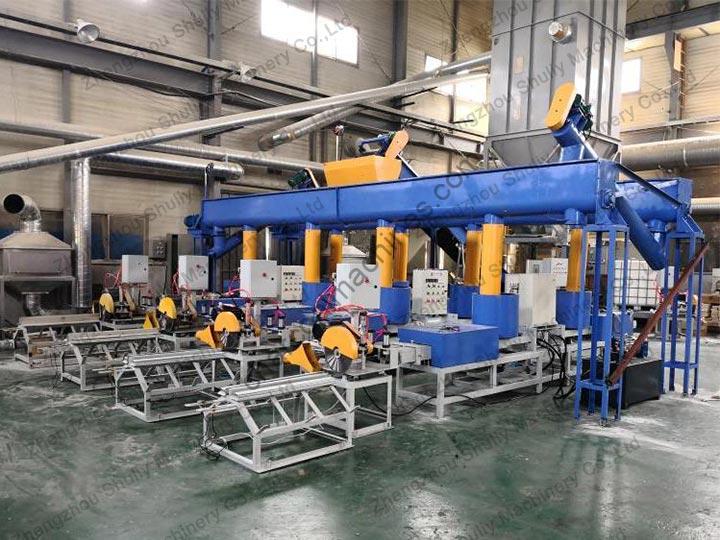 How doese the sawdust block machine work?
Why is glue mixed in the raw materials for making wood blocks?
Before processing wood pallet blocks, we usually put sawdust into a mixer and mix with a certain proportion of glue, why is this? In fact, this added glue is called urea-formaldehyde resin glue, which is a safe and non-toxic thermosetting polymer adhesive.
The glue is made from formaldehyde, urea, polyvinyl alcohol, melamine, ammonia, and alkalis and acids for pH adjustment. The purpose of adding glue is to increase the viscosity between sawdust, so that the processed wood blocks have better density and hardness.
Parameters of wood pallet block making machine
| | | | | |
| --- | --- | --- | --- | --- |
| Model | Power | Capacity | Dimension | Weight |
| SL-75/2 | 15KW | 3.5m³/d | 75*75*1200mm | 1500kg |
| SL-90/2 | 15KW | 4m³/d | 90*90*1200mm | 1800kg |
| SL-100/2 | 18KW | 5m³/d | 100*100*1200mm | 2000kg |
| SL-120 | 15KW | 3.5m³/d | 100*120*1200mm | 1500kg |
| SL-145 | 18KW | 3.5m³/d | 145*145*1200mm | 1800kg |
pallet block press machine parameters
Hot sale model: SL-C-420, SL-C-500, SL-C-700, SL-C-900
Motor power: 7.5-11kw, 11kw,18.5-22kw, 45kw
Capacity: 500-800kg/h, 1000-1500kg/h, 3000-3500kg/h, 4000-5000kg/h
Model: SL-D800, SL-D1000, SL-D1200, SL-D1500
Capacity: 500kg/h, 1000kg/h, 2000kg/h, 3000kg/h
Power: 2.2+7.5kw, 3+15kw, 3+18.5kw, 5.5+22kw