Raymond Mill | Charcoal Powder Grinding Machine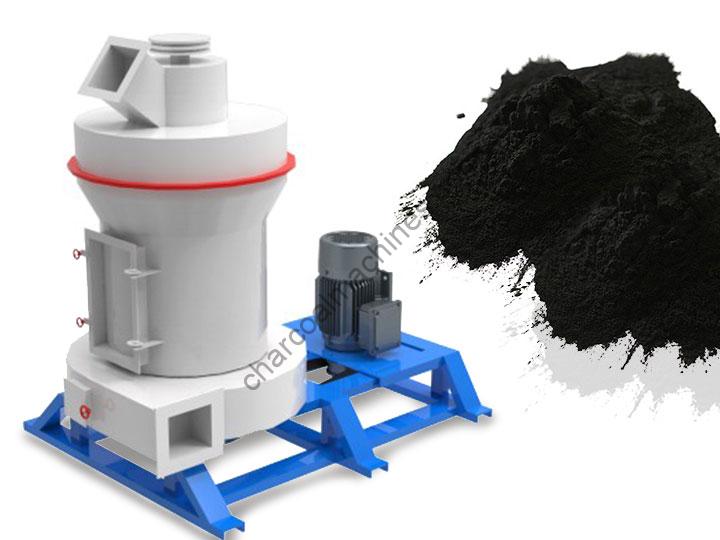 Raymond mill is mainly used as a piece of common mining equipment, which is mainly suitable for grinding various minerals, chemical, construction and other industries of more than 300 kinds of materials with high fine powder processing. Besides, it is also a piece of very practical equipment for grinding charcoal or coal briquettes into charcoal and coal powder so that it is very useful in the charcoal production line.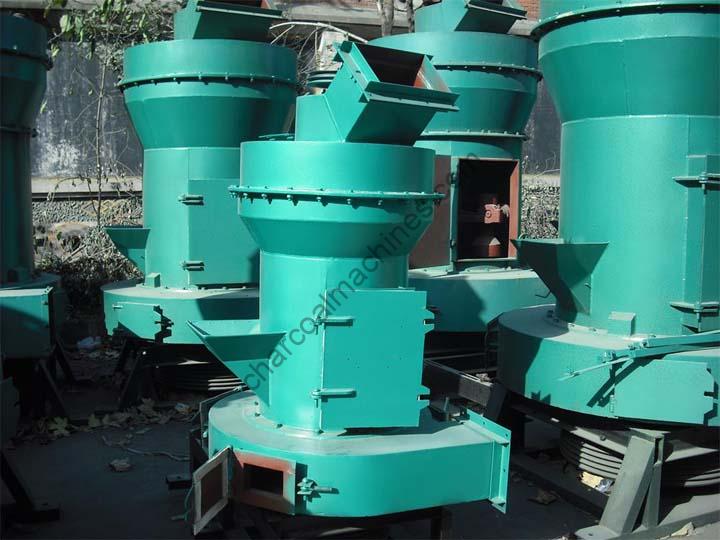 The Raymond mill is very common and efficient in the shisha or hookah charcoal and bbq charcoal production line, which can crush and grind the charcoal blocks into fine powder, and then the charcoal powder can be mixed with the binder for making good charcoal briquettes like cubic or tablet hookah charcoal or barbecue charcoal briquettes. The charcoal or coal powder which is ground by the Raymond mill is very suitable for mixing with the binder and then being formed into charcoal briquettes with many different shapes and these charcoal briquettes are very popular in the market.
How does the Raymond mill working?
Different from other charcoal crushers, this kind of charcoal grinder is more efficient for making fine charcoal powder which is especially good for making high-quality shisha charcoal with good appearance and good prices. This Raymond mill for grinding charcoal powder has a very compact structure which is mainly composed of a host machine, an analyzer, a blower, a finished cyclone separator, a micro powder cyclone separator, and an air pipe.
Among all the parts, the host part is the most import part which is composed of a machine frame, inlet volute, blade and grinding roller and grinding ring and shell composition. Large bulk materials crushed by jaw crusher to the needed size are fed into storage hopper by a hoisting machine and then fed into grinding chamber of the main engine uniformly, quantitatively and continuously by electromagnetic vibrating feeder for grinding.
The ground material then is blown into separator by blower for classification. With the function of impellers in the separator, materials without meeting the requirements of the fineness are fallen into grinding chamber for grinding again; materials meeting the requirements of the fineness are blown into cyclone powder collector with airflow through pipelines for separation and collection. Powder from a discharging device is the finished product. Separated airflow is back to the blower through return duct on the top of the cyclone powder collector.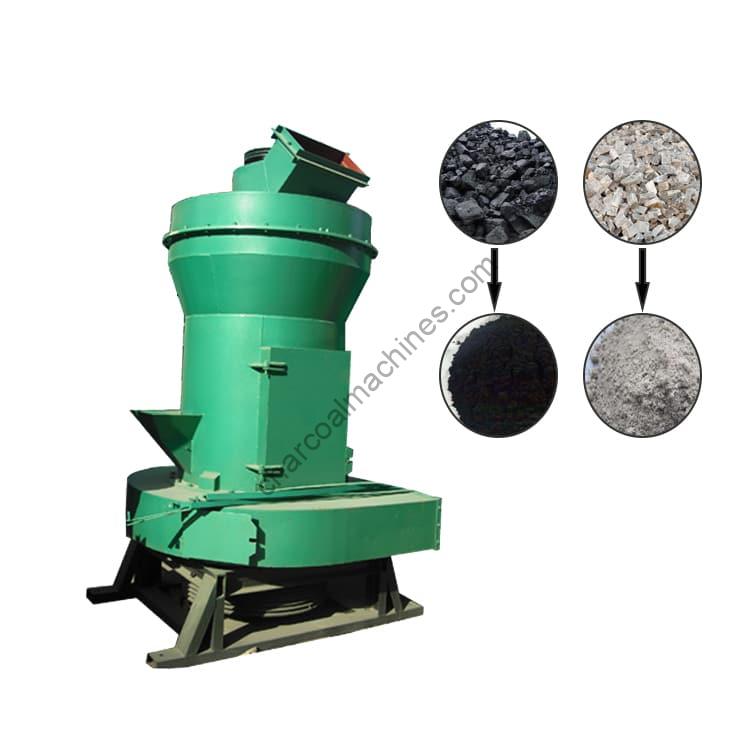 Applications of the Raymond mill/charcoal grinding machine
The grinding process of Raymond mill is widely used in metallurgy, building materials, mining materials, mining and other chemical field, suitable for barite, calcite, feldspar, talc, marble, limestone, dolomite, fluorite, lime, activated clay, activated carbon, bentonite, kaolin, gypsum, cement, phosphate rock, glass, manganese, titanium, copper, chrome ore, refractory materials, insulation materials, coal, coal, carbon black, clay, bone powder, titanium dioxide, iron oxide, quartz with hardness less than 7, and humidity below 6%, non-flammable and explosive mineral processing.
Over 300 kinds of chemical materials, construction and other industries can be processed with high fine powder, 60-300 mesh product size in the range of arbitrary regulation. So that nearly all the hard and brittle materials can be ground by this charcoal processing machine. In the charcoal production line, after the grinding in this charcoal machine, the charcoal powder can be further processed by a series of charcoal briquette machines, such as shisha charcoal press machine, BBQ charcoal briquette machine and honeycomb coal or charcoal press machine.
Main features of the Raymond mill
1, Force produced from milling roller connected by pull rod and high-pressure spring can avoid damages caused by bulk materials to the equipment.
2, Resilient coupling between the main engine and the separator can reduce vibration and noise and improve the service life of the equipment. Because of connecting crushing, drying, grinding, classifying and transmission together with the simple system and compact layout, it covers about 50% of the area of the ball mill system and can be an outdoor arrangement, which can reduce the investment cost a lot.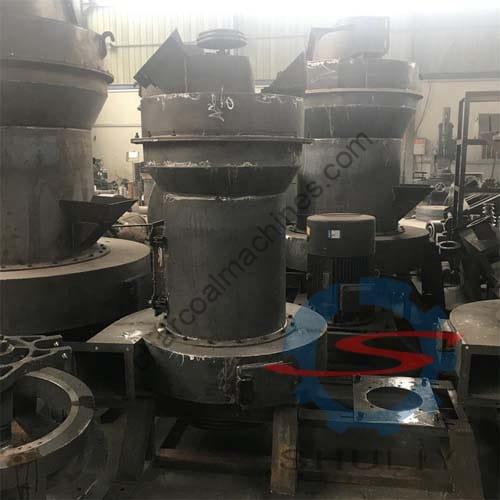 3, Milling roller devices adopt superimposed multistage seal with excellent seal performance. Unique air circulation system with advanced dust remover carries the environmental protection concept through to the end.
4, Impeller devices with high density and high precision increase more than 50% of finished product yield under the same power. Efficient and energy-saving centrifugal induced draft fans improve the efficiency of induced draft fans greatly. Convenient impeller adjusting devices improve the precision of the finished product.
5, According to different requirements for the working capacities of the users, this charcoal grinding machine can be different types and models, and we can also customize the type the customers need. Besides, we can also provide the supporting equipment such as screw conveyor, stock bin and the accessories of this Raymond mill.
Working video of the Raymond mill grinder for charcoal powder