The automatic charcoal briquettes cutting machines are designed for cutting various charcoal & coal briquettes of the same sizes. The charcoal cutter is often used to automatically cut all kinds of barbecue charcoal and hookah charcoal briquettes, and help to improve carbon production efficiency. Shisha & hookah charcoal cutters are often used in combination with charcoal briquettes extruder machines in charcoal plants.
When making high-quality bbq charcoal or hookah/shisha charcoal, we can use all kinds of charcoal briquette machine like charcoal ball press machines, tablet or cubic shisha charcoal press machines, and so on. All these charcoal machines can press the charcoal powder or coal powder into a certain shape directly in an automatic way. Besides, our Shuliy machinery can also provide an independent cutter machine for cutting charcoal briquettes with different lengths or shapes. The working effects are also amazing like other charcoal machines.
Why should we use charcoal briquettes cutting machine
Here we mainly introduce two common cutting devices that can work together with a charcoal briquette machine. Both of the two cutting machines have high working efficiency and simple structure, which are very suitable for commercial production of charcoal or coal products.
Small size cutter machine with a conveyor for charcoal briquettes
cutter machine with conveyorThis kind of cutter machine has a beautiful appearance and good performance. It is always be set at the outlet of the charcoal briquette machine with a flat conveyor to cut the charcoal briquettes or coal briquettes. It has a special system which mainly includes the electric closet and air compressor. When it is working, the charcoal or coal briquettes will be cut at a uniform speed, and the cut briquettes will be transported forward.
[mks_col][mks_one_half]
[/mks_one_half]
[mks_one_half]
Main features
High working efficiency and high cutting speed.
The cutting speed and the length of the charcoal briquettes can be adjusted by setting up the cutter machine.
Easy to install and maintain, safe and reliable operation.
[/mks_one_half]
[/mks_col]
Cubic shisha/hookah charcoal special cutting device
This cutting device with many blades can make cubic hookah charcoal in large scale. It also has a very simple structure and beautiful appearance. The cutter is always set on the middle of the flat conveyor to cut the shisha charcoal rods which are produced by the charcoal briquette machine. This cutting device includes two motors which can drive the conveyor and the cutter. When the hookah charcoal rods are made, we can collect them and put them on the conveyor manually. Then the charcoal rods are cut by the blades quickly.
[mks_col]
[mks_one_half]
[/mks_one_half]
[mks_one_half]
Main features
Large output of high-quality hookah charcoal.
This cutting device can be widely used in the charcoal production line.
Long service life and easy maintenance.
[/mks_one_half]
[/mks_col]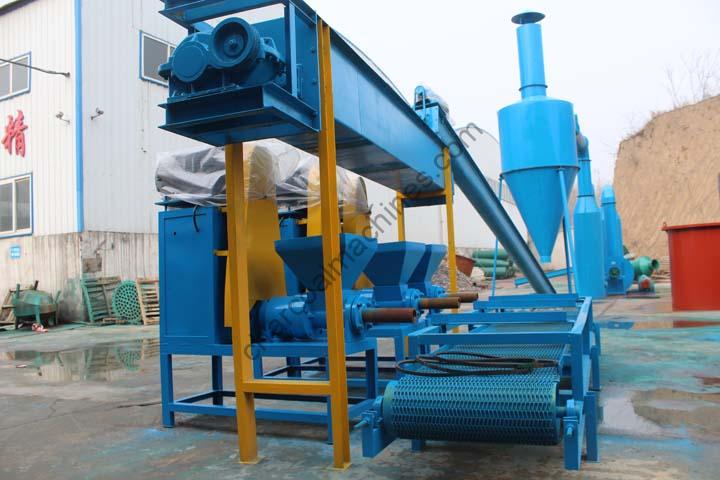 Shuliy Machinery not only provides high-quality machines but also provides comprehensive after-sales service. We have been focusing on the charcoal machinery industry for nearly 20 years and have rich experience in designing and manufacturing large and medium-sized charcoal machines to meet the needs of various customers. At the same time, according to the requirements of customers, we can provide services such as plant construction plan, market analysis, and best product formula. learn more >>>
info@charcoalmachines.com
East Hanghai Road, Economic-technological
Development Area, Zhengzhou, China
*if you enjoyed this, please click the buttons to share it