Barbecue charcoal machine is the efficient forming equipment, which can form solid briquettes with a certain shape under the squeezing force of the pressure roller. Common barbecue charcoals are spherical, oval, and pillow-shaped.
The barbecue charcoal machine of the Shuliy factory has always been a hot product in the international market. Last week, we once again exported a small barbecue charcoal processing line to Mexico with an output of 500kg/h.
Details of the Mexico order for BBQ charcoal line
The Mexican customer is a purchasing manager for a medium-sized retailer. The customer also owns its own chain store. The Mexican customer stated that he had been selling various charcoal products for a long time, and a large amount of charcoal residue was produced due to the crushing of some charcoal products.
The long-term accumulation of charcoal residue has now taken up a lot of space in his warehouse, so he decided to purchase processing equipment to reprocess the charcoal residue, and then sell the charcoal products.
The first thing that Mexico thought of was to process these carbon residues into barbecue charcoal, because the local market demand for such barbecue charcoal is relatively large. The customer saw the working video of the barbecue charcoal machine that we posted on YouTube when collecting related barbecue charcoal processing videos.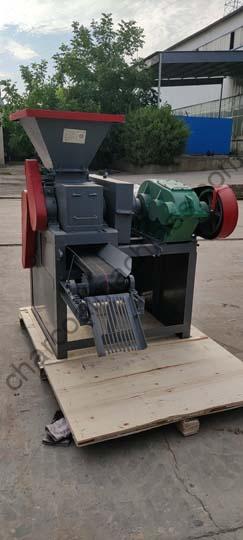 He was very satisfied with the processing efficiency and production effect of the machine and felt that this was the equipment he was looking for. According to the processing needs of the Mexican customer, we have provided a specific barbecue charcoal processing program.
Since this Mexican customer imported equipment for the first time, he had some concerns about product quality and production effects. In order to dispel the doubts of customers, we suggest that customers send their own raw materials to our factory, and live broadcast the processing process of customers' raw materials so that customers can see the real production process. The customer was very satisfied and soon decided to order barbecue charcoal equipment from our factory.
Parameters of Mexico barbecue charcoal machine line
NO.
ITEM
Qty
1
Charcoal powder grinder

Model: SL-B-500
Power: 15kw
Capacity: 500kg per hour
Dimension:1.1*0.9*1.2m
Weight: 200kg
Function: crush the charcoal residue into charcoal powder, then they will be easy to shape.
1
2
Wheel grinder machine

Model: SL-W-1300
Power: 5.5kw
Capacity: 500-600kg per hour
Diameter: 1.3m
Function: combine the charcoal powder with binder fully, then they will be more sticky, the produced charcoal will have a high density and high quality.
1
3
Charcoal ball press machine

Model: SL-290
Power: 5.5kw
Capacity: 1-2 tons per hour
Weight: 720 kg
Shape:5*5*3cm

1
Parameters Table