Commercial biomass briquette press can turn various biomass wastes into solid biomass fuel, which helps to recycle lots of biomass resources. In this customer case, we are thrilled to share the story of our client from Somalia who sought a reliable solution to utilize the abundant biomass resources in their region. Their goal was to process these resources into high-quality wood briquettes, which could serve as a cost-effective and eco-friendly fuel source.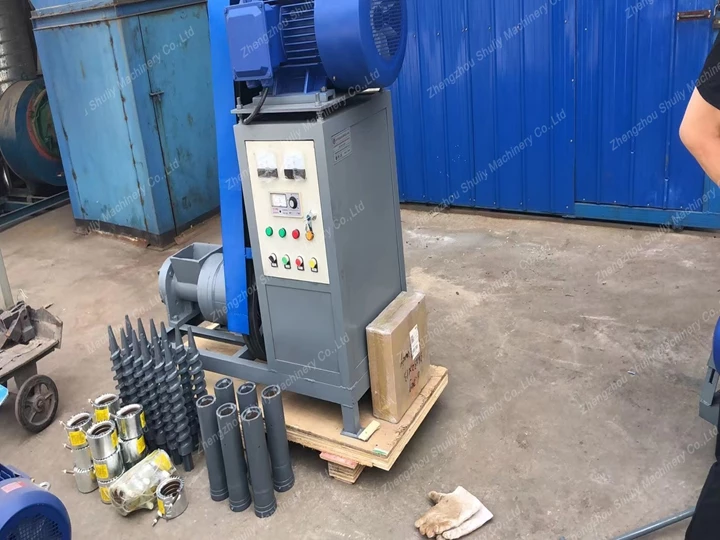 What to make biomass briquettes?
Our client harnessed the power of locally available materials such as tree branches and crop residues as raw materials for their biomass briquettes. This not only ensured a sustainable supply but also reduced production costs significantly.
Efficient Biomass Briquette Press Features
To achieve their objectives, our client invested in Shuliy's Biomass Briquette Press, a cutting-edge machine capable of producing 300kg/h of biomass briquettes.
With its robust design and advanced technology, the press efficiently compressed the biomass material into dense and uniform briquettes.
After the briquettes were formed, our client took the process a step further by carbonizing them to produce high-quality sawdust briquette charcoal. This added value to their production, enabling them to tap into the growing market demand for charcoal products.
Environmental and Economic Benefits for Making Biomass Briquettes
By utilizing the biomass waste and converting it into valuable wood briquettes, our client contributed to environmental preservation by reducing waste and deforestation.
Moreover, the cost-effective nature of the process allowed them to create a profitable business model while supporting local communities.
Welcome to visit Shuliy factory for briquette machines
The successful export of the Biomass Briquette Press to Somalia exemplifies Shuliy Factory's commitment to delivering innovative and sustainable solutions.
We are proud to have played a part in our client's journey towards a greener future, empowering them to transform biomass resources into valuable wood briquettes.
Contact us today to explore how our wood briquetting machines can elevate your biomass production and contribute to a cleaner and more sustainable world.