Box dryers are ideal for drying charcoal briquettes. At present, this charcoal dryer is widely used in various charcoal processing plants, such as hookah charcoal factories and barbecue charcoal factories. As a professional manufacturer of charcoal briquettes dryers, Shuliy Factory has provided high-quality drying equipment to customers from all over the world. We recently exported a 10-meter long charcoal briquettes drying machine to Libya with a processing capacity of 3 tons per day.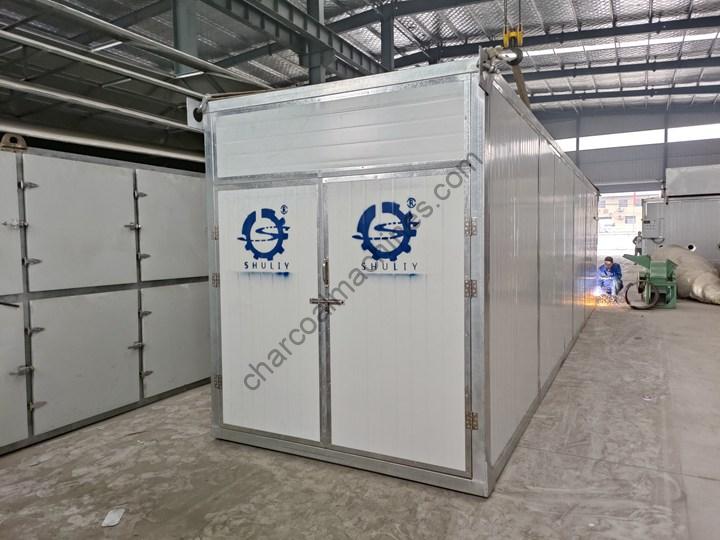 How to choose a suitable briquette charcoal drying machine?
The Shuliy plant mainly supplies two types of charcoal drying equipment. One is a continuous dryer, which is used for continuous drying of materials that are not easily broken. The other is a box-type dryer, which can dry various raw materials in batches.
To dry different types of charcoal briquettes, we usually recommend different dryers for our customers. Different types of charcoal briquettes have different densities, shapes, and hardnesses, so different dryers are suitable for drying different charcoals.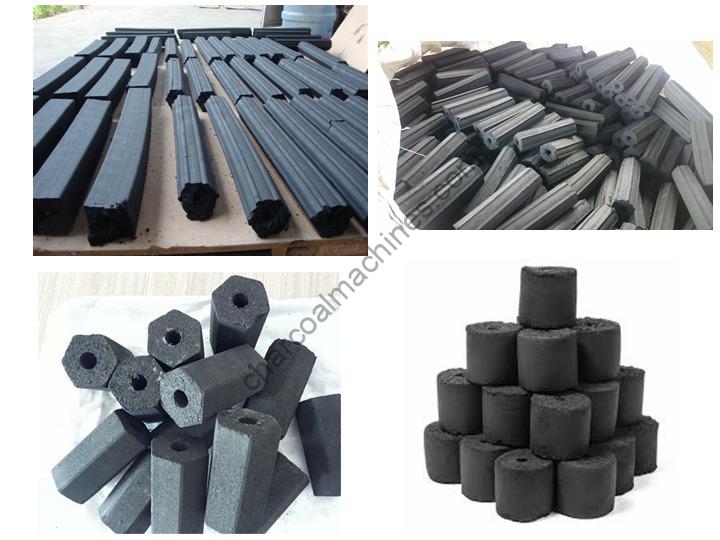 Why the Libyan customer bought a charcoal dryer?
The Libyan customer has a local medium-sized charcoal processing plant. The customer has been producing charcoal for 3 years. Initially, the customer mainly processed hardwood charcoal. With the increasing market demand for charcoal briquettes, the Libyan client finally decided to start a charcoal deep processing business half a year ago.
Before processing charcoal briquettes, the customer only bought a charcoal briquettes extruder machine to process briquette charcoal. To save cost, the Libyan customer did not buy briquettes drying machine, but dried charcoal briquettes by natural drying.
However, the Libyan customer soon found that the drying efficiency of the charcoal blocks by natural drying was very slow and the drying effect was poor. So he decided to buy special charcoal briquettes drying machine for his factory.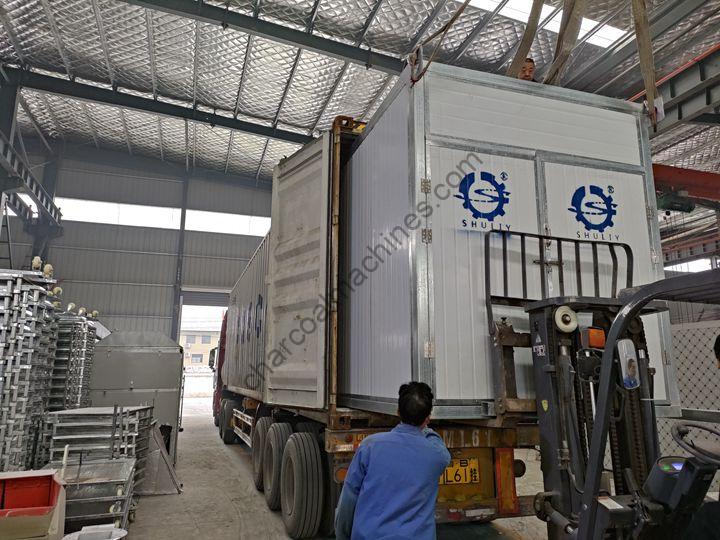 Features of the charcoal briquettes dryer machine for Libya
According to the production scale and processing needs of the Libyan customer's charcoal factory, we recommended a dryer with a production capacity of 3 tons per day and a length of 10 meters. According to the type of charcoal briquettes produced by the customer and the investment budget, we recommend the most cost-effective box dryer for him, including 100 trays and 10 trolleys. The heating method of this charcoal briquettes dryer is electric heating.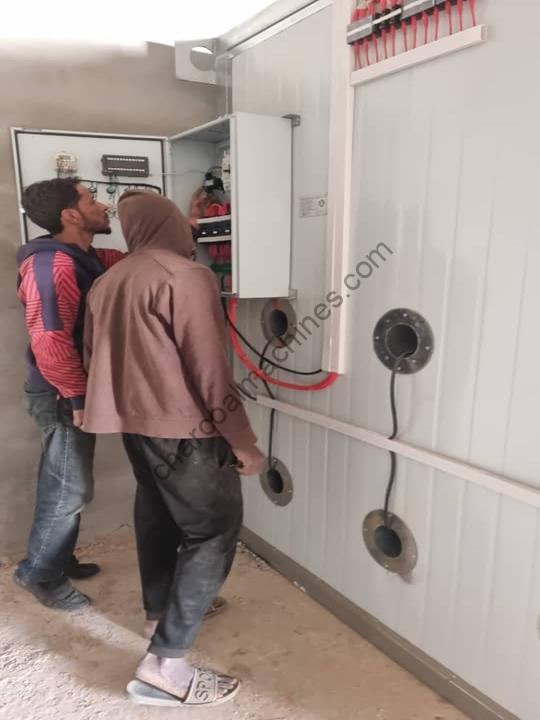 Parameters of the charcoal briquette drying machine for Libya
ITEM
Parameters
Qty
Dryer machine
Dimension:10*2.3*2.5m
Material: Color steel,75mm rock wool boards
Use electricity as the heating source.
Including 10 carts and 100 trays
Trays dimension:1400*900mm
1
Extra Carts and trays
Dimension:1400*900mm
10 carts and 100 trays
1
Circulating hairdryer
Dimension:600*600mm
Power:0.6kw
6
Moisture exhaust fan
Dimension:300*300mm
Power:0.38kw
2
Heat pipe
Model:165
Galvanized pipe cooling pipe
1
Electric control box
Model:1300
Adopt instrument temperature control, automatic temperature control, automatic dehumidification
1
Deflector duct
Material: galvanized sheet
15㎡