Charcoal processing equipment can not only recycle a large amount of biomass waste into charcoal with high added value but also enable charcoal processors to obtain greater economic benefits. Recently, we exported a full set of charcoal production lines to Guinea, with an output of about 5 tons per day. The 5t/d charcoal plant mainly includes crushers, dryers, 5 sawdust briquette machines, 5 hoisting charcoal furnaces, and flue gas purification equipment.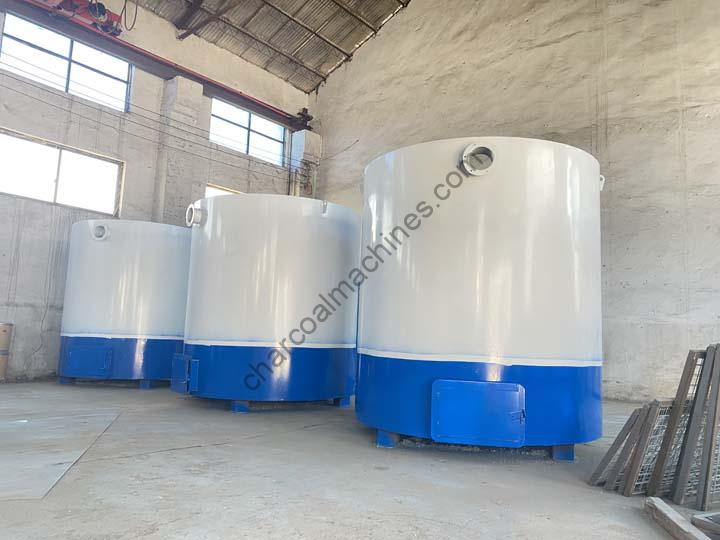 Why does the Guinean customer choose the Shuliy charcoal machine?
The Guinean client stated that there have been many charcoal processing businesses in his local area in recent years. In particular, many investors from European and American countries have built factories to produce charcoal for export.
The client has a lot of local biomass resources that can be used to produce high-quality charcoal, such as hardwood, pine, etc. The client said that instead of going to work in foreign factories, it is better to become a boss to produce charcoal because it can make more profits.
Considering that investing in the charcoal business requires a certain amount of funds, such as purchasing charcoal equipment and hiring workers, the Guinean customer applied for loans and government subsidies from the local bank in advance.
Details of the Guinea order for 5t/d charcoal plant
The Guinea customer's demand for charcoal production is 5-10 tons per day. Our sales manager and engineer designed a charcoal production plan of 10 tons per day and a specific quotation for him. Due to the limited investment budget, the customer expressed the need to reduce production. Therefore, our factory re-established a 5 tons per day charcoal production line for him.
The main equipment of this charcoal processing plant with an output of 5 tons per day includes large wood shredders, sawdust dryers, 5 sawdust briquette machines, and 5 hoisting carbonization furnaces (each carbonization furnace contains 3 replaceable inner tanks) ), flue gas evolution equipment, etc.
Order list of the Guinea charcoal processing plant
NO.
Item
Specification
Qty
1
Drum wood chipper

Model: SL-600A
Power: 55+3+3kw
Rotor diameter: 650mm
Feed size: 260*540mm
Weight: 4300kg
Dimension: 2600*2000*1700mm
1
2
Feeding conveyor

Model: 800
Power: 3kw
1
3
Crusher

Model: SL-1300
Power: 110+3+7.5kw
Capacity: 3-4t per hour
1
4
Discharge conveyor

Model: 600
Power: 3kw
1
5
Screening machine

Model: 900
Power: 2.2kw
1
6
Screw conveyor

Model: 320
Power: 4kw
1
7
Drying machine

Model:1200
Power:18.5+4kw
1
8
Air cooler

Model:320
Power:7.5kw
1
9
Feeding screw conveyor

Power:4kw
1
9
Distributor

Power: 3kw
Dimension: 4800*550*2400mm
1
10
Sawdust briquette machine

Model: SL-50
Power:22kw
Capacity: 200-250kg/h
5
11
Mesh belt conveyor

Model:500
Power:3kw
1
12
Smoke exhaust hood

Model:500
For 5 sets briquette machines
1
13
Carbonization furnace

5
14
Inner stove

10
15
Purifying facility

One piece of 1.5m diameter spray;4 pieces of 1m condensers;60 pieces of static 219 pipes,1 piece of generator
1
16
Electric control cabinet

3
Parameters Table