The specific configurations of the charcoal processing lines purchased by different customers are not the same, because different customers have different processing needs. The Shuliy factory can customize the most cost-effective charcoal production plan for customers according to customer needs and investment budget. Recently, the full set of charcoal processing lines exported from the Shuliy factory to Lebanon have been installed and can enter formal production.
The communication process of the Lebanese charcoal machine order
The Lebanese customer started a charcoal production business in partnership with his cousin. They sought out many charcoal machine manufacturers for consultation in the early stages of investment. This Lebanese customer contacted us through our charcoal production line YouTube video. They were very interested in the full set of charcoal plant videos we provided.
Our engineers and sales managers quickly negotiated with them the processing flow of the charcoal production line and the list of required equipment. The output of the charcoal line required by this Lebanese customer is about 2 tons per day, mainly producing sawdust briquettes charcoal.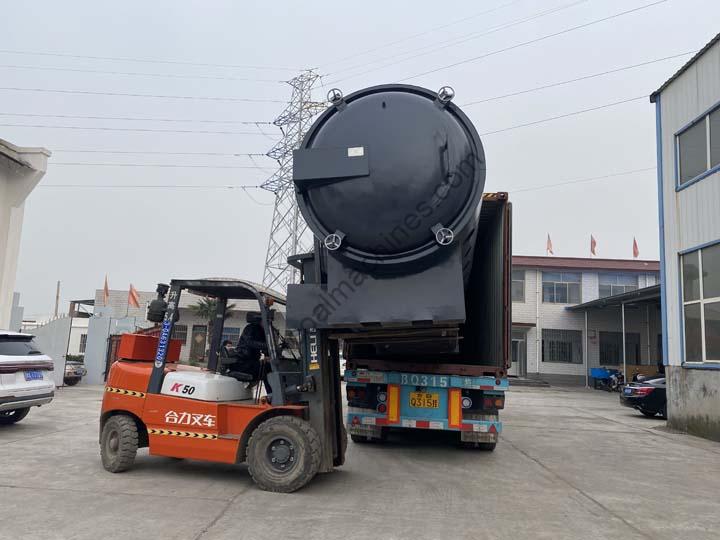 Although the Lebanese customer quickly confirmed the details of the charcoal production equipment, they did not pay immediately. This is because they must have certain environmental protection certificates to carry out the charcoal processing business in the local area.
The charcoal processing process does produce a small amount of smoke and dust. In order to solve the customer's problem, we recommend very efficient smoke purification equipment to ensure that the smoke and dust generated during the charcoal processing process are filtered to avoid environmental pollution. The Lebanese customer was very satisfied with our proposal. After they got the local qualification certificate, they paid us and placed the order soon.
Configuration list of Lebanon charcoal processing line
No.
Item & parameters
Picture
quantity
1
WOOD SPLITTER
Model: SL-P42
Power:15kw
Dimension:4200*700*1300mm
Weight:2.2t
1
2
WOOD CRUSHER
Model: SL-1000 Diesel type
Horse power:150hp
Capacity:3t/h
The feeding inlet size is 26cm in diameter
Output size: less than 5 mm
1
3
FINE POWDER MACHINE
Model: SL-Q60
Power:22kw
Capacity:800-1000kg per hour
Weight:1t
Dimension:3*2.3*1.8m
Hammers: 30pcs Including dust remover bag(5pcs)
Cyclone diameter:1 meter
1
4
SCREW CONVEYOR
Model:SL-3 M
Power:1.5 kw
Dimension:3800*500*500mm
1
5
ROTARY DRYER
Model:SL-D800
Output:600-800kg/h
Power:8kw
Dimension:15000*1500*3500mm
1
6
SCREW CONVEYOR
Model:SL-3 M
Power:1.5 kw
Dimension:3800*500*500mm
1
7
SCREW DISTRIBUTOR
Length:4m
Power:4kw
Weight:400kg
Dimension:4000*400*900mm
1
8
SAWDUST BRIQUETTE MACHINE
Model:SL-500
Power:18.5 kw
Capacity: 300 kg/h
Spare parts: 1.Screw 2.Heating coil 3.Briquetting cylinder
3
9
MESH CONVEYOR
Dimension:5000*650*400mm
Power:1.5kw
Weight:400kg
1
10
CARBONIZATION FURNACE
Model:SL-Q1800
Dimension:4500*1900*2300mm
Capacity:2t charcoal per day
1