Coconut shell charcoal is a hot-selling product in Southeast Asian countries. Coconut shells can be directly processed into coconut shell charcoal through a coconut shell carbonization furnace. Therefore, the coconut shell charcoal making machine is very popular in the Southeast Asian market. Recently, the complete set of coconut shell production equipment we exported to Thailand has been installed and has been put into normal production.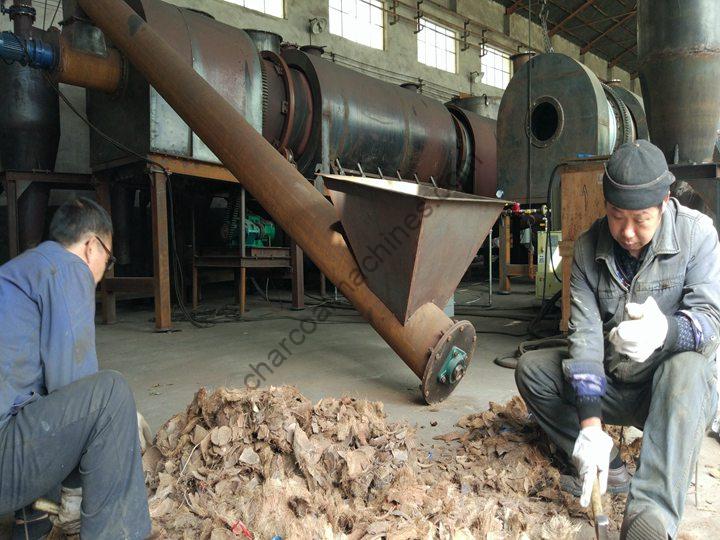 Why start a coconut shell charcoal business in Thailand?
Thailand is rich in coconuts and is a world-famous coconut planting area. In 2014, Thailand's coconut production area and output accounted for 3% and 4% of the world's respectively. In Thailand, coconuts are considered to be a treasured agricultural product.
Coconut meat can be made into preserved fruit or beverages, and coconut shells can be made into activated carbon, folk art, etc. The thick coconut skin can be made into premium mattresses, fertilizers, or fuels. Therefore, in Thailand, coconuts can be said to be a product of great economic value among crops.
Officially, because coconuts are widely used in Thailand, a large number of coconut husks need to be recycled. And processing coconut shell charcoal is a very good commercial project. The coconut shell carbonization furnace is used to carbonize the coconut shell, and the obtained coconut shell charcoal can not only be sold directly but also can be further processed to make activated carbon.
How to make coconut shell charcoal in Thailand?
It is very convenient and efficient to use continuous carbonization furnace to produce coconut shell charcoal. But before carbonizing the coconut husk, we need to pre-treat the raw materials, that is, use a pulverizer to pulverize the coconut husk into small pieces, which can improve the carbonization efficiency. Then use the conveyor to transport the coconut shell scraps to the carbonization furnace for carbonization. After about 10 minutes, the coconut shell can be charred.
Recently, our Shuliy factory exported a complete set of coconut shell charcoal processing equipment to Thailand. The main equipment of this 500KG/H coconut shell charcoal processing line includes forklift, storage equipment, shredder, coconut shell carbonization machine, etc.
After nearly a month of coordinated installation, it is finally installed and put into production. Today, the installation technicians of our company brought back the finished coconut shell charcoal from Thailand, and the production effect reached the ideal requirement.