Rice hull charcoal production not only recovers a large number of farm wastes but also makes full use of the charred rice husks for processing various chemical products and farm fertilizers. Therefore, investing in the rice husk charcoal processing business is profitable for many farmers. They can make full use of the cheap raw materials and use the rice husk charring machine to produce high-quality rice husk charcoal to sell.
Why do we need to produce rice hull charcoal?
Rice husk is the waste left after rice milling and is generally referred to as coarse bran. For every 10 0 kg of the rice harvest, there is about 20 kg of rice husk waste. If this paddy waste is not properly disposed of, it will create a considerable environmental load.
With the use of a rice husk charcoal making machine it is possible to turn this waste into a treasure that protects the soil.
In fact, there is a large amount of crop straw waste that can be recycled. In recent years, these wastes are gradually being used and are no longer being discarded or burned to cause pollution. Corn stalks, rice stalks, peanut bark, straw stalks, rice husks, etc. can all be processed into charcoal.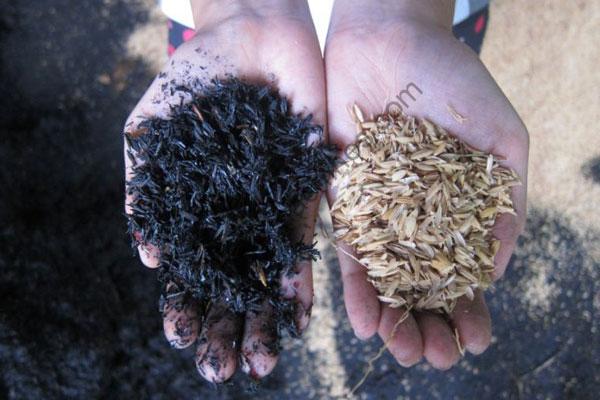 How to make rice hull charcoal efficiently?
Kiln-fired rice husk charcoal
This method of processing each rice husk charcoal is relatively simple. It only requires digging a shallow pit slightly in the ground and placing the wood or rice husk in the pit to burn it into charcoal. It is easy to operate, but the quality and production efficiency of rice husk charcoal are not high, and it is easy to cause air pollution.
Smokeless charcoal machine
Using the smokeless carbonization furnace can produce rice hull charcoal continuously, with high production efficiency and no pollution. The emergence of this highly efficient biochar production process is also a guarantee of the industrial basis that charcoal-based fertilizers have been developed significantly in recent years.
What is the use of rice husk charcoal?
The chemically active rice husk charcoal obtained by charring rice husk is rich in silica, sodium, potassium, and calcium, which can be used to make toothpaste or tooth powder as an abrasive.
Rice husk charcoal can also be used to make activated charcoal face wash, which can effectively cure the enlarged pores of human skin. Rice husk charcoal is of great help to people in industry and agriculture. We can use rice husk charcoal to generate heat and electricity, and also provide fuel to refine new energy.
In agriculture, rice hull charcoal has a pH of about 8.5-9.0 and can function as a soil acid-alkaline neutralizer for acidified (pH less than 4.5) soils. Each gram of rice husk charcoal has a specific surface area of thousands of square meters, which helps to absorb harmful substances such as lead, cadmium, and ammonia from the soil and improve land use.