The biofuel briquette machine can process all kinds of biomass waste into solid biomass fuel. The sawdust extruder of the Shuliy factory is currently the best-selling biomass fuel production equipment and has been exported to more than 40 countries and regions. Recently, we again exported a biofuel briiquette machine with a capacity of 300kg per hour to a biomass fuel processing plant in Cambodia.
Can this biofuel briquette machine make charcoal?
Although the briquette machine is an extrusion device, it cannot directly process biomass raw materials into charcoal briquettes. In fact, the function of the biofuel briquette machine is mainly to extrude biomass debris into solid briquettes.
If we want to process charcoal, we need to carbonize the biomass solid briquettes using talking equipment. Therefore, the biomass briquette machine cannot directly process charcoal. This is also a question that many customers often ask us.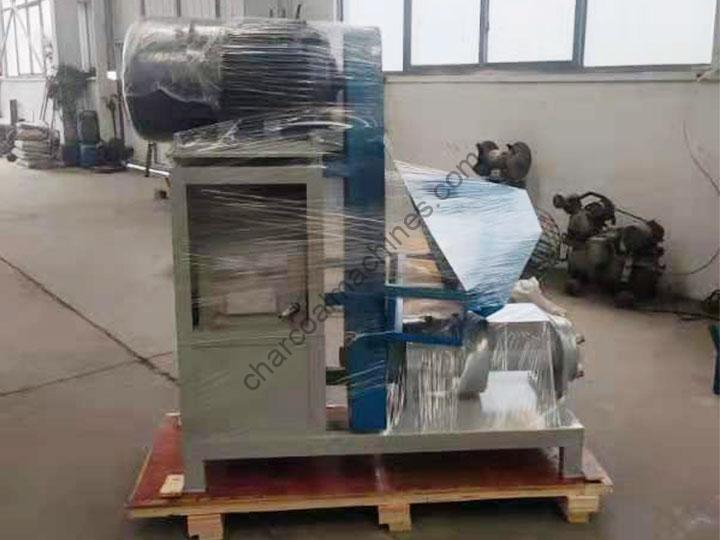 Details of biofuel briquette machine order for Cambodia
The Cambodian customer is looking for a briquette machine for his boss. The client's boss has a plywood factory in Cambodia. Since raw materials such as sawdust and rice husks are plentiful and cheap, his boss decided to use them to process biomass fuel and charcoal. Because the client can speak Chinese, his boss commissioned him to purchase suitable processing equipment in China.
The Cambodian customer said that his boss doesn't know much about charcoal production, and now he wants to buy a sawdust briquette machine to process biomass briquettes. Our factory recommended a biofuel briquette machine with an output of 300kg/h according to his needs. The Cambodian customer said that if the production effect of this equipment can satisfy the boss, they will consider ordering a full set of charcoal production line from our factory again.
Parameters of biomass briquette machine for Cambodia
Items
Parameters
Qty
Briquettes extruder
Model:SL-50
Capacity:250-300 kg/h
Power:18.5kw
Voltage:380v,50hz,3phase
Package size:1580*675*1625
Weight:750kg
1
Screw propeller
Spare parts of sawdust briquette machine
2
Heating rings
Spare parts of sawdust briquette machine(1set with 3 pieces)
1
Cambodia customer communication for briquette machine
Our factory has many years of experience in manufacturing and exporting biomass fuel and charcoal processing equipment, and can provide customized production solutions for any customer. We will continue to follow up the service to this Cambodian customer and look forward to working together again in the future.