The market demand for charcoal is affected by the season to a certain extent. For example, the demand for charcoal in the international market will increase dramatically in winter and summer every year. And the market price of charcoal will also change with the change in market demand.
The greater the demand for charcoal, the charcoal market price is higher. As for the sawdust briquette machine, will the season affect its production? As a matter of fact, the season doesn't have any influence on the production of the sawdust briquette machine. As a professional charcoal machine manufacturer, we list the following reasons for you.
What is the working principle of the sawdust briquette machine?
Sawdust briquette machine is a piece of good equipment for reusing all kinds of biomass wastes, which is mainly to extrude the powdery materials into biomass briquettes.
The raw materials like branches, straw, rice husk, peanut shell, coconut shell, corn stem, paddy straw, jute stem, and other agricultural and forestry materials should be crushed into pieces with a diameter less than 5mm and the moisture content less than 12%. Usually, the raw materials like branches and straw should be crushed by a wood crusher firstly.
And when the materials' moisture content is too large, we also need the airflow dryer or rotary dryer to reduce the moisture content.
After crushing and drying, these materials would be processed into biomass briquettes in the sawdust briquette machine by high temperature and high pressure to make it into briquettes (without adding any additives). Then, the briquettes are carbonized in the carbonization furnace.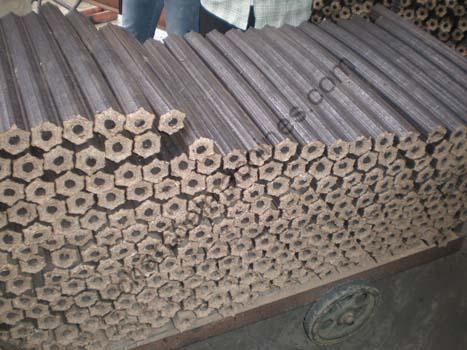 Different influencing factors for making pini kay in different countries
According to different regions and the climatic conditions, the affecting factors for making charcoal or making pini kay(biomass briquettes0 are also different. For example, the climate between Southeast Asia and the Middle East or Africa is very different.
Because of the hot and humid climate, the moisture content of the raw materials in the Southeast Asia areas will be high, so when we make the biomass briquettes by using the sawdust briquette machine, we should dry the materials fully by increasing the drying times.
And the raw materials in Africa will be easy for drying. The sawdust briquette machine produced by our company has the features of fast heating and energy saving, and the biomass briquettes have high density and good appearance.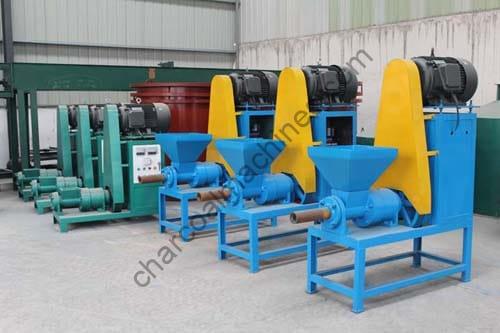 Advantages of the charcoal made from pini-kay
The pini kay produced by the sawdust briquette machine is a kind of waste of renewable energy that can be carbonized into high-quality charcoal.
The final charcoal briquettes' heat output is higher than the charcoal made of the same raw material itself. The charcoal is smokeless, tasteless, non-toxic, clean, and sanitary when burning, thus it can be widely used for household heating, barbecue, etc.
It can also be used as chemical raw materials for deep processing of activated carbon, silicon carbide, etc.