In January this year, two sawdust briquettes machines were shipped from Shuliy factory to Nigeria. After using it for nearly two months, the Nigerian customer was very satisfied with the working effect of the sawdust briquettes machine and decided to order other charcoal equipment from our factory again around October this year.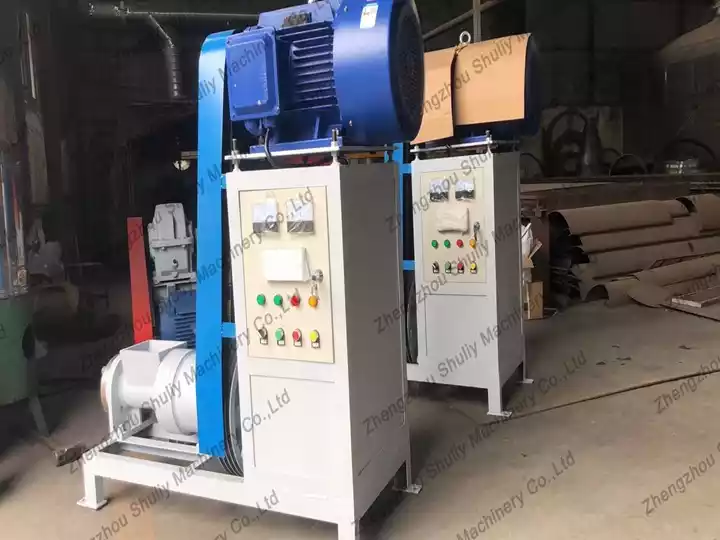 What did the Nigerian customer buy from the Shuliy factory?
Sawdust briquettes machine is becoming increasingly popular among Nigerian customers due to their high efficiency and low cost. This client from Nigeria purchased two machines along with two additional screw conveyors, two forming cylinders, and six heating circles. As a gesture of goodwill, we also provided two extra screw conveyors for free to our client.
Why choose to buy sawdust briquettes machines?
This Nigerian customer is using the sawdust briquettes produced by the machines to make charcoal. After compressing the sawdust into briquettes, they are placed into a self-built earthen kiln for carbonization.
The process involves heating the kiln to a high temperature for several hours until the sawdust briquettes are transformed into sawdust briquette charcoal. Once carbonized, sawdust briquette charcoal is sold in the market.
The advantage of using sawdust briquettes to make charcoal is that it is an eco-friendly and sustainable process. Sawdust is a readily available and renewable resource that is often wasted, but with the sawdust briquettes machine, it can be transformed into a valuable and useful product.
Additionally, the use of sawdust briquette charcoal as a cooking fuel is also beneficial as it is smokeless and has a longer burning time compared to traditional charcoal.
Feedback from Nigeria about using sawdust briquettes machines
Our client in Nigeria is pleased with the performance of the machines and the quality of the sawdust briquettes they produce. The machines are easy to operate and require minimal maintenance, making them an ideal investment for anyone looking to start a sawdust briquette business. With the sawdust briquettes machine, our client is able to produce a high volume of briquettes in a short period of time, which has allowed them to expand their business and meet the growing demand for sawdust briquette charcoal in the market.
The sawdust briquettes machine has proven to be a valuable investment for our client in Nigeria. It has allowed them to make use of a readily available and renewable resource to produce a useful and eco-friendly product. The success of this project is a testament to the potential of sawdust briquettes as an alternative to traditional charcoal and the value of investing in sawdust briquette machines for entrepreneurs looking to start a business in this field.
Parameters of the sawdust briquette machine for Nigeria
Item
Parameters
Qty
Sawdust briquette machine
Model: SL-50
Power: 18.5kw
Capacity: 250-300kg per hour
Dimension: 1580*660*1650mm
Weight: 700kg 
2
Screws, molds, heating rings
Two pieces for free
12
sawdust briquettes machine parameters