Using the sawdust charcoal plant to produce high-quality briquette charcoal is still a good choice for many foreign charcoal factories. Sawdust charcoal plants can recycle and reuse a large amount of biomass waste, which can not only save resources but also create huge economic benefits. The sawdust charcoal processing plant with an output of 3t/d that we exported to Myanmar in August this year has been put into production, and the customer feedback is very satisfactory.
How to make sawdust charcoal briquettes?
The process of producing sawdust charcoal briquettes usually mainly includes two parts, namely sawdust briquette making and sawdust briquette carbonizing. Of course, we can also put larger size wood chips into the carbonization furnace for direct carbonization. However, sawdust or wood powder of a smaller size cannot be directly carbonized.
This is because the size of the raw material is too small, it is easy to burn directly into ash during the carbonization process, and the effect of making charcoal is poor. Therefore, we usually process sawdust into solid biomass briquettes first, and then use a carbonization furnace to carbonize the briquettes to make sawdust briquette charcoal.
Requirements for sawdust charcoal plant of Myanmar customer
The Myanmar client is engaged in a large commodity trading company. The sawdust charcoal production project is a new business for the company. The client's company decided to mass-produce sawdust charcoal briquettes for export. Therefore, the customer has high requirements for the quality of the finished product.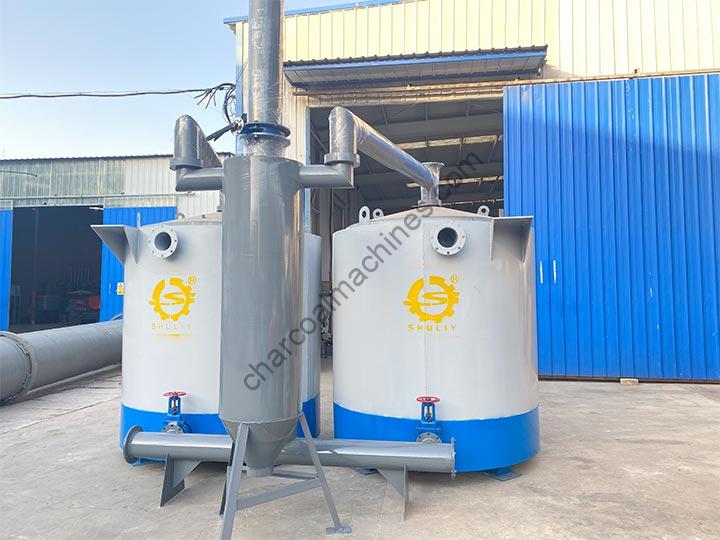 After communicating all the equipment details with the Myanmar customer, we formulated two sawdust charcoal plant production plans for him to choose according to his needs, and carefully analyzed the reasons for the plan setting and the comparison of advantages for him. The customer is very satisfied with the service provided by our factory, and he said that he really needs a professional supplier to solve the problems in the production process for him.
After communicating with the company's leadership team, the customer finally decided to purchase a complete set of sawdust charcoal plant, including log crushing equipment, raw material conveyor and discharge conveyor, raw material dryer, 3 sawdust briquettes machines, smoke removal equipment, And 2 vertical carbonization furnaces. Our factory also configured a full set of wearing parts for this Myanmar customer.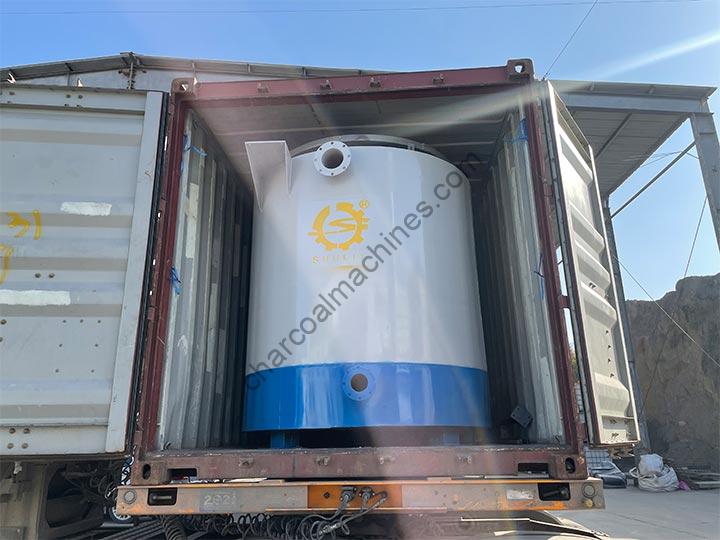 Parameters of the Myanmar sawdust charcoal plant
Item
Specifications of sawdust charcoal plant machine list
Qty
Wood Crusher   
Model: SL-W-500
Power:18.5kw
Capacity:500-600kg/h
Blades:4 pcs
1
Belt conveyor
Model: SL-C-500
Power:2.2kw
Length:5m
1
Hammer Crusher  
Model: SL-H-700
Power: 22kw
Capacity: 700-800kg/h
Hammers: 40 pcs
Cyclone diameter:1m
Includes 5 bags of dust removal
Final size: less than 5mm
1
Screw conveyor
Dimension: 5m*0.3m*0.5m
Power:4kw
1
Rotary dryer
Model: SL-R-800
Power: 4kw
Capacity: 700-800kg/h
Diameter: 800mm
Length: 8m
Weight: 2500kg
Thickness: 8mm
Use waste wood or coal as a heating source
Per hour need 40-80kg heating source
1
Air-cooled
Model: SL-325
Power: 7.5kw
Including an airlock
Dimension: 7*0.6*3.8m
1
Screw conveyor
Dimension: 5m*0.3m*0.5m
Power:4kw
1
Screw feeder
Model: SL-3
Can feed three sawdust briquette machine
Power: 4kw
Dimension: 4*0.6*1.9m
Including a cover
Including an Electric control cabinet
1
Sawdust briquette machine
Model: SL-B-50
Power: 18.5kw
Capacity: 250kg/h one set
Dimension: 1770*700*1450mm
Weight: 950kg
3
Smoke removal
Power: 4kw
Weight: 250kg
Dimension: 4500*700*700mm
Including fan and smoke purification equipment
1
Mesh belt conveyor
Length: 4.5m
Width: 0.8m
Height: 0.6m
Power: 3kw
Including the electric control cabinet
1
Hoisting carbonization furnace
Model: SL-C-1500
Dimension: 2.2*2.2*2.22m
Capacity: 1t output charcoal per time, need 8-10 hours per time Includes 2 furnaces,1 lift crane
Inner stove thickness:8mm
Per stove needs about 50-80kg heating source
Can use waste wood or coal as the heating source
2