Charcoal briquette machine is very practical for making charcoal briquettes with different shapes, which is the multi-functional equipment for making BBQ charcoal and shisha charcoal. It can be changed with different briquetting molds for making cubic, round, cylindrical, tablet and other customized shapes of charcoal briquettes. The charcoal briquette machine can match with the cutter, mixer and dryer machine for large scale production of hookah charcoal briquettes.
One Philippine customer who was interested in our charcoal machine YouTube videos contacted us last week for the detailed information about the charcoal briquette machine. He and his partner own a charcoal production plant for making coconut shell charcoal. When he saw our new designed charcoal briquettes extruder machine working video and browsed our charcoal machine website, he got an idea for making cubic shisha charcoal briquettes.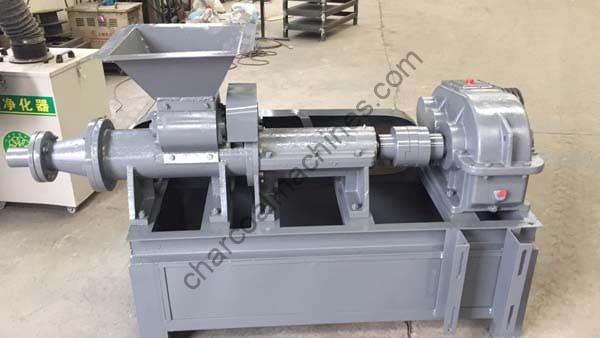 Charcoal briquette machine for sale
Under the patient instructions of our sales consultant, this customer has a good understanding of hookah charcoal making. He said he really wants to visit our charcoal making machine factory in person, but he was still waiting for his visa which needs a long time. Considering his condition, we even introduced him to our other Philippine customer's charcoal making plant for visiting. He was especially thankful for our arrangement and very satisfied with our charcoal machine quality.
Eventually, he was happy to place an order with us for a series of charcoal processing machines including charcoal briquette machine, charcoal briquette cutter machine, charcoal powder grinding, and mixing machine and the charcoal briquettes dryer machine. He expressed that he looks forward to the next cooperation with us someday. Now, we are preparing to arrange the shipment for his order and hope to receive his feedback.
How to know the shisha charcoal press machine well?
Welcome to watch this YouTube video link: https://www.youtube.com/watch?v=mRfrB2bcfz8&t=28s for making cubic charcoal briquettes if you are interested in making shisha charcoal or bbq charcoal in an automatic and efficient way.