Shuliy factory shipped 20 sets of charcoal briquetting machines and complete spare parts, briquetting molds to Indonesia again in last weekend. These briquette charcoal machines will be used in a newly opened charcoal processing plant in Indonesia to process the popular square charcoal and hexagonal charcoal. This is the second time this Iraqi customer to cooperate with our Shuliy factory, and we hope we will have more cooperation opportunities in the future.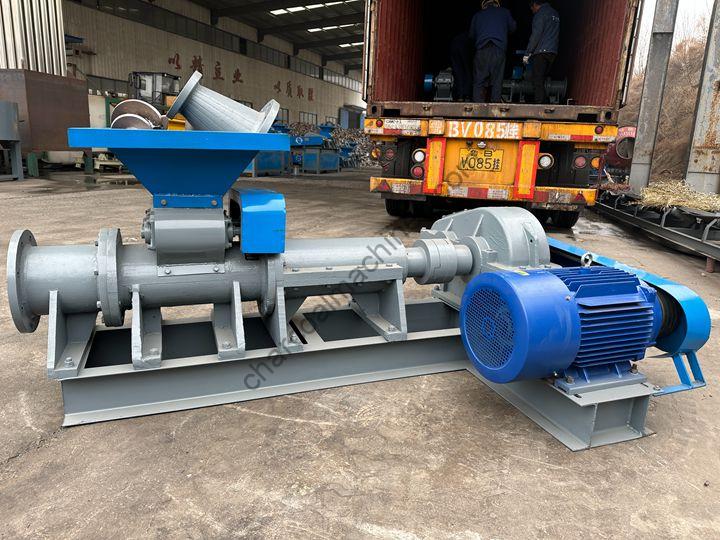 Why choose Shuliy again?
The Iraqi customer has been operating a charcoal production business in Indonesia for over 5 years. The Iraqi customer had commissioned a very trusted Chinese middleman to buy charcoal processing equipment for him in 2019. His middleman screened several Chinese charcoal equipment manufacturers for him and finally chose to order 3 charcoal briquetting machines from our factory with a capacity of 500kg/h.
Due to the good experience with the machine, the Iraqi customer entrusted his middleman to negotiate a new order with our Shuliy factory in November last year. The Iraqi customer said he wanted to start a new charcoal plant, mainly processing square charcoal and hexagonal charcoal.
New requirements for charcoal briquetting machine
The Iraqi customer ordered 10 charcoal briquetting machines of the same type as the last order, with an output of 500 kg/h. However, in light of their own use, the customer gave us some new customization requirements for the briquettes extruder machine. For example, it is easier to use the briquettes extruder machine by adding a half-meter-high shelf, and it is more space-saving to design the two machines to work together.
In addition, in order to meet larger production needs, the customer also ordered another 10 larger charcoal briquette machines with a capacity of 1000kg/h.
The customer also told us the size and shape of the charcoal briquettes he wanted to process, and our engineers customized the mold strictly according to the data provided by the customer.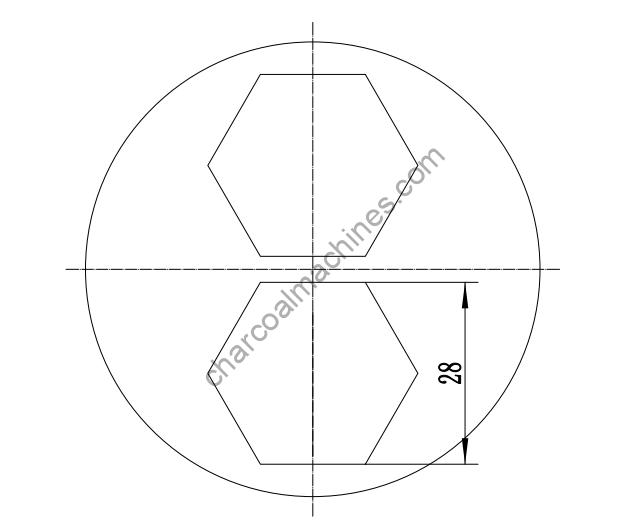 Finished briquettes extruder machines and molds display
Since our factory usually has a lot of orders, our factory generally has a certain amount of inventory. The two types of charcoal extruders that the Iraqi customer ordered this time are all in stock.
After confirming the various needs of the customer, we immediately started to arrange delivery. However, the extrusion dies required by this customer are all customized versions, and our factory processed the dies required by the customer in the shortest time.
The order list for the Indonesia charcoal briquettes plant
The order to Indonesia this time mainly includes 20 charcoal briquetting machines, 3 hammer mills for crushing charcoal, 4 wheel grinders for mixing charcoal powder, and 5 conveyors. Others are machine accessories, such as molds, screws, and so on. Due to the large number of goods required by the customer, we arranged four 40-foot containers for it.
Item No.
Name
Quantity
1
Model 140 charcoal briquette machine
10
2
Model 140 screw
10
3
Molds of Model 140(Two hexagonal holes with a diameter of 2cm)
10
4
Molds of Model 140(Two cubic holes with a diameter of 2.5cm)
10
5
Molds of Model 140(Two hexagonal holes with a diameter of 2.5cm)
10
6
Molds of Model 140(Two hexagonal holes with two diameters of 2.8cm)
6
7
Molds of Model 140(One cube hole with a diameter of 3cm)
6
8
Molds of Model 140(One cube hole. The size of the hole is 2.7cm )
10
9
Molds of Model 140(Two hexagonal holes. The size of the hole is 2.3cm.)
10
10
Iron shelf
2
11
Iron shelf
3
12
Model 180 charcoal briquette machine(no mold)
5
13
Model 180 charcoal briquette machine
(heighten, no mold)
5
14
Model 180 Screw
10
15
Hammer mill
3
16
Blender
4
17
Hob Conveyor(Blade interval:5cm)
2
18
Hob Conveyor(Blade interval:2.7cm)
2
19
Hob Conveyor(Blade interval:2.5cm)
1
20
Model 140 screw
2
21
The first section of model 140 screw
2
22
Model 180 screw
2
23
The first section of model 180 screw
2
24
The screen of the hammer mill(hole size is 3mm)
10
order list for Indonesia