The charcoal extruder machine can extrude carbon powder or coal powder into solid briquettes by forming dies. A charcoal briquette cutter can divide continuously extruded briquettes into uniform lengths. The cost-effective charcoal briquette extruder machines of the Shuliy factory have been installed and used in many overseas countries. At the end of last month, we exported a charcoal extruder machine with a capacity of 500kg/h and a set of briquettes cutting and conveying units to Colombia again.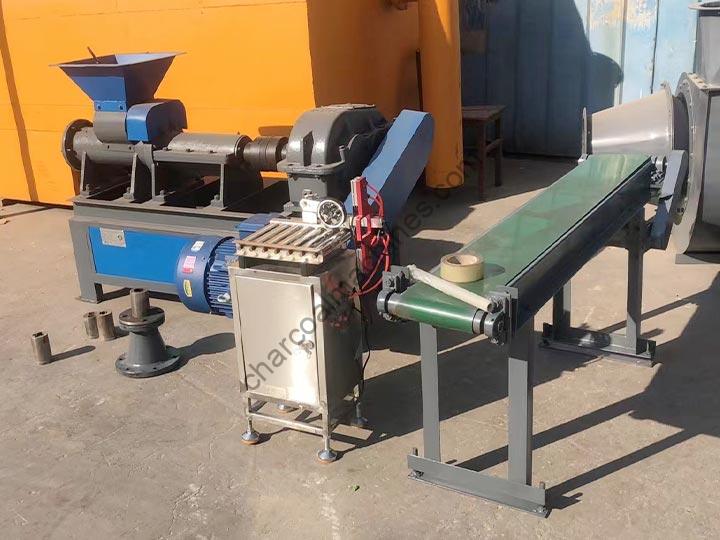 Why planned to buy a charcoal extruder machine for Colombia?
The Colombian customer has a local charcoal factory, which mainly processes spherical barbecue charcoal. As the local demand for stick-shaped cooking charcoal briquettes is increasing, the customer decided to purchase a charcoal extruder machine to produce this kind of charcoal briquettes.
Because he is engaged in the charcoal processing business, the customer is familiar with the processing process of charcoal briquettes, and he has high requirements for the quality of the briquette extruder machine.
Since the local voltage of the Colombian customer is the same as that used in China, and the customer has no other customization needs, we can directly select a charcoal extruder machine with a capacity of 500kg/h from the equipment in stock and send it out as soon as possible.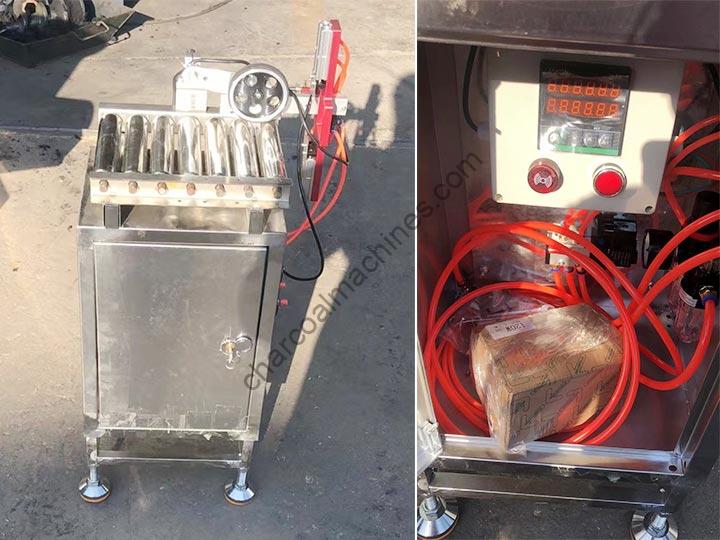 Before shipment, the customer expressed concern about whether our equipment can produce good-quality charcoal briquettes. In order to solve the customer's doubts, we prepared carbon powder according to the customer's raw material formula, then tested it with the charcoal extruder machine that will be shipped and took a video of the testing process for the customer. The Colombian customer is very satisfied with the test results of the briquette extruder machine.
Parameters of the charcoal extruder machine for Colombia
Items
Parameters
Qty
Charcoal briquette machine
Model: SL-160
Power: 11kw
Voltage: 380v,60hz,3phase
With a CNC system cutter and 1.5 m conveyor
Capacity: 500kg per hour
Dimension: 1.76*1.22*1.1m
Weight:720kgMachine with hexagonal shape mold 
1
CNC cutter with 1.5m conveyor
New type cutter:
1. Use a CNC system, charcoal briquette length from 3cm-40cm
2. Save shipping space and shipping cost; Popular in the market
3. Unaffected when cutting charcoal briquette, ensure the cutting effect
1
Mould
Two shapes molds.
And the other two cubic shape mold is free  
4
briquette machine parameters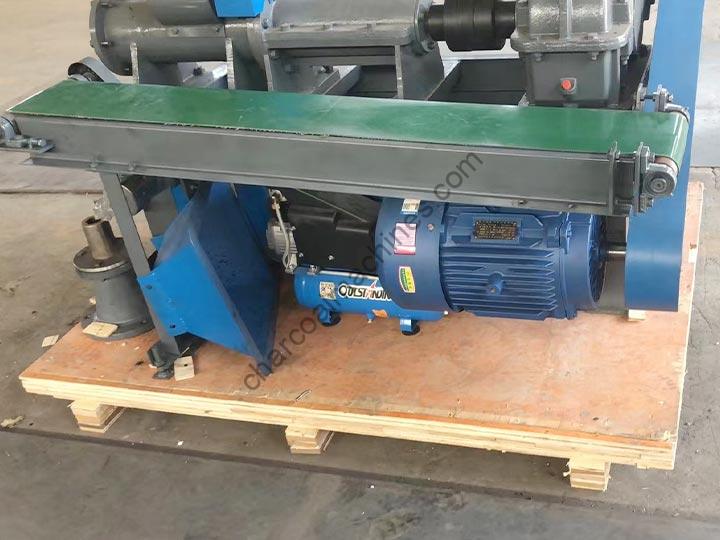 Note: When choosing the shape of the extrusion die of the briquette machine, the customer expressed that he did not know what shape to choose, and hoped that we could give some suggestions. We recommended two shapes of molds for him according to the mold shapes that customers often buy in the country where the customer is located and its surrounding countries. And because the date when the customer purchased the equipment happened to be during the National Day of our country, our factory gave the Colombian customer two molds for free.