The industrial wood debarking machine can quickly debark the trunks of various diameters, especially suitable for processing wet wood, and the debarking efficiency is high. The Shuliy factory exported an eucalyptus wood peeling machine earlier this month for debarking eucalyptus, acacia and mango trees with the diameter between 5cm and 25cm.
How to peel eucalyptus wood with a debarker machine?
Commercial wood debarking machines can replace a lot of manual work to quickly debark eucalyptus. This kind of wood peeling machine is a horizontal peeling equipment, which can peel trees with a diameter of 5cm to 40cm.
The peeling device of the machine is a circular cutting system with a set of crescent-shaped blades (4 pieces) fixed on it. When the wood peeling machine is running, the conveying device of the machine will feed the wood into the cutting system at a constant speed for peeling.
Why purchased eucalyptus wood peeling machine for Indonesia?
The Indonesian client has a tree harvesting company, mainly dealing with mango trees, eucalyptus, and acacia. The customer wants to buy an automatic peeling machine to process these raw materials. Since customers often source products from China, they are very knowledgeable about international shipping. The customer sent us detailed raw material pictures and videos, which is convenient for us to refer to and recommend suitable machine models for him.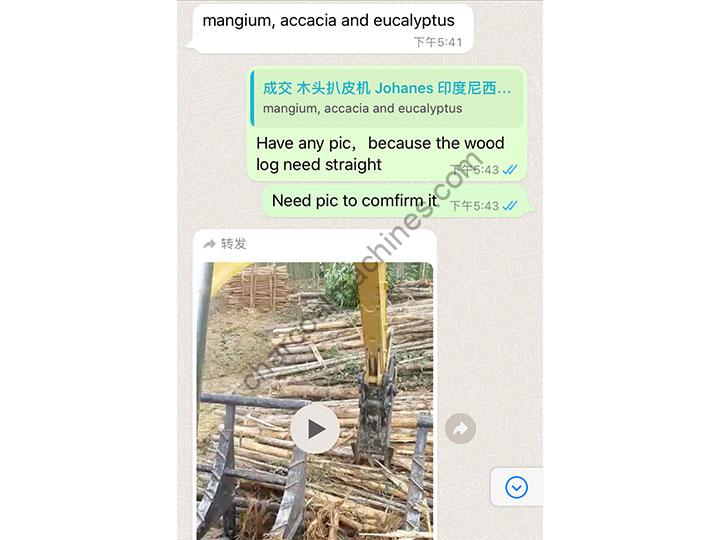 We quickly determined with the customer the diameter and degree of dryness and wetness of the wood to be processed and the output demand that the customer wants to process, etc., and then recommended the wood peeling equipment model SL-250 for him.
Parameters of eucalyptus wood peeling machine for Indonesia
Model: SL-250
Motor:7.5 kw+2.2 kw
Feeding max diameter: 25 cm
Feeding mix diameter: 5 cm
Package size: 2.26*2*1.3 m
Weight: 1800 kg